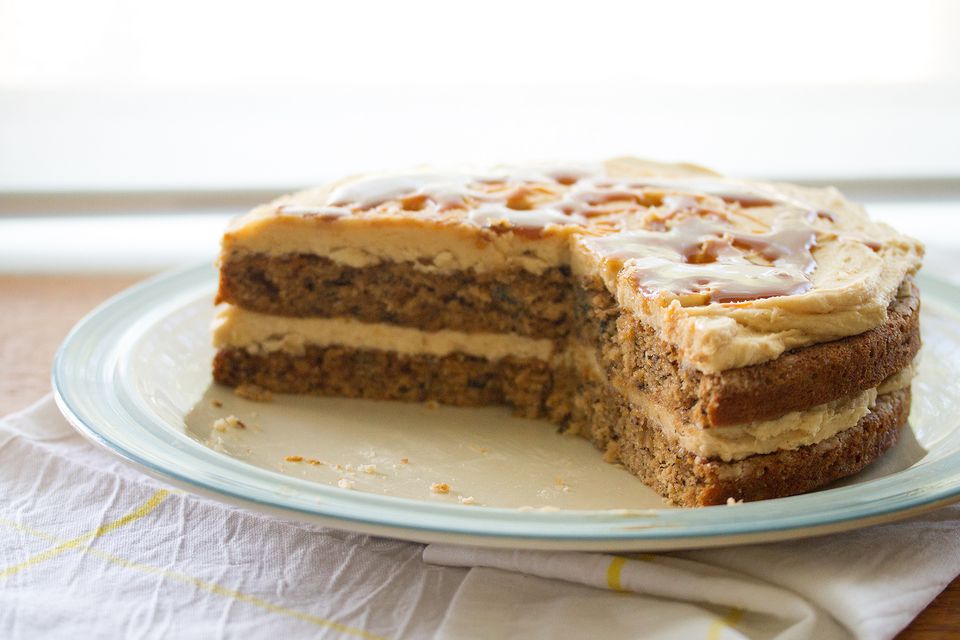 This low-fat banana cake is an indulgent treat, but with very little saturated fat, you shouldn't feel too guilty. But if you prefer to omit the frosting, that's just fine. Just a note about the bananas: the riper the better!
2 cups all-purpose flour
1 tsp baking powder
3/4 tsp baking soda
1/4 tsp salt
3/4 cup brown sugar
1 egg, lightly beaten
1/2 cup nonfat milk
1/4 cup canola oil
3 medium-sized ripe bananas, mashed
1 tsp vanilla extract
2 cups powdered sugar
1/2 cup light tub cream cheese
1 tsp vanilla
1. Heat oven to 350 degrees.
2. Coat inside of 9-inch cake round cake pan with nonstick cooking spray.
3. Whisk flour, baking powder, baking soda and salt in a small bowl.
4. Place brown sugar, egg in a large bowl; beat with a mixer at medium speed until fluffy.
5. Add oil, milk, mashed banana and vanilla extract and mix until well blended.
6. Gradually mix in flour mixture until just moist.
7. Pour batter into cake pan and bake for 30 minutes.
Cool on a wire rack.
8. For the frosting, place sugar, cream cheese and vanilla in a medium bowl and mix with an electric mixer until smooth.
9. Spread frosting on top of cooled cake.
Per slice: Calories 305, Calories from Fat 62, Total Fat 6.6g, (sat 1.4g), Cholesterol 22mg, Sodium 234mg, Carbohydrate 56.5g, Fiber 1.2g, Protein 4.3g
Nutritional Guidelines (per serving)
Calories
338
Total Fat
10 g
Saturated Fat
3 g
Unsaturated Fat
4 g
Cholesterol
28 mg
Sodium
769 mg
Carbohydrates
55 g
Dietary Fiber
1 g
Protein
10 g
(The nutrition information on our recipes is calculated using an ingredient database and should be considered an estimate. Individual results may vary.)