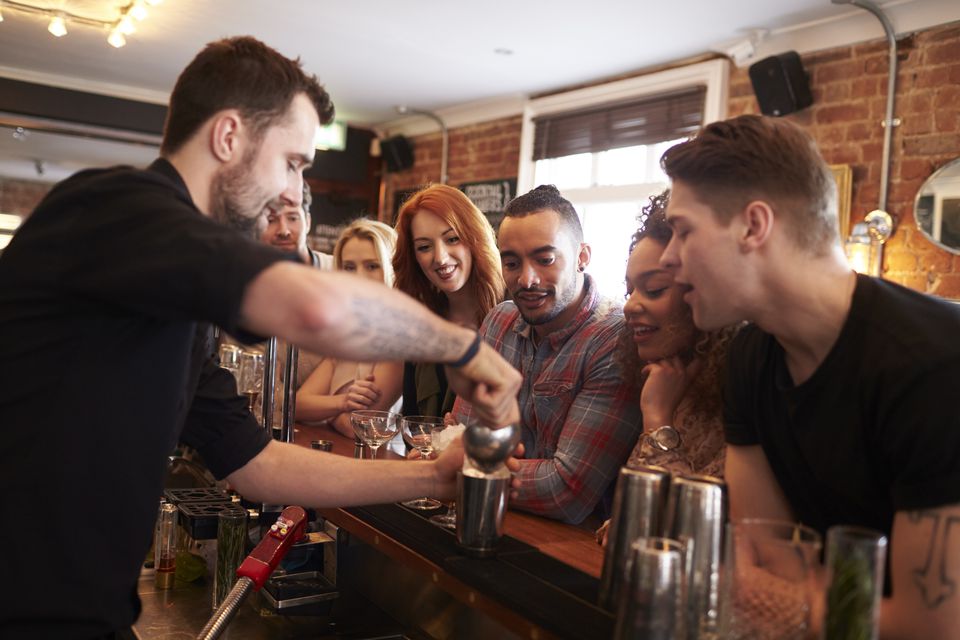 A good bartending guide is essential to both the seasoned professional and the amateur mixologist. Whether you need to know how to make a particular cocktail or are looking for tips on making the perfect lemon spiral, having a bartending guide handy will answer most of your questions in a pinch.
These are some of the best books available and are filled with recipes and advice to guide everyone along the path to the perfect cocktail. 
The Craft of the Cocktail: Everything You Need to Know to Be a Master Bartender

When researching a cocktail or some other bartending fact there are a few books that I turn to and one of them is "The Craft of the Cocktail." It is an essential bartending guide in my collection and it should be for anyone who is serious about drinks. This book is an amazing reference that will stand up to years of use.

The 500 cocktails include many of the most popular drinks and numerous classics that you should be familiar with. He also includes many of his own cocktail creations that...MORE quickly became modern classics in the bar.

Learning from one of the best in the business is always a good thing and this book is timeless and valuable.

The Joy of Mixology: The Consummate Guide to the Bartender's Craft

Gary Regan's "The Joy of Mixology" leads with a wonderful history of cocktails and mixed drinks. The book also offers advice to emerging bartenders and explains the tools and techniques that have worked best in his own career.

The recipe section focuses on the different families of cocktails and includes an informative table of the drinks within each family and the main ingredients used for each. It is an extremely useful section that you will not find in any other bartending guide...MORE and it makes memorization much easier.

It is a great read and necessary for anyone interested in bartending and cocktails. Whether you're a pro or an enthusiast, this definitely needs to be in your bar library.

The Essential Cocktail: The Art of Mixing Perfect Drinks

Dale DeGroff (aka King of Cocktails) is back in another essential hardcover that should be in every cocktail enthusiasts' library.

DeGroff is one of the masters of modern mixology and this is a follow-up to his previous book. In "The Essential Cocktail", DeGroff adds a twist and dissects 100 cocktails, showing us exactly how to make them to perfection. He then throws in a variation of each so you can become comfortable with experimentation.

There is an equal amount of valuable mixing...MORE advice tossed into the book. If you think you've heard all the wisdom DeGroff can dish out, think again. Every book has something new to learn and this is filled with them.

1210 More Very Good Cocktails: A Renaissance Compendium

Stew Ellington's first book, "901 Very Good Cocktails: A Practical Guide," is one of the most useful and, appropriately, practical bartending guide you will find. The follow-up book, "1210 More Very Good Cocktails" is just as useful and fun to explore.

Ellington is a master at organizing, categorizing, and rating every cocktail recipe in his books. He has also tasted every single drink and will the rating system will tell you if it's worth your time and effort. If you...MORE cannot find a drink you want to make out of either, then it's your issue and not the books. 

The best part of "1210" is that it is sourced from working bartenders. Ellington painstakingly discovered the best drinks being made today and combined all of them into a single book. It is a fantastic archive for modern mixology.

You will find more of the standard cocktails in "901" as well as many bartender-sourced recipes. It is worth your time to have both recipe guides in your bar.

Continue to 5 of 10 below.

A concise and easy to follow guide to professional bartending, Lori Marcus' "Bartending Inside-Out: The Guide to Profession Profit & Fun" is a perfect textbook for any aspiring bartender.

In this book, Marcus runs you through all of the basics, including essential knowledge of ingredients, methods for mixing drinks, and, of course, the popular drinks that every bartender should know. Where this guide differs is that it also gives an insight into how to work in a bar.

Teamwork,...MORE responsibility, customer service, and a great list of "Bartending Do's and Don'ts" are just a few of the highlights that are useful for the real world bar environment. It should go as no surprise that this book is used by a number of the bartending schools out there.

If you are looking to get into the business and want years of practical advice at your fingertips, Marcus has it.

A.J. Rathbun's "Good Spirits" is nothing less than an entertaining and informative bartending guide.

The book includes 450 recipes divided into 12 chapters with titles such as "A Multitude of Martinis", "Pacifying a Crowd" (punches), "Fresh Faces" (newer creations), and "Shooting the Moon."

This book isn't just a list of cocktails. For every recipe, Rathbun illuminates the story of the drink. If it doesn't have a known story, he provides some...MORE other enlightening, humorous or otherwise relevant commentary.

Throughout the book, the author also includes sidebars like "Six Bad-Boy Bachelor Party Beverages", "Four Corners, Four Bars," and "Obscure Facts to Bring up at the Bar."

Get ready to geek out with Kevin Liu's book, "Craft Cocktails at Home." In it, Liu takes us on a scientific journey through the world of mixing drinks, explaining why things work the way they do, how we taste and giving us fun graphics, diagrams, formulas, and charts to explore.

As you dive into the book, you will find one fascinating discussion after another. Some of the highlights include preserving ingredients (including maximizing freshness in citrus), the science of shaking and...MORE stirring, making infusions go 200 times faster, and "A DIY Cold-Smoker of $20."

In "The Classic Hacked" chapter, Liu breaks down the flavor profiles of some of the best cocktails of all time including the Sazerac, Brandy Crusta, Martinez, and Mojito. He then examines hyper dilution's effects on the Manhattan and how a colder cocktail dampens its aroma.

The home and the pro bartender are going to love this in-depth analysis of cocktails. It is fascinating and intriguing, the perfect gift for the cocktail geek that has everything.

The Everything Bartender's Book

Every few years, it seems that Cheryl Charming has an update to what has become one the most popular bartending guides. "The Everything Bartender's Book" contains over 1,000 drink recipes spanning the range of classics, martinis, shots, and mocktails.

Charming has years of experience in the bar and continues to work in New Orleans. This gives her a great insight into the latest trends and developments in the real world of the bar. That is why this book is regularly updated and why...MORE every bartender should pick up the latest edition.

There's very little fluff in this book and it's a great book to have by your side for quick reference. The cocktail recipes are organized by the main liquor, so all your vodka, tequila, and rum drinks will be with each other. This makes it easy to use with what you have in your bar and discover new drinks with your favorite liquors.

Snippets of facts, history, and trivia are scattered throughout, keeping you reading through the recipes. Charming's bartending advice, tips, and techniques are, as always, invaluable and she has a great sense of humor, so it's also entertaining.

Continue to 9 of 10 below.

The Modern Mixologist: Contemporary Classic Cocktails

Tony Abou-Ganim is one of the stars of the modern bartending world and he created the famous Cable Car cocktail while working at the Starlight Room in San Francisco. That was some time ago, yet Abou-Ganim's personality continues to light up the bar.​

As one would expect in a bartending guide, you will find many aspects of the cocktail world in ​"The Modern Mixologist," including technique, history, anecdotes, and cocktail recipes. Yet, this one has a decidedly Abou-Ganim perspective...MORE and he's quite the entertaining bartender and author. 

The book is casual and one that any bartender at any level can follow. The 60 recipes will keep you busy for some time and allow you to hone those new skills you learn from the book. 

The ultimate home bartending guide. "The Bartender's Bible: 1001 Mixed Drinks and Everything You Need to Know to Set Up Your Bar" is the second edition of this popular book written by Gary "Gaz" Regan.

Besides the large alphabetized index of cocktail recipes, this book is a great source of information for setting up a home bar and will have you "Mixing Like a Pro" in no time.

Where Regan's other books tend to be very technical and in-depth, this one is a good,...MORE old-fashioned bar guide. Drink recipes are the focus and the bar advice is practical. It is designed for the beginner and the home bartender and for this purpose it is priceless.
Disclosure
At The Spruce Eats, our expert writers are committed to researching and writing thoughtful and editorially independent reviews of the best products for your life and your kitchen. If you like what we do, you can support us through our chosen links, which earn us a commission. Learn more about our review process.