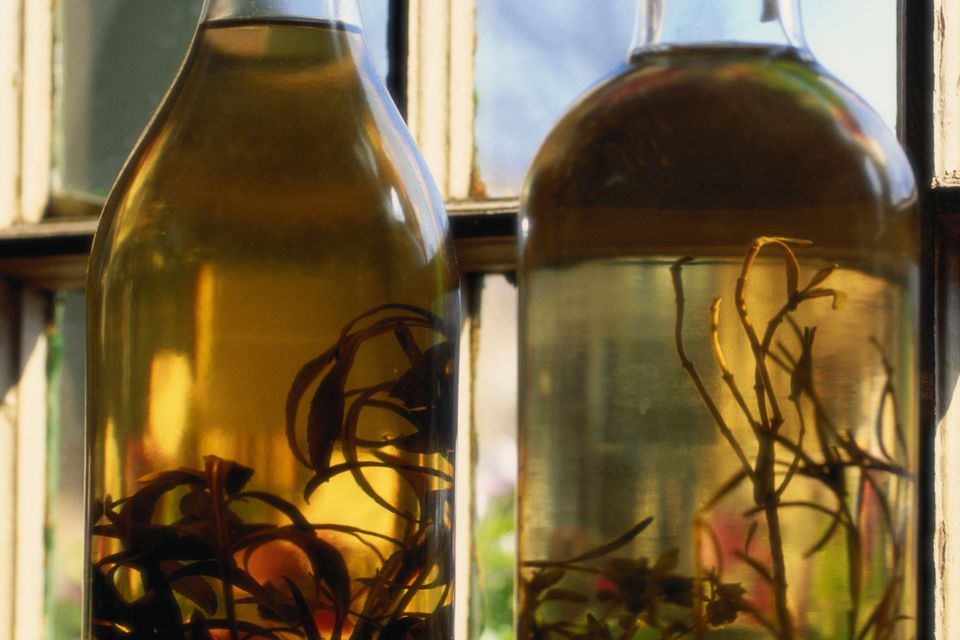 Bitters are essential in the bar and a key ingredient for many cocktails from the Martini to the Sazerac and beyond. While it is great to have popular brands like Angostura or Scrappy's in stock, it's actually quite easy to make your own using this basic bitters recipe.
Homemade bitters is easy but it will take about 25 days to complete your first batch of bitters. The joy of having your very own bitters is worth it. The best part is that you can personalize the recipe to your own taste using a variety of herbs and spices. 
The recipe below is for an aromatic-style of bitters with an emphasis on orange and it is great for overall use in a variety of cocktails. Of course, you can add or subtract ingredients as you like.
Y​ou can ​even use commercial brands of bitters as an inspiration to guide you on the next batch. Add more orange or try something a bit more unique like a dominance of celery, grapefruit, lavender, lemon, mint, or peach.
2 cups
1 teaspoon
dried orange peel (minced)
1 teaspoon cardamom
1 teaspoon coriander
1/2 teaspoon
caraway ​(or
4 cups water
3/4 cup ​
You will begin by making an alcohol infusion with the herbs and spices:
Place the spices in a mason jar and cover them with grain alcohol.
Seal the jar and let the mixture stand in a cool, dark place for 15 days. Give the jar a good, vigorous shake once a day.
Strain the alcohol through a cheesecloth into a clean mason jar to separate the liquid from the 'dry' ingredients. Once the majority is strained, gather the cloth into a ball and squeeze it to release as much liquid as possible.
Save the strained alcohol infusion for later. Label the bottle so you don't mistake it for something else.
Next, you will take those herbs and spices and make a water infusion:
Muddle the strained ingredients to break up all of the seeds and create a fine mixture (almost a slurry or paste).
Place this mix into a saucepan and add 4 cups of water. (You may not use all of this, but it's good to have on hand.)
Bring to a boil, then cover and lower the heat and allow it to simmer for about 5-7 minutes.
Pour this mixture into the original jar, cover and allow it to sit for 5 days. Again, shake vigorously once a day.
Strain the water through a cheesecloth, discard the dry ingredients.
Measure your alcohol mixture, pour it into the original jar and add equal amounts of the infused water. Save the excess water for cutting.
Now it is time for a little sweetener:
Place the sugar in a small pan over medium to high heat.
Stir constantly and allow the sugar to caramelize until it becomes liquid and dark brown.
Remove from heat and allow to cool.
Bring your three preparations together and finish it up:
Add the sugar to the alcohol and water mixture (the sugar may solidify for a minute, but it will dissolve).
Seal the jar and allow the mix to sit for 5 days. Once again, shake daily.
Strain again and pour into a bitters bottle or small decanter with a tight-sealing lid.
Cut the bitters with the extra infused water (or plain water) by measuring the volume of bitters you have, then add half that amount of water. For instance, if you have 1 cup of bitters, add 1/2 cup of water.
Your bitters can be stored for up to 12 months and there is no need to refrigerate it.
A Few Tips for Your Bitters
Recycle an old bitters bottle or use a small bottle with a drip spout and a lid.
Use a funnel to get your bitters into a small-mouthed jar.
Grain alcohol? Look for Everclear or the like. These are typically 190 proof (95% ABV) or more. You can also use a 100-proof vodka if you like.
Because this process requires many steps over a few weeks, you will want to keep track of where you are. An easy way to do so is to print out the directions and check off each step as you complete it.