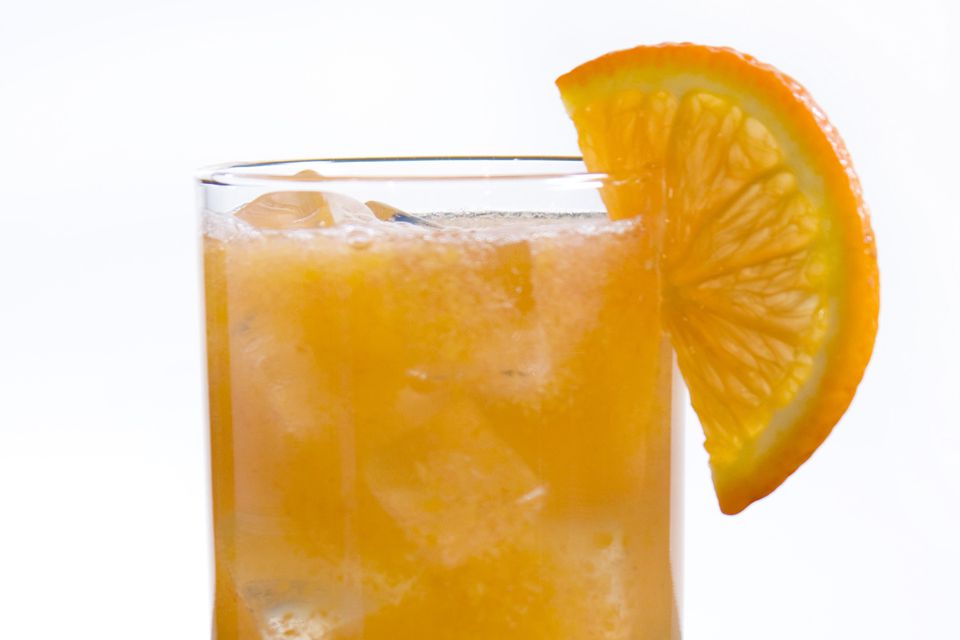 The Bocce Ball is a tall, refreshing juice highball and it is one of those drinks which remains popular enough to memorize, but that's not an issue. It is a delicious, simple mixed drink and there are a few ways to make it.
The main elements in any Bocce Ball recipe are amaretto and orange juice. It's a nice combination because the almond notes pair very well with citrus, leaving you with a taste that's different from the average orange juice highball.
Some recipes (like the first one below) include a shot of vodka and opt for less amaretto, creating a drink that is very similar to the Screwdriver. The splash of soda also adds just a touch air to the drink, making it a bit more refreshing.
Pour the vodka, amaretto, and orange juice into a collins glass filled with ice.
Add a splash of soda water.
Garnish with an orange slice.
You might also consider switching to a flavored vodka to add a little more dimension. Citrus vodkas or any light fruits are great options and any of the cake and whipped cream vodkas add a sweet, creamy background that is fun as well.
Bocce Ball Recipe without Vodka
This recipe is the straight amaretto-juice version of the Bocce Ball and it is equally delicious.
It is a nice option for those days when you want a lower-proof drink and it is perfect for a casual brunch when made with fresh orange juice.
Again, the soda is a nice finishing touch that lightens up the drink, though you can easily skip it.
To make this drink, pour 2 ounces amaretto into an ice-filled collins glass. Add fresh orange juice and a splash of club soda.
The Bocce Ball Bomb Shot
The Bocce Ball's ingredients can also be used to create a 'bomb' shot in which a liquor is dropped into a tall glass filled with a second beverage. Again, amaretto and orange juice are all that you will need and you will find that it is considerably softer than the Irish Car Bomb or Jager Bomb.
How To Make It
Fill a shot glass with amaretto and pour orange juice into a pint glass.
Drop the shot into the juice and drink away.
You don't have to fill the pint glass with orange juice. That would be 10-12 ounces of juice and, quite frankly, that's unnecessary and too much for a shooter. Instead, pour just 4-5 ounces or fill the glass about one-third of the way full.
How Strong Are These Bocce Ball Drinks?
Surprisingly, despite the hard liquor, these Bocce Ball drinks are not much stronger than the average beer or glass of wine. The vodka does make that recipe the strongest of the three, though each is nice and mild in comparison to many other cocktails.
To estimate their strength, let's assume that we pour an amaretto that's on the low end of the liqueur's spectrum, just 42-proof. Also, for the vodka, we'll use the standard 80-proof because there are only a few bottles around that go above that.
Bocce Ball with vodka: 8% ABV (16 proof)
Bocce Ball without vodka: 5% ABV (10 proof)
Bocce Ball bomb shot: 6% ABV (12 proof)
Nutritional Guidelines (per serving)
Calories
246
Total Fat
2 g
Saturated Fat
0 g
Unsaturated Fat
1 g
Cholesterol
0 mg
Sodium
10 mg
Carbohydrates
29 g
Dietary Fiber
4 g
Protein
7 g
(The nutrition information on our recipes is calculated using an ingredient database and should be considered an estimate. Individual results may vary.)