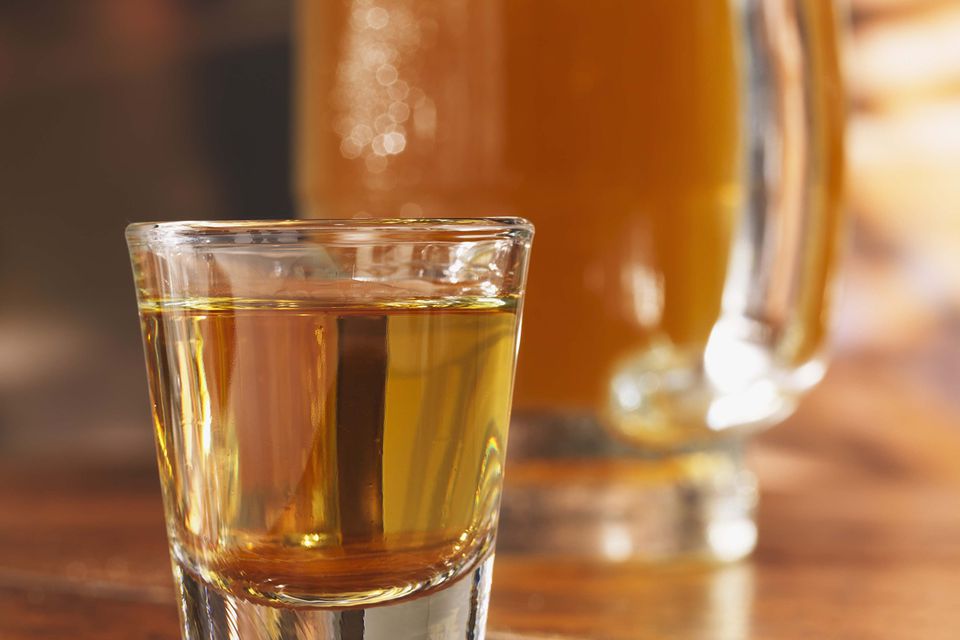 The Boilermaker is as popular as the Irish Car Bomb and Jäger Bomb and has the same ability to get you very drunk, very quickly. That is probably why it is such a popular party drink.​
There are two ways to drink a Boilermaker: as a dropped shot or a slow sipper. Which you choose will likely depend on your drinking style and your mood of the moment.
When drinking dropped shots, take care not to get too wild. Shot glasses floating freely inside the bigger glass have been known to chip teeth, so consider yourself warned. That hazard and the intoxicating effect of downing beer and whiskey so quickly makes the Boilermaker worthy of only the bravest (or craziest, depending on your perspective) of drinkers.
On the other hand, many Boilermaker fans take a more mature approach to this drink. They will sip the whiskey and beer at a slow pace and enjoy every sip rather than chugging it down. In this instance, the beer-whiskey combo is very enjoyable.
To each his own, now let's have a drink!
12 ounces draft beer (lighter is best)
1 1/2 ounces blended whiskey
Pour a shot of whiskey into a shot glass.​
Fill a pint glass with beer.
Drop the shot glass into the beer and drink.
How Strong is the Boilermaker?
There is no mixing of this drink, so you will be drinking a beer and a shot of whiskey at their full strength. In moderation, that's not bad. However, if you drink more than one Boilermaker within an hour or two, it will get you drunk rather quickly.
Nutritional Guidelines (per serving)
Calories
253
Total Fat
0 g
Saturated Fat
0 g
Unsaturated Fat
0 g
Cholesterol
0 mg
Sodium
14 mg
Carbohydrates
12 g
Dietary Fiber
0 g
Protein
2 g
(The nutrition information on our recipes is calculated using an ingredient database and should be considered an estimate. Individual results may vary.)