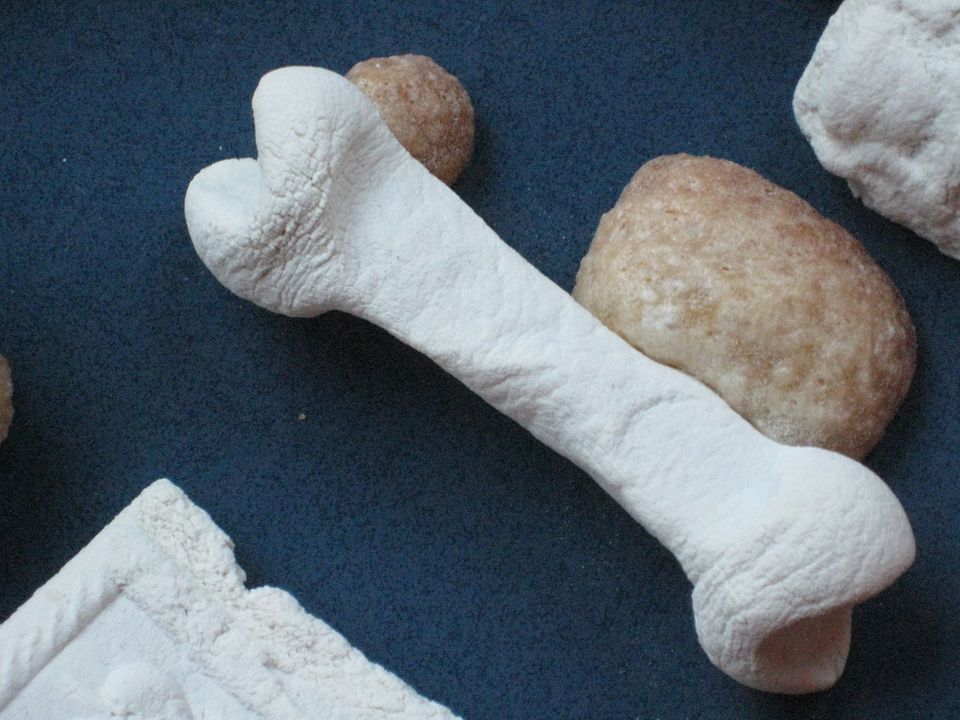 These "bones of the dead" ( cookies are traditionally made to commemorate Day of the Dead, on November 2, but they would also be great for a Halloween party. Many versions of this sweet biscuit are made throughout Italy, in many different shapes and flavors, and the name varies as well. In some places it's called "fava dei morti," or "beans of the dead," instead of "bones" -- not quite as creepy! 
This is my adaptation of a recipe from the Basilicata region in southern Italy. Made with Strega, an anise-flavored liqueur, they're intended more for grown-ups than kids. 
It includes the unusual step of dropping the cookies into boiling water before baking, a bit similar to the way that bagels are boiled, after they are formed and before they are baked, to give them their unique texture.
2 2/3 pounds/1.2 kg all-purpose flour (unbleached)
1/3 cup/75 g lard (or vegetable shortening)
10 large eggs (lightly beaten)
2/3 cup/ 100 g Strega liqueur ("strega" means "witch"! If you can't find Strega, you can use any other anise-flavored or herbal liqueur such as Galliano or​ Sambuca.)
2/3 cup/150 g granulated sugar
1/3 cup/75 g olive oil
Zest of 1 small lemon (finely grated, ideally using a Microplane grater)
Preheat your oven to 400 F (200 C), with a rack in the middle position.
Cut the lard or shortening into the flour using a pastry cutter/pastry blender or fork, or pulse them together with a food processor a few times until just blended. Transfer mixture to a large mixing bowl.
Stir in the beaten eggs, one third at a time, stirring with a wooden spoon after each addition until well blended.
Add the liqueur, sugar, olive oil and lemon zest, and mix until combined.
Set a large pot of water to boil over high heat.
Meanwhile, using your fingers, pinch off lumps of the dough and shape each lump into a stick about 3 inches long. Cut a small slit into the middle of each end, then pinch and mold each side with your fingers to form a rough bone shape. 
When the water is boiling, boil the bone cookies, a few at a time, just until they float - remove them from the water immediately as soon as they start to float, using a slotted spoon or fine-mesh skimmer, draining away excess water by gently shaking the spoon or skimmer over the pot.
Arrange the cookies on a parchment paper-lined baking sheet and bake until well browned, about 20 minutes. Remove from oven and let cool completely on a wire cooling rack.
When cookies are completely cooled, sprinkle them liberally and evenly with powdered sugar (tip: the best way to do this is to use a fine-mesh sieve, held high above the cookies, and firmly tap the side of the sieve with the fingers of the other hand).