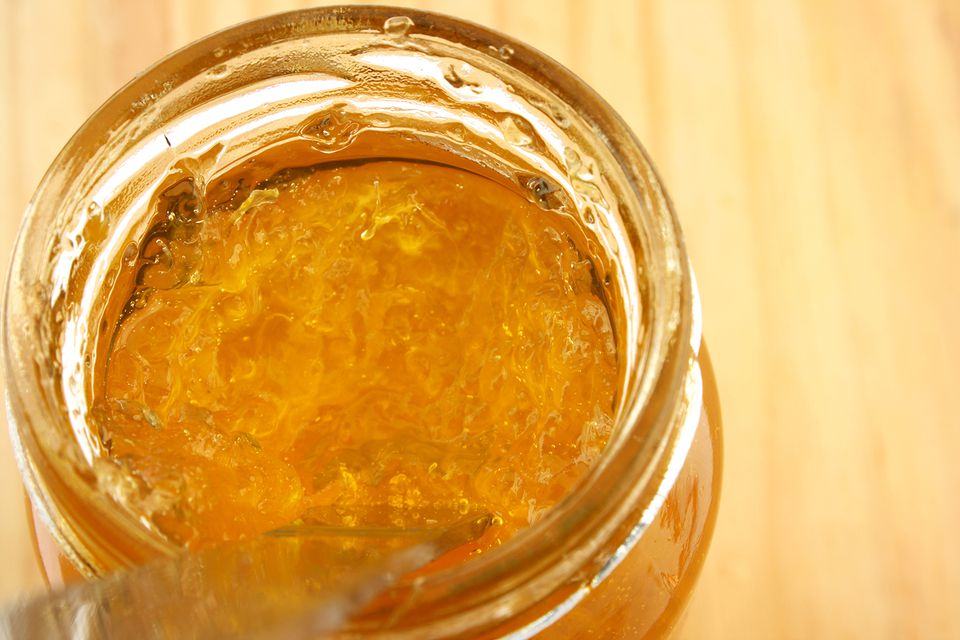 Bacon is one of the few things that I adore with the same enthusiasm as whiskey. Recently, I read about chefs making bacon marmalade and I decided to try my hand at creating my own recipe for it.
Bourbon seemed like a natural complement to the bacon and marmalade flavor and I rounded the flavor profile out with coffee, brown sugar, chipotle sauce and maple syrup. The finished flavor is a sweet, spiced, and very interesting new take on marmalade.
This recipe is easy to prepare and has a variety of uses. Try this Bourbon Bacon Marmalade in place of bacon on a BLT sandwich, use it to top off a bagel with cream cheese or as a topping for hamburgers. You could also easily incorporate this into a dip at your next party.​
In a large, heavy-bottomed pot, fry the bacon over medium heat until the bacon begins to crisp.
Remove bacon from pot and let drain on a paper towel-lined plate.
Add the chopped onion and garlic to the rendered bacon fat in the pot and cook until the onion becomes translucent.
Remove onion and garlic mixture from pot and either discard rendered bacon fat or use a different, heavy bottomed pot. Add bacon and onion-garlic mixture to the pot.
Add all of the remaining ingredients (except the Tabasco and pepper) to the pot. Bring to a boil over high heat, then reduce heat to low while maintaining a simmer.
Simmer for 2 hours, checking the pot every 30 minutes. If the ingredients begin to dry out, add 1/2 cup water when needed.
After two hours, most of the liquid should be reduced. If the marmalade is too watery, simmer for up to an additional 30 minutes.
Remove from the heat and let rest for 30 minutes to cool.
Add Tabasco Chipotle Sauce and pepper. Stir to incorporate.
Transfer the contents of the pot to a food processor fitted with a blade.
Pulse the contents for 5-6 seconds to incorporate all the ingredients together. Do not over blend or you will lose the desired texture.
Store in clean, sterile jars with tight-fitting lids. Once open, only store in the refrigerator
Edited by Colleen Graham: October 23, 2015
Nutritional Guidelines (per serving)
Calories
76
Total Fat
5 g
Saturated Fat
1 g
Unsaturated Fat
2 g
Cholesterol
12 mg
Sodium
191 mg
Carbohydrates
3 g
Dietary Fiber
0 g
Protein
4 g
(The nutrition information on our recipes is calculated using an ingredient database and should be considered an estimate. Individual results may vary.)