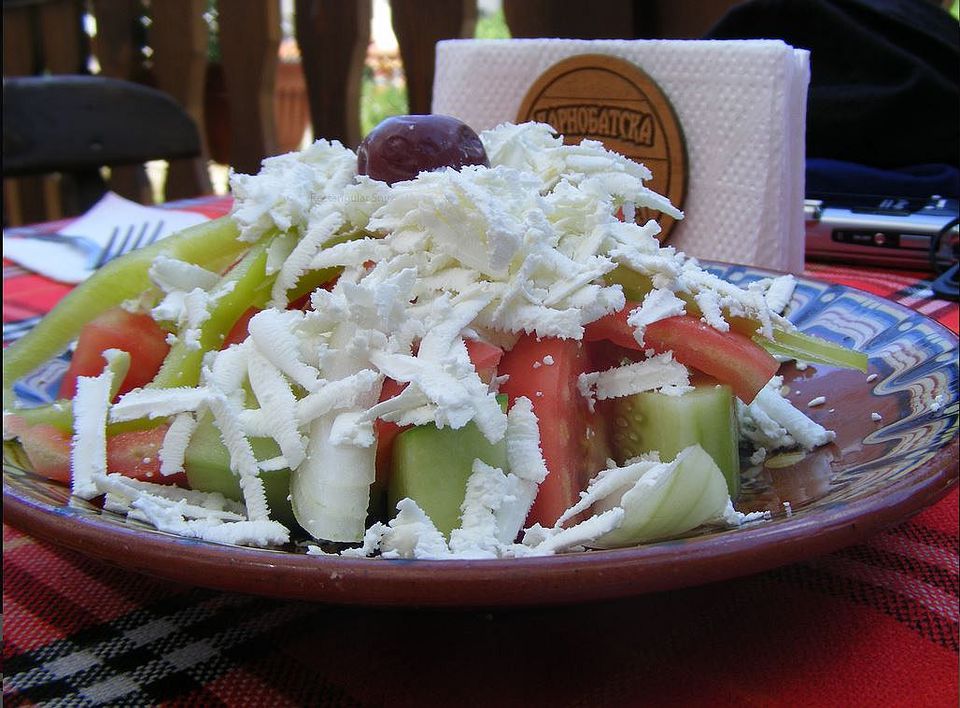 Shopska salata is a salad that originated in the Shopluk region of Bulgaria. It is said to have been invented in the 1960s as part of a tourist promotion by the socialist party to highlight local ingredients.
Today, it is common among the Balkan countries of Serbia, Macedonia, and others and has been proclaimed as a national dish of Bulgaria.
There are slight variations from family to family but the basic ingredients for this refreshing salad, served year-round, are the same -- tomatoes, cucumbers, bell peppers, onion, red-wine vinaigrette and feta cheese which is known as sirene cheese in Bulgaria.
Since olive trees are not as plentiful Bulgaria as they are elsewhere, sunflower oil is used in most cooking and salad dressings.
4 tomatoes, chopped
1 large cucumber, unpeeled and chopped
4 green or red peppers, roasted or raw, chopped
1 large yellow onion, chopped, or 6 green onions, sliced
2 tablespoons chopped fresh parsley
1/2 cup sunflower oil
1/4 cup red-wine vinegar
Salt and black pepper
1/2 cup Bulgarian sirene cheese or feta cheese, crumbled
In a large bowl, place tomatoes, cucumber, peppers, onion and parsley and toss.
Place oil, vinegar, salt, and pepper to taste in a screw-top jar. Cover and shake until well blended.
Toss dressing with vegetables, turn into a serving bowl and refrigerate until ready to serve. Top with crumbled cheese and portion on chilled plates.
Serve with hearty bread and a glass of rakia.
More Bulgarian Specialties
Fried Cheese Recipe: This appetizer is made with Bulgaria's famous kashkaval, a sheep's milk cheese, that is breaded and fried until the cheese is at its gooey, melty best.
Savory Cheese Pie Recipe: In this recipe, Bulgarian feta cheese, known as sirene, is enveloped by filo dough and baked until crispy. They are traditionally served warm as a first course or in a meze (appetizer) spread. They also are eaten as a vegetarian main course, snack, and street food. When filled with apple, sweetened pumpkin, or other sweets, they are eaten as dessert.
Stuffed Cabbage Recipe: Cabbage rolls are popular across the board in Eastern Europe. In Bulgaria, they are known as sarmi and are typically made with veal, pork, rice, and served with a yogurt-paprika sauce. 
Nutritional Guidelines (per serving)
Calories
253
Total Fat
21 g
Saturated Fat
4 g
Unsaturated Fat
12 g
Cholesterol
11 mg
Sodium
252 mg
Carbohydrates
13 g
Dietary Fiber
3 g
Protein
4 g
(The nutrition information on our recipes is calculated using an ingredient database and should be considered an estimate. Individual results may vary.)