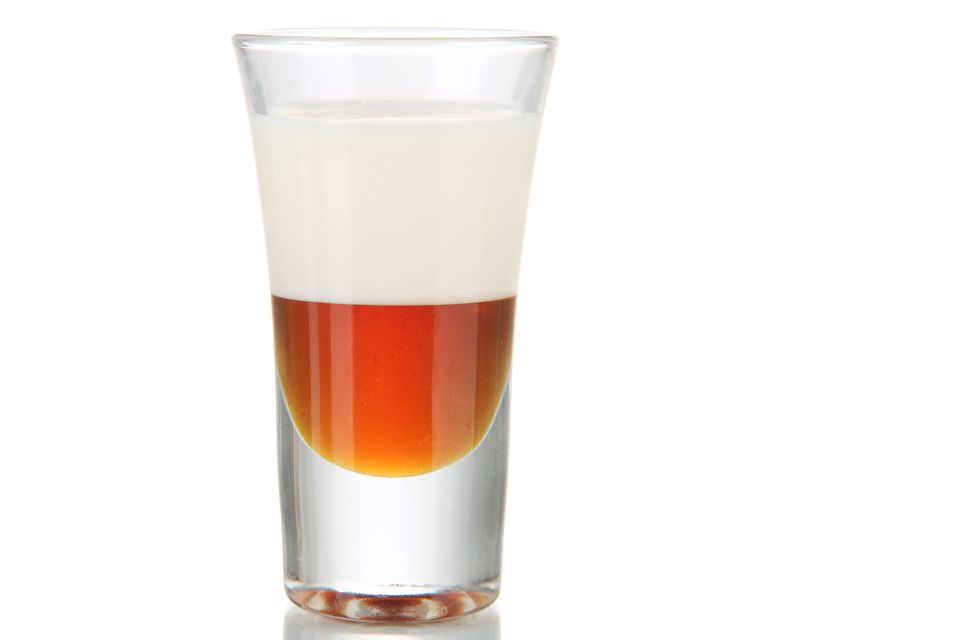 What a wonderful shot! The Buttery Nipple is a fun and popular party shooter and it one that will ruin your night (unless you have too many, of course). This tasty shot has the flavor of a creamy butterscotch candy and it is fun to share a round with friends.
As is very common in the world of party shots, there are many recipes that go by the name Buttery Nipple or are slight variations and I have included a number of them below. This first recipe is the most popular and often referred to as Buttery Nipple #1.
The Buttery Nipple #2 uses the same ingredients. The only difference is that an equal pour of each liqueur is used.
Pour butterscotch schnapps into a chilled shot glass.
Carefully float the Irish cream on top.
There are many brands of butterscotch schnapps available. DeKuyper's Buttershots is one of the most popular for this recipe and they have a Buttery Nipple recipe on their website that skips the layers, opting for shaking the liqueurs together with ice then straining the mix into the shot glass.
The trick to creating layered shots like this is to pour the ingredients in the order given.
Each liqueur has a specific gravity that will determine whether it can float on top of another. Rule of thumb: the heavier liqueur on the bottom.
Buttery Nipple #3 Recipe
Oddly enough, this recipe throws the butterscotch out completely and uses peach schnapps instead. What is so 'buttery' about it, I don't know. It could just be one of those last minute "we're out of Buttershots" moments that caught on. It is a pretty tasty shooter as well.
Layer this shot in the same way as the first with the schnapps on the bottom and the cream on top.
Golden Nipple Recipe
This is a very fun variation on the Buttery Nipple that adds a favorite cinnamon schnapps to the mix. It is the perfect addition and the flavors go nicely together. The two schnapps will likely mix together, but that is okay in this instance. The Irish cream will still float on top if you pour carefully.
If you were to switch from Goldschlager to Hot Damn you would have a Spicy Buttery Nipple. Fireball Cinnamon Whisky would be another good option.
Pour both schnapps into a shot glass and carefully float the Irish cream on top.
Nutritional Guidelines (per serving)
Calories
140
Total Fat
2 g
Saturated Fat
0 g
Unsaturated Fat
1 g
Cholesterol
0 mg
Sodium
16 mg
Carbohydrates
18 g
Dietary Fiber
8 g
Protein
11 g
(The nutrition information on our recipes is calculated using an ingredient database and should be considered an estimate. Individual results may vary.)