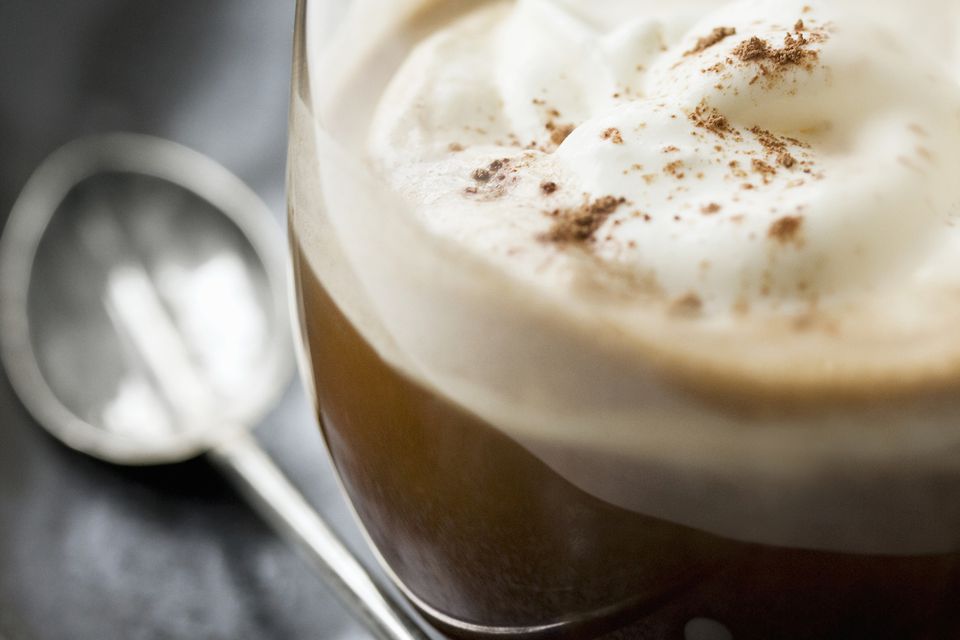 The Café Brasileiro is another very sweet, complex drink from the mind of John Gakuru (check out Aman Snow Leopard). It is sweet, a mix of cachaca, chocolate liqueur, and a special vanilla cream - all of that with fresh hot coffee.
I recommend making the best cup of coffee possible, your standard drip coffee pot may not do it here. I prefer to use a French press with slightly ground beans (fair trade, organic, dark roast) because it produces a frothier, richer cup of coffee that is excellent in this (and most other) hot cocktail.
To make vanilla cream:

Scrape the seeds from a vanilla pod into a cocktail shaker.
Add heavy cream and shake vigorously for 20 seconds.

Stir all other ingredients together in an Irish coffee glass.
Slowly and gently layer the vanilla cream onto the surface of the drink.
Recipe Courtesy: Sagatiba Pura Cachaca
Nutritional Guidelines (per serving)
Calories
925
Total Fat
26 g
Saturated Fat
17 g
Unsaturated Fat
7 g
Cholesterol
65 mg
Sodium
49 mg
Carbohydrates
45 g
Dietary Fiber
2 g
Protein
3 g
(The nutrition information on our recipes is calculated using an ingredient database and should be considered an estimate. Individual results may vary.)