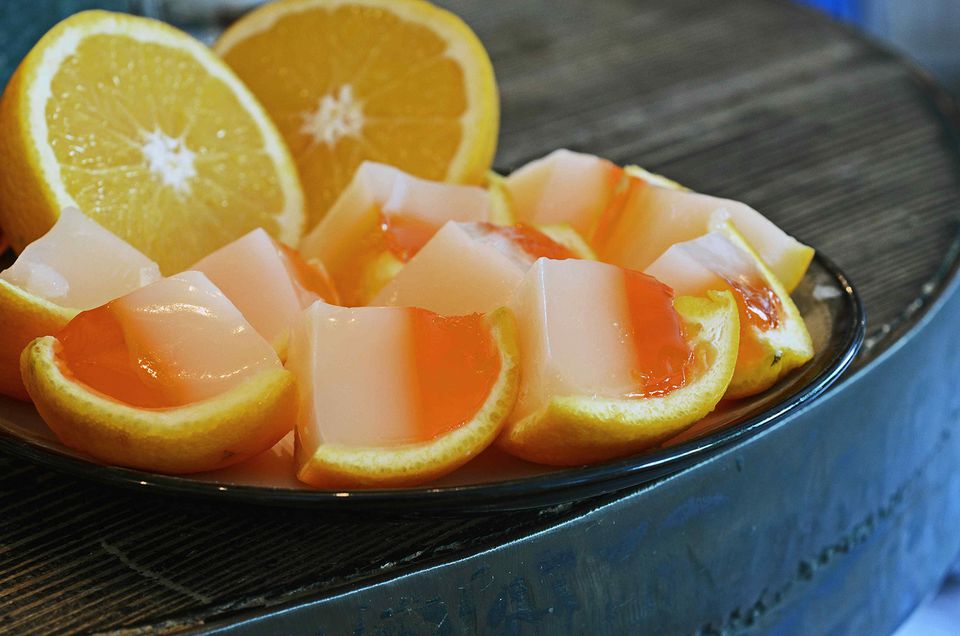 Jell-O shots take on an entirely different look in these candy corn oranges. They're a fun party treat for Halloween or any occasion where pint-sized, spiked oranges may add to the festivities.
There have been many creative molds devised for these jiggling shooters, but this is a favorite because they use a natural mold. For this recipe, we can thank Cointreau Master Mixologist, Kyle Ford.
Creating these fun treats is not as difficult as it may seem, simply follow the steps carefully and be patient, allowing the gelatin layers to set properly.
Also, be aware that Cointreau is not a low-alcohol liqueur—it is 80 proof—​so these are not going to be as delicate as they may seem. One other note: don't waste the orange pulp when hollowing the peels. Instead, throw them in the juicer, muddle them for cocktails, or enjoy a fresh fruit snack.
If you like, you can also build the gelatin layers in shot glasses, either glass or disposable.
25 ounces (1-750ml bottle)
10 large​
1 box orange Jell-O
1 can​
1 envelope Knox (unflavored) gelatin
1/4 cup sugar
Cut the oranges in half and hollow them out.
For the orange layer:

Boil one cup of water and stir in the orange jello.
Once dissolved, remove from heat and add 1 cup of Cointreau.
Pour the mixture into the orange peels, filling each halfway.
Refrigerate for 2 to 3 hours, or until firm.

For the white layer:

Add 1/2 cup of water, 1/2 cup coconut milk, Knox gelatin, and sugar to a saucepan.
Over medium heat, stir until the gelatin and sugar are dissolved.
Remove from heat and stir in 1/2 cup Cointreau.
Pour mixture on top of orange jello layer and refrigerate overnight.
With a sharp knife, cut the orange halves in eighths.
Recipe Courtesy: Cointreau Master Mixologist, Kyle Ford
Nutritional Guidelines (per serving)
Calories
42
Total Fat
1 g
Saturated Fat
1 g
Unsaturated Fat
0 g
Cholesterol
0 mg
Sodium
2 mg
Carbohydrates
5 g
Dietary Fiber
0 g
Protein
0 g
(The nutrition information on our recipes is calculated using an ingredient database and should be considered an estimate. Individual results may vary.)