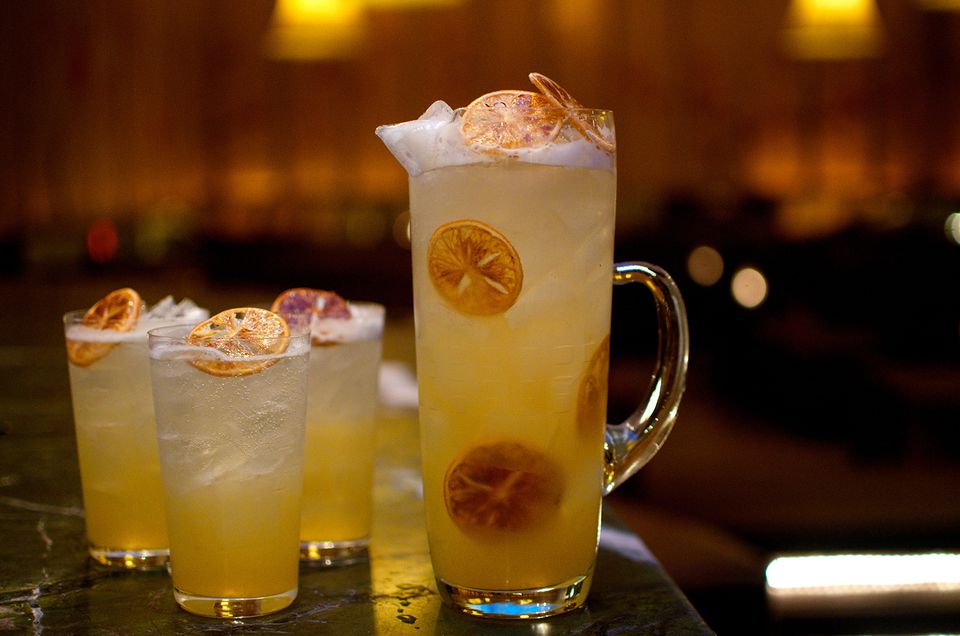 The Centennial Punch comes from New York City's The Stanton Social and it is a wonderful punch on the menu for the holiday season. It's also a pineapple lover's delight.
This is possibly one of the most pineapple-infused cocktails you will find because three of its four ingredients include the tropical fruit. While it may be good for summer parties, the whiskey and coriander add a twist that makes it an equally viable option for winter entertaining.
There is some prep involved with this punch, but it is nothing that is too taxing and you can do most of the work a day or two before your party. Begin by infusing a great whiskey from Colorado with fresh pineapple, then do some quick stove top magic to create the coriander-pineapple syrup. At this time you may also want to freeze your remaining pineapple in cubes to be used as ice.
When party time comes around, puree more pineapple, squeeze a few lemons, and caramelize a few more. Put everything together in your favorite glass pitcher.
Prep a Few Ingredients
Infuse 1 1/4 cup of Stranahan's Colorado Whiskey with 1/4 cup fresh cubed pineapple for 24 hours.
Puree 4 cups of fresh pineapple in a blender and strain well through a fine strainer. 
Make the coriander-pineapple syrup in a method similar to this mint-citrus syrup, using pineapple juice. You can also use pineapple puree but will need to fine-strain the syrup once it cools.
Caramelize lemons by slicing a few lemons, heating a little oil in ​a pan and cooking the lemons for about 5 minutes until soft and brown. You can also add a little sugar for extra sweetness.
To Make the Punch
Combine pineapple-infused whiskey, strained pineapple purée, coriander-pineapple syrup, and lemon juice in your favorite vintage pitcher or punch bowl.
Chill for at least one hour.
When ready to serve, add ice. Large cubes of frozen pineapple can be used instead of ice for a great fresh and long lasting fruit flavor.
Garnish with several caramelized lemon slices.
(Recipe from The Stanton Social)
Nutritional Guidelines (per serving)
Calories
42
Total Fat
0 g
Saturated Fat
0 g
Unsaturated Fat
0 g
Cholesterol
0 mg
Sodium
5 mg
Carbohydrates
11 g
Dietary Fiber
1 g
Protein
1 g
(The nutrition information on our recipes is calculated using an ingredient database and should be considered an estimate. Individual results may vary.)