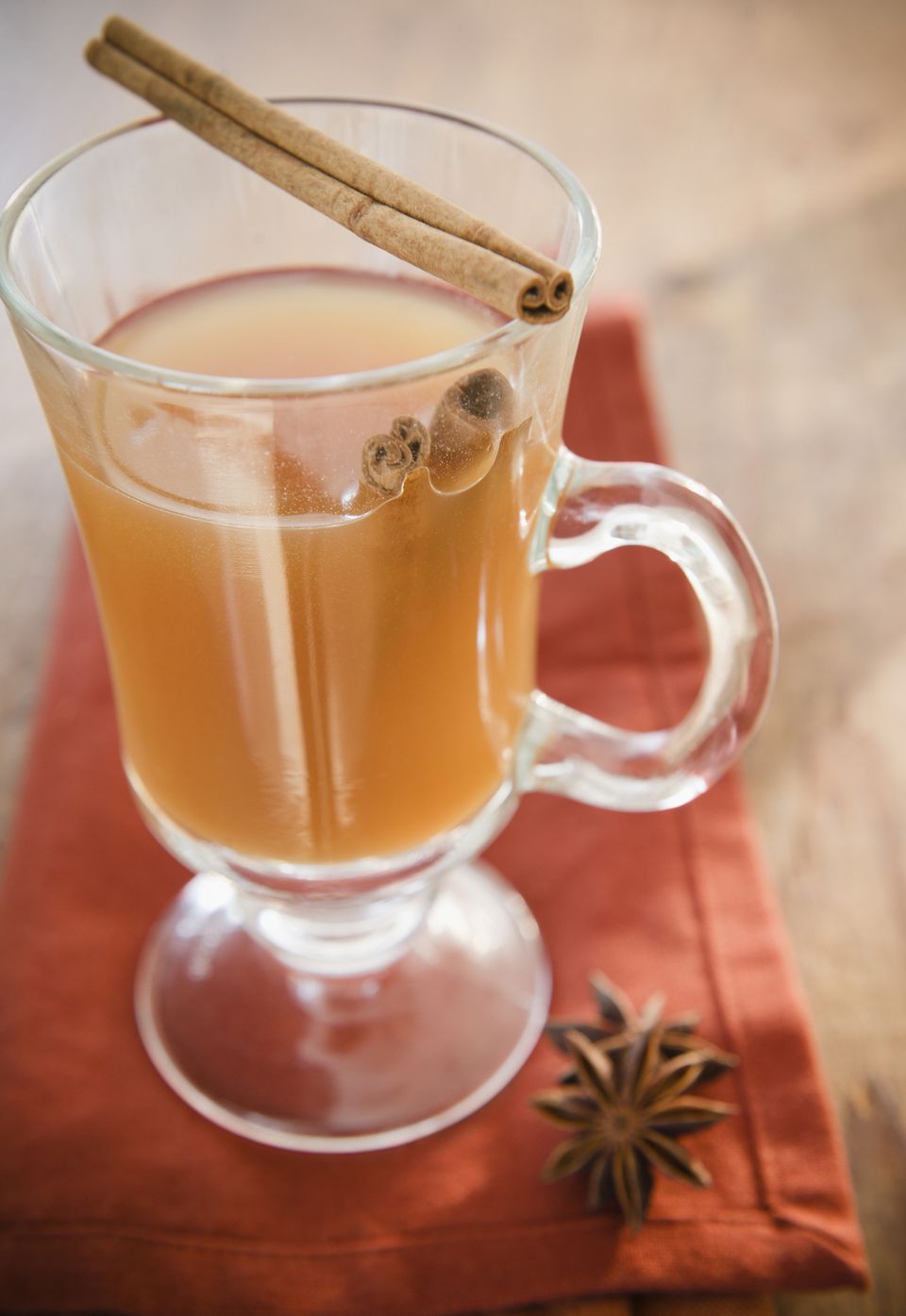 Looking for a drink that combines the wintertime comfort of mulled apple cider and the bold flavor of masala chai? This delightful Chai Spiced Apple Cider recipe from Stephanie Knight of Pangea Tea Company is just what you need. It combines the warming whole spices of traditional masala chai with the sweet, comforting flavor of apple cider for a wonderfully wintery taste. For me, it is an ideal blend of apple cider and chai in one beverage.
4 allspice corns (whole)
4 cloves (whole)
3 cardamom pods
2 teaspoons cinnamon (chips)
1/2 teaspoon ginger root (dried, fresh ginger root gives a fuller ginger flavor)
1/2 vanilla bean pod (seeds removed)
1/2 small apple (such as Honeycrisp, Jonagold or McIntosh)
4 cups apple cider (Fresh-pressed is preferable)
2 tablespoons black tea (Assam loose leaf)
1/2 cup almond milk (If desired, you can omit this or use other dairy alternatives)
Using a mortar and pestle, lightly crush the allspice, cloves, cardamom pods, cinnamon and ginger.
In a small saucepan, add the apple cider, crushed spices, vanilla bean and sliced apples.
Bring the mixture to a boil and then remove the pan from heat.
Cover and let steep for 10 minutes
Return the spiced cider to a boil, then remove from heat.
Add the tea and almond milk. Cover and let steep for 4 minutes.
Stir well, and then strain into a teapot.
 
​Drinking Recommendations
As mentioned above, this is a wonderful drink for wintertime. Try it on a snowy, icy or just plain chilly day.
The warming spices in this chai-cider make it ideal for the holidays. It pairs well with many traditional Thanksgiving, Christmas and Hanukkah foods, including apple pie, sweet potato pie, gingerbread, latkes with applesauce and sufganiyot (a kind of doughnuts served during Hanukkah).
That said, you don't need to wait for a special occasion to drink it! It's also great alongside many wintertime foods, including cookies, cakes, baked apples, applesauce (especially homemade applesauce with cinnamon!), many creamy cheeses and creamy dishes (such as Camembert or a creamy chicken pot pie), pretty much any sweet involving cinnamon and many baked meringues.
Nutritional Guidelines (per serving)
Calories
165
Total Fat
2 g
Saturated Fat
0 g
Unsaturated Fat
0 g
Cholesterol
0 mg
Sodium
37 mg
Carbohydrates
35 g
Dietary Fiber
10 g
Protein
7 g
(The nutrition information on our recipes is calculated using an ingredient database and should be considered an estimate. Individual results may vary.)