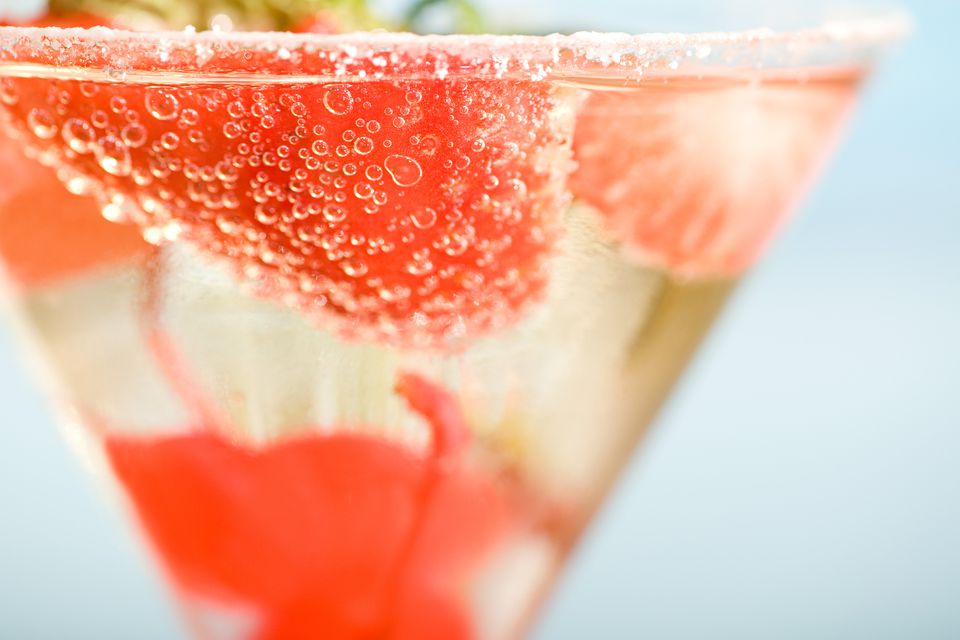 The Champagne Bowler is a rather vineal cocktail as three of its five ingredients are based on the grape.
It is a wine cocktail that dates to at least the 1930's and 40's and uses both a white wine (e.g. a Chardonnay) and Cognac topped with a sparkling wine, but there is another fruit that lays in the background for a fresh twist. It is a mash of sweetened strawberries that make the Bowler fantastic, and because it is served without straining, the drinker gets the full effect of the berries.
3 strawberries (fresh)
1/2 ounce simple syrup
1/2 ounce Cognac
1 ounce white wine
4 ounces sparkling wine
Garnish: fresh strawberries
Muddle the strawberries and simple syrup in a cocktail shaker.
Fill the shaker half way with ice.
Add the cognac and white wine.
Pour the contents of the shaker (including the ice) into a wine goblet.
Top with sparkling wine.
Garnish with a strawberry.
Nutritional Guidelines (per serving)
Calories
229
Total Fat
1 g
Saturated Fat
0 g
Unsaturated Fat
1 g
Cholesterol
0 mg
Sodium
24 mg
Carbohydrates
26 g
Dietary Fiber
5 g
Protein
7 g
(The nutrition information on our recipes is calculated using an ingredient database and should be considered an estimate. Individual results may vary.)