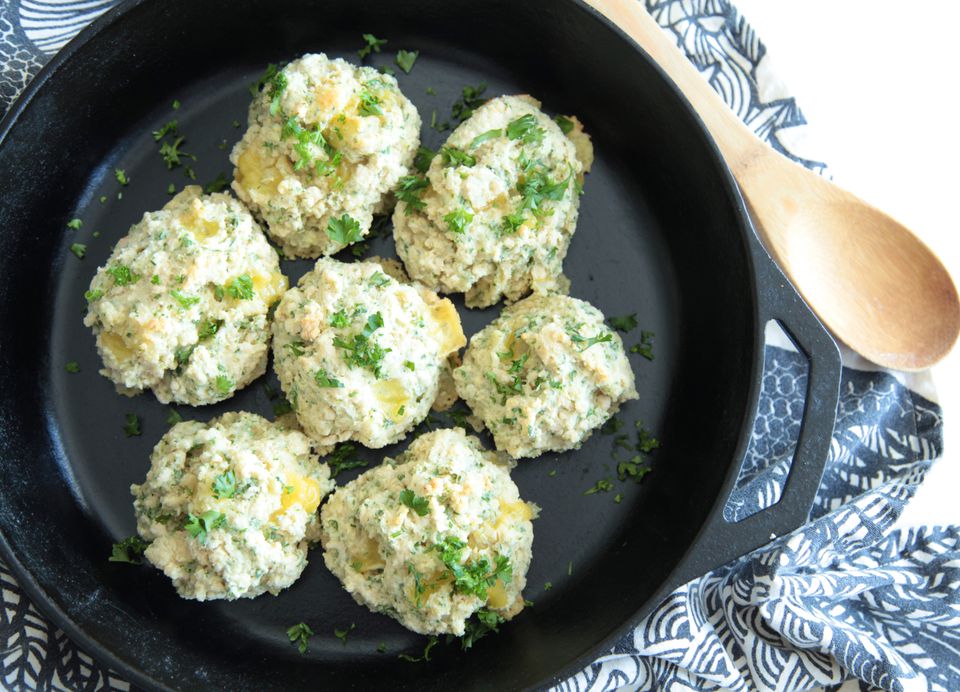 Drop biscuits are so easy to make and never fail. These biscuits, made with sour cream, cheddar cheese and fresh herbs are moist and buttery, with a crispy outline of cheese around the edges.
Drop biscuits are easy to make because lumps of batter are simply dropped onto a baking sheet or skillet, rather than rolling out and cutting dough. These biscuits are especially easy and reliably good because they're made with melted butter, sour cream and cheese. They turn out moist, fluffy and tender every time.
2 cups all-purpose flour
2 teaspoons baking powder
1/2 teaspoon baking soda
1 1/2 teaspoons kosher salt
7 tablespoons unsalted butter, melted and cooled, divided
1 1/2 cups full-fat sour cream
3/4 cup finely chopped fresh herb (try parsley, dill, or cilantro)
3 ounces cheddar cheese (cut into tiny cubes 1/4-inch or less, about 3/4 cup)
Preheat oven to 400 F.
Oil a cast-iron skillet or line a baking sheet with parchment paper.
In a large bowl, whisk flour, baking powder, baking soda, and salt. Drizzle in 6 Tbsp. butter and mix gently with your hands until the butter is just barely mixed in.
Push the batter to the sides, making a well in the center of the bowl. Fill the well with sour cream, herbs and cheddar cheese. Mix with a wooden spoon or spatula just until the moist ingredients are incorporated into the dry.
Scoop the batter out of the bowl with a spoon and drop into 8 biscuits (about 1/2 cup batter, each), evenly spaced in a cast iron skillet or on a baking sheet. The biscuits can be close enough so they are just barely touching. Don't worry about shaping the dough; drop biscuits are simply "dropped" onto a baking sheet and being misshapen is part of their charm.
Brush the remaining tablespoon of melted butter over the top of the biscuits.
Bake until golden brown, about 14 minutes.
The biscuits will stay moist for several days. Reheat in a heated oven for 5 minutes, or for 25 seconds in a microwave.
Biscuits with Flavor
Make these biscuits without any cheese or herbs and they're still delicious, especially when served with sweet jam. But for an extra savory biscuit, play around with different cheese and herb combinations. Or, make the biscuits with flavored cheese.
Cheddar + Parsley
Cheddar + Cilantro (plus chopped jalapeno or roasted poblano peppers)
Monterrey Jack + Dill
Goat cheese + Dill (plus scallions)
Asiago + Basil
Types of Cheddar
Because of its neutral color, white cheddar is used most often in recipes. Orange cheddar, which is colored with flavorless annatto, can also be used in this recipe if you don't mind the color. An aged, sharp cheddar will give these biscuits the most flavor.
Aged Cheddar: Cheddar can be aged for a few months or for years. The longer the Cheddar is aged, the more intense the flavor becomes.
Farmhouse Cheddar: The European Union recognized true farmhouse cheddar by awarding it PDO (Protected Designation of Origin) status.
True farmhouse cheddar must be made in England in the counties of Somerset, Dorset, Devon or Cornwall. The milk must come from the same farm where the cheese is aged. Farmhouse cheddar is aged at least 9 months. Read more on the official West Country Farmhouse Cheesemakers website.
Nutritional Guidelines (per serving)
Calories
280
Total Fat
24 g
Saturated Fat
13 g
Unsaturated Fat
7 g
Cholesterol
63 mg
Sodium
907 mg
Carbohydrates
13 g
Dietary Fiber
2 g
Protein
6 g
(The nutrition information on our recipes is calculated using an ingredient database and should be considered an estimate. Individual results may vary.)