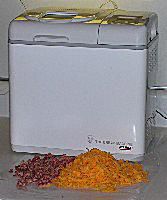 Cheddar and Bacon Bread is a savory and slightly hearty bread that can add a little something special to your meal. Here is the recipe for the bread machine version, so your bread is not only delicious but easy to make.
1 1/3 cups water
2 tablespoons vegetable oil
1 1/4 teaspoon salt
2 tablespoons plus 1 1/2 teaspoons sugar
4 cups bread flour
3 tablespoons nonfat dry milk
2 teaspoons
2 cups cheddar cheese (or swiss cheese, shreddied)
8 slices
bacon (crumbled or 3 tablespoons bacon bits)
Place ingredients in bread pan in order listed or according to manufacturer's directions.
The cheddar cheese and bacon are added in ​the fruit and nut signal. Depending on your machine this could be anywhere from 30 to 40 minutes into the cycle.
Recipe Tips
Remember, when adding the yeast last, make a small well with your finger to place the yeast. This will insure the proper timing of the yeast reaction.
This bread is processed at the Basic (Standard) cycle or according to manufacturer's directions. (Note: I've done it on the Rapid Cycle, but the cheese and bacon is completely incorporated into the bread. You still get the great flavor, but the nice texture is gone.
Imitation or real bacon bits may be used. They can be found in the salad dressing section of the grocery store. If you use real bacon bits, use 1/2 cup.
Nutritional Guidelines (per serving)
Calories
366
Total Fat
21 g
Saturated Fat
10 g
Unsaturated Fat
7 g
Cholesterol
51 mg
Sodium
1,005 mg
Carbohydrates
23 g
Dietary Fiber
1 g
Protein
21 g
(The nutrition information on our recipes is calculated using an ingredient database and should be considered an estimate. Individual results may vary.)