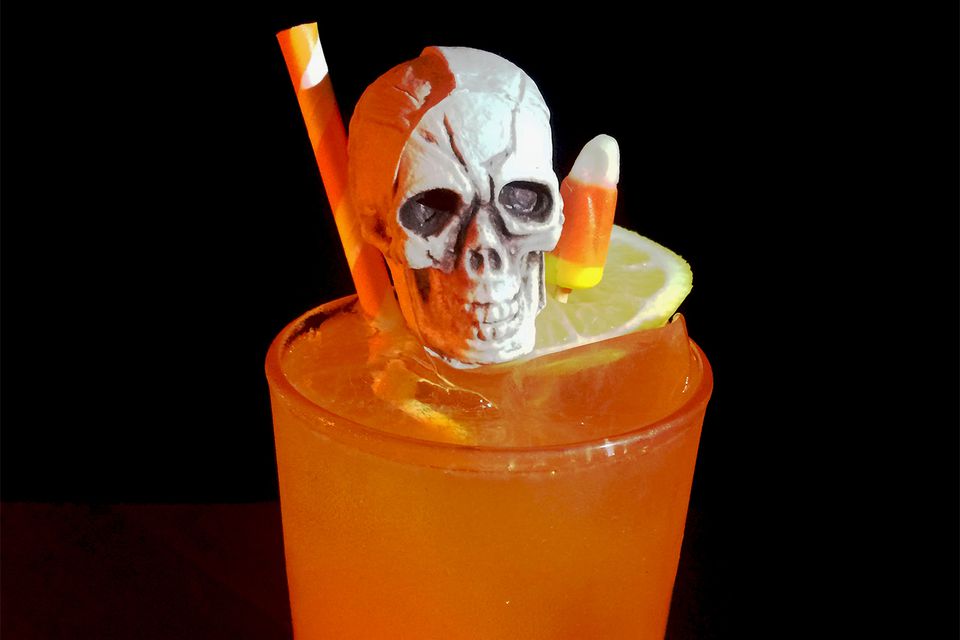 Candy corn is one of the icons of the Halloween season and many cocktails have been created using these fun little candies. The Children of the Corn is another one, yet it takes a different route and it all begins with a candy corn-infused vodka. It is very fun, unique, and easy.
The candy vodka infusion only takes a couple of hours so it can be prepared the day of the party. The cinnamon syrup is best when infused overnight and the only other ingredients you'll need are seltzer and lemon juice.
When it all comes together, the drink is a true delight. The sweetened vodka and spiced syrup are balanced by the citrus, and the seltzer adds a refreshing touch.
2 ounces candy corn-infused vodka (instructions below)
3/4 ounce lemon juice
3/4 ounce cinnamon-infused simple syrup (recipe below)
4 ounces s

eltzer water

(or as needed to fill glass)
Garnish: lemon wheel
Garnish: candy corn skewer
Pour the vodka, juice, and syrup into a cocktail shaker filled with ice.
Top with seltzer.
Garnish with a lemon wheel and skewer of candy corn.
This cocktail recipe was created by Yael Vengroff, Bar Director of The Spare Room, located inside one of the most haunted places in the world. The Hollywood Roosevelt Hotel is said to be the eternal home for the spirits of legends like Marilyn Monroe, Carole Lombard, and Montgomery Clift.
How to Make Candy Corn Vodka
It may be tempting to be very cheap on the vodka used for the infusion though we always have to keep in mind that the quality of the base makes a world of difference. There are plenty of good tasting vodkas that are affordable. Choosing one of these can help you find the balance between quality and cost.
One of the best parts of working with candy cocktails is that you get to snack while making it. Make sure to save some candy for the garnish, though.
Don't throw away the vodka bottle. Instead, use it to store the finished vodka. It is the best way to keep it fresh under a tight seal until it is time to mix a drink.
Combine 1 cup candy corn with 1 liter of vodka in a large container.
Stir for 20 seconds.
Cover and let sit for 2 hours.
Strain out the candy corn and pour into a bottle.
DIY Cinnamon Syrup
This cinnamon syrup recipe will yield just over 4 cups when finished so be sure to have a large bottle ready to store it. An empty, clean liquor bottle works perfectly, just give it a temporary label (masking tape works great) with a date.
Vengroff's recipe recommends crushing the cinnamon sticks, though leaving them whole makes removing them much easier.
The best flavor will come from an overnight infusion. However, if you are short on time you can rush this a bit by extending the time on heat and using more cinnamon. 
Be sure to store the syrup in the refrigerator if it is made a day or more before the party.
Measure out 60 grams (about 1/4 cup when crushed) cinnamon sticks into a bowl.
Smash with a muddler or a pot.
Combine with 1000 grams (about 4 1/4 cups) superfine sugar and 1000 grams filtered water.
Heat over medium heat for about 20 minutes, stirring until all sugar is dissolved.
Remove from heat and let sit overnight.
Strain out cinnamon sticks and bottle.
How Strong Is the Children of the Corn Cocktail?
The Children of the Corn is a relatively light cocktail because vodka is the only liquor. If we were to use an 80 proof vodka and fill an 8-ounce glass with ice, the cocktail would be less than 10 percent ABV (20 proof). That is about the same as a glass of wine.
Recipe Courtesy: Yael Vengroff, Bar Director of The Spare Room
Nutritional Guidelines (per serving)
Calories
268
Total Fat
4 g
Saturated Fat
2 g
Unsaturated Fat
1 g
Cholesterol
11 mg
Sodium
63 mg
Carbohydrates
23 g
Dietary Fiber
1 g
Protein
4 g
(The nutrition information on our recipes is calculated using an ingredient database and should be considered an estimate. Individual results may vary.)