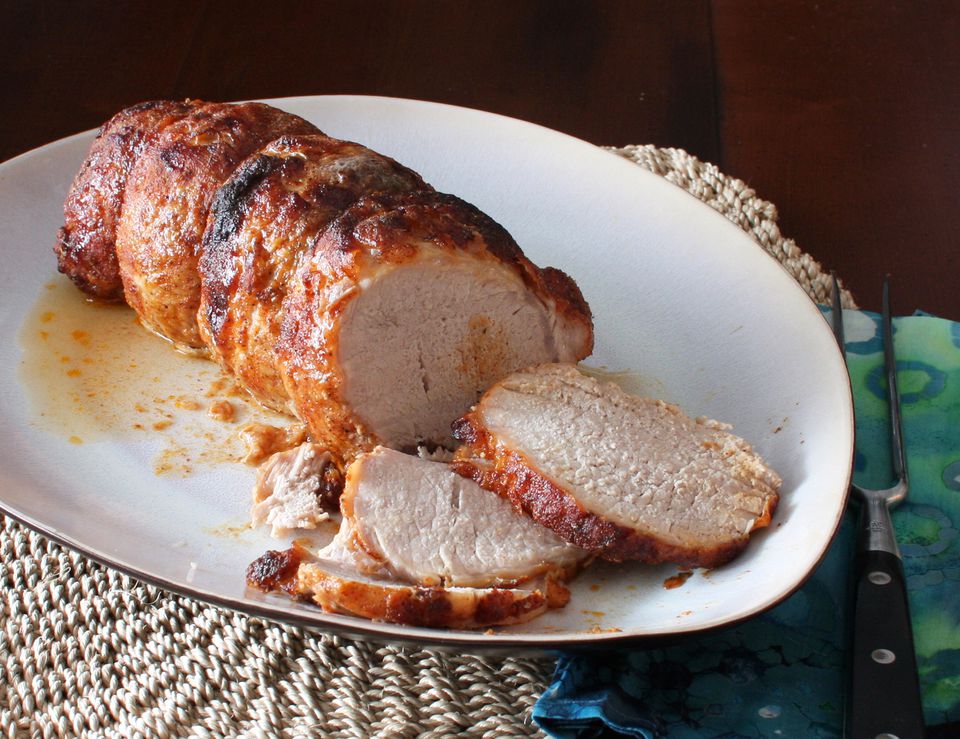 This savory pork loin roast is rubbed with a mixture of chili powder and brown sugar, then it's roasted to perfection. Serve with flavorful Mushroom Madeira Sauce made with the pan drippings or simply serve with a purchased gravy or pan drippings.
Serve this flavorful pork roast with baked or mashed potatoes, green beans or peas, and a tossed salad for a fabulous family meal.
2 tablespoons brown sugar (packed, light or dark)
1 tablespoon all-purpose flour
1 teaspoon chili powder
1/2 teaspoon salt
1/4 teaspoon black pepper
1/4 teaspoon garlic powder
1/4 teaspoon onion powder
1/4 teaspoon cumin
1/8 teaspoon oregano
1 pork loin roast (boneless, about 4 pounds)
For the Mushroom Madeira Sauce:
3 tablespoons butter
8 ounces mushrooms (button or baby portobello, thinly sliced)
4 to 6 green onions (thinly sliced)
1/4 cup pan drippings (from the roasted pork)
1/2 cup water
1/2 cup Madeira wine
2 tablespoons red wine vinegar
salt to taste
black pepper to taste
Roasting Instructions
Heat the oven to 375 degrees
Combine the brown sugar, flour, chili powder, 1/2 teaspoon of salt, 1/4 teaspoon of pepper, and the garlic powder, onion powder, cumin, and oregano; blend well. Rub the pork loin all over with the flour and seasoning mixture. Place the pork, fat-side up, in a baking pan.
Roast the pork for about 1 hour to 1 hour and 15 minutes, or until the meat registers at least 145° on an instant read thermometer or oven probe inserted in the thickest part of the roast.
Remove the roast from the oven, cover loosely with foil, and let it rest for 10 minutes before slicing.
Spoon pan juices over the pork roast or serve the roast with the Mushroom Madeira Sauce (directions below), if desired.
Serves 4 to 6, with leftovers.
Mushroom Madeira Sauce Instructions
While the roast is cooking, saute the mushrooms in the butter until tender; add the green onions and saute for 1 minute longer. Remove from heat and set aside until the roast is done.
When the roast is done and resting, add the pan juices to the mushrooms and green onions, along with the water, Madeira, and red wine vinegar. Bring to a simmer and cook, stirring, for 2 minutes. Taste and add salt and freshly ground black pepper, as needed.
Makes about 2 cups of sauce.
You Might Also Like
Nutritional Guidelines (per serving)
Calories
628
Total Fat
34 g
Saturated Fat
14 g
Unsaturated Fat
14 g
Cholesterol
173 mg
Sodium
412 mg
Carbohydrates
19 g
Dietary Fiber
2 g
Protein
56 g
(The nutrition information on our recipes is calculated using an ingredient database and should be considered an estimate. Individual results may vary.)