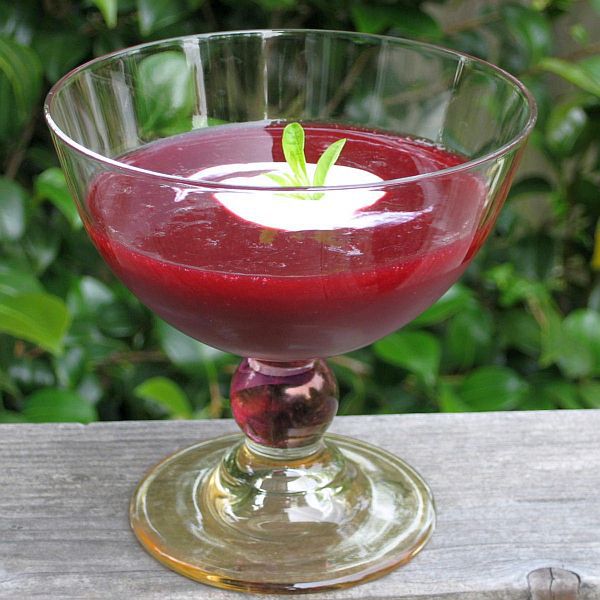 Jennie Schacht, the author of "Farmers' Markets Desserts" (Chronicle Books, 2010) and "I Scream Sandwich: Inspired Recipes for the Ultimate Frozen Treat" (Stewart, Tabori and Chang, 2013) updated this Chilled Jewish Plum Soup Recipe from her father's childhood, which was probably served as a starter course or dessert.

Schacht says, "Most of my family is from Latvia/Lithuania, Russia and Poland. Among my father's favorites from among the recipes his mother used to make when he was a child is this chilled soup, which he calls by its Yiddish name, pomella. I've added lemon verbena, which I think makes it even more alluring. My childhood friend Emily makes this and freezes the leftovers in popsicle molds for her kids!"

I couldn't find a reference to pomella in Yiddish and neither could the author, but it's very typical for a dish to be called by a nickname or diminutive among families. My best guess is that it is a hybrid of the German pflaume for "plum" and "ela" which is added to many Yiddish words to denote small -- probably a reference to the type of plum used.

Schacht further states, "Use flavorful, dark flesh plum varieties, such as Santa Rosa. This soup is a great way to use up plums that have gone a little too ripe."

I think Damson plums, with their sweet-tart flavor and so common in Eastern Europe, would also be great in this soup. Here is a larger photo of Jewish Plum Soup.
4 cups water
2/3 cup sugar
1/4 teaspoon kosher salt
Black pepper to taste 
2 pounds firm-ripe plums, pitted and coarsely chopped
1 sprig lemon verbena, about 4 inches long, or a 4-inch strip of lemon​ zest
2 tablespoons crème de cassis or other berry liqueur (optional)
1/2 teaspoon finely grated lemon zest
2 teaspoons fresh lemon juice
1/2 cup sour cream, crème fraîche, or Greek-style whole-milk yogurt, for serving
Put the water, sugar, salt, and pepper in a large, heavy, nonreactive saucepan and bring to a boil over medium-high heat, stirring to dissolve the sugar. Add the plums, bring back to a boil, then reduce the heat to a gentle simmer. Skim off any foam that rises to the top, then simmer, stirring occasionally, until the fruit is very soft and falling apart, about 20 minutes.
 
Remove from the heat and stir in the 4-inch lemon verbena sprig or strip of lemon zest. Let cool for about 20 minutes, tasting occasionally and removing the lemon verbena (or zest) when its flavor has perfumed the soup to your liking. It should be a delicate background note, not a predominant flavor.
 
Purée the soup until smooth using an immersion blender, standard blender, or food processor. Stir in the liqueur if using it, and the lemon zest and juice. Cover and refrigerate until very cold, about 4 hours or up to 4 days.
 
Ladle the chilled soup into shallow bowls. Top each serving with a dollop of sour cream and a mint sprig.
Source:
Jennie Schacht's
Fork & Swoon blog
, and
Food 52
, used with permission.
Nutritional Guidelines (per serving)
Calories
168
Total Fat
3 g
Saturated Fat
1 g
Unsaturated Fat
1 g
Cholesterol
8 mg
Sodium
81 mg
Carbohydrates
35 g
Dietary Fiber
2 g
Protein
1 g
(The nutrition information on our recipes is calculated using an ingredient database and should be considered an estimate. Individual results may vary.)