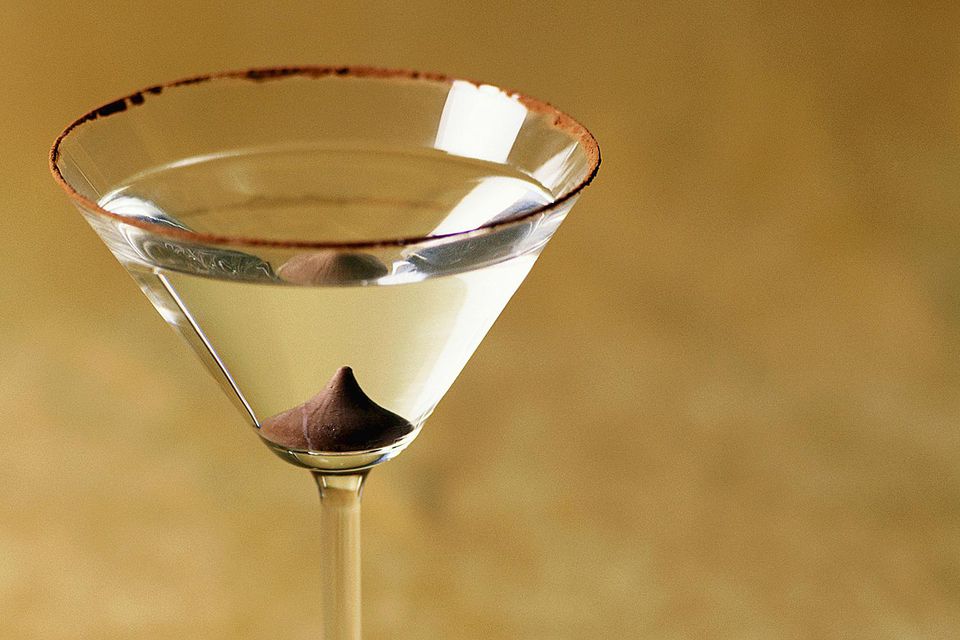 The combination of chocolate and orange is a favorite in cocktails and there are a number of drinks that highlight how delightful it is. This Chocolate & Orange Martini is one of them and it relies on just a touch of orange to accent the chocolate.
The hint of orange is a perfect contrast for drinks that rely heavily on chocolate. I've used it in drinks like this Chocolate Margarita as well and it works because it gives the drink a profile beyond sweet cocoa.
The other unique thing about this cocktail is that it uses a melted chocolate rim. This version is a nice homemade touch and is fun for a party or when you already have chocolate in a double boiler. You can also melt the chocolate in a microwave. Next time you're making chocolate covered strawberries, treat yourself to this martini as well.
Shake the ingredients with ice in a cocktail shaker.
Strain into the prepared glass.
To Make the Chocolate Rim
Place chunks of chocolate into a heat-safe bowl.
Place this bowl over a pot of water.
Heat and simmer the water until the chocolate is completely melted.
Pour the melted chocolate onto a plate and dip the rim of the cocktail glass into the chocolate.
Stand the glass upright. 
Allow the chocolate to set.
Nutritional Guidelines (per serving)
Calories
117
Total Fat
0 g
Saturated Fat
0 g
Unsaturated Fat
0 g
Cholesterol
0 mg
Sodium
2 mg
Carbohydrates
7 g
Dietary Fiber
0 g
Protein
0 g
(The nutrition information on our recipes is calculated using an ingredient database and should be considered an estimate. Individual results may vary.)