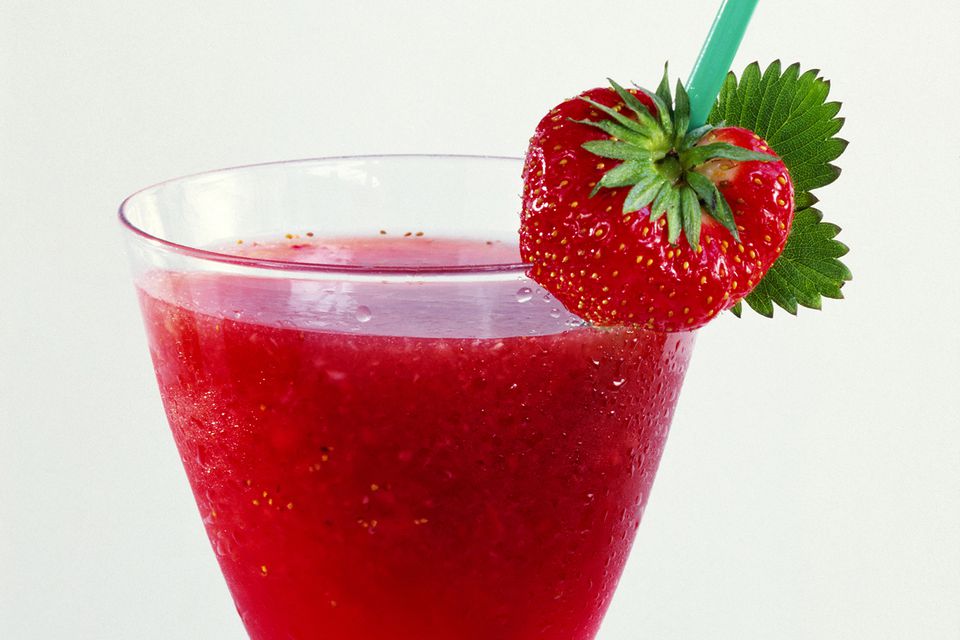 The timing was perfect for the November 2006 release of for NYC's Metro Marche to release a series of Christmas cocktails with a James Bond twist. This Christmas Jones was one of those specialty cocktails and it remains a favorite drink that brings the tastes of summer into the holiday season.
The cocktail is quite simple and it all begins in the blender. Fresh strawberries and pineapple are blended with your favorite vodka until nice and smooth. The drink is then poured into a glass and topped with a little soda to add an extra Bond-like bling.
The Christmas Jones is a fantastic drink for any time of year and this recipe is designed to share with a friend.
In a blender, whiz the vodka, strawberries, sugar and pineapple juice together.
Pour the mix equally into two highball glasses.
Top with 7-Up.
Garnish with a sprig of mint.
More Tips for Making a Great Christmas Jones
The Vodka
The Christmas Jones is no Vodka Martini so there is really no need to pour your best vodka into the blender. However, it is important to remember that your cocktail is only as good as the liquor you start with, so don't be a cheapskate, either.
To make a good Christmas Jones, start out with a mid-range vodka (any of the popular brands are excellent candidates). One that you wouldn't mind in your Vodka Tonic should do just fine.
The Strawberries
Save those frozen strawberries for your next Strawberry Daiquiri and go with fresh berries for the Christmas Jones. Take note that this is not the average blended cocktail because there is no ice added to the blender. Instead, this is more of a spiked fruit puree or a blended juice and that would warrant the freshest fruits possible.
The Pineapple Juice
If you have a juicer, do yourself a favor and use fresh pineapple juice because the drink will be just a little brighter.
For those using bottled pineapple juice, you may find that those little cans of pineapple juice are the best option. They usually come in 5 to 6 ounce cans, which is perfect for a single round of drinks and you don't have to worry about wasting a larger can. Just be sure to check that the juice is "Not From Concentrate" and keep an eye on the expiration dates (they can easily be pushed to the back of the refrigerator and forgotten).
Buy Dole Pineapple Juice at Amazon
How Strong is the Christmas Jones?
This recipe is exceptionally light on the alcohol. If you notice, despite the fact that the recipe creates two highball drinks, there is only a single shot of vodka used.
If we were to assume that the finished drink pours to about 8 ounces and we used an 80-proof vodka, then the Christmas Jones would weigh in at a very mild 3% ABV (6 proof), which is lighter than the average bottle of beer.
Recipe Courtesy: Metro Marche - According to reports, this French bistro that was in NYC's Port Authority is now closed.