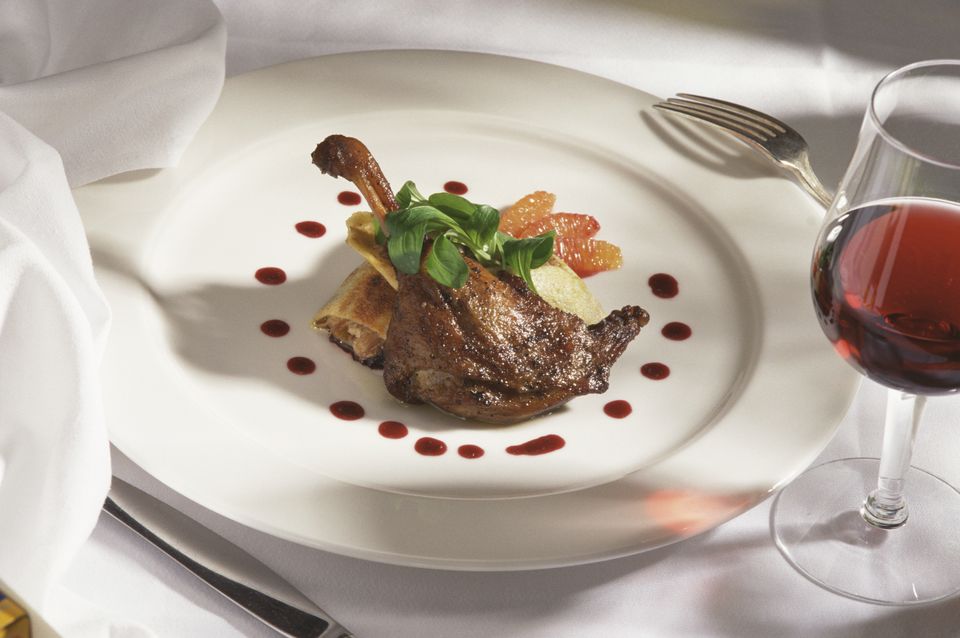 Just because only two people will be dining together for the holiday doesn't mean Christmas dinner shouldn't be special. In fact, because you are not cooking for a large group, this is the ideal opportunity to splurge on the ingredients for a memorable meal. This menu features both simple and elegant dishes that will not only impress but will also set the stage for a festive feast.
Start off your meal with a glass of Champagne and the gougères (which you can make in advance). Everyone...MORE thinks duck is a daunting meal to prepare, but nothing could be farther from the truth. Just take each recipe one step at a time—you will enjoy the cooking process and later savor a five-star meal.
Gougères are bite-size savory puffs generally made with cheese. Don't let the pastry frighten you—it is the same easy-to-make batter used for cream puffs. Best of all, gougères can be frozen and reheated, so go ahead and make the full recipe and freeze what you don't eat! Better yet, make these delicious puff ahead of time and just reheat what you will need for the meal.

This recipe calls for six duck breasts but you can easily cut down the recipe to accommodate two. After a quick pan-fry to get the skin nice and crispy, the duck breasts go into the oven for 10 minutes. While they are cooking, you can whip up the simple sauce of honey, brown sugar, butter, and beef broth to drizzle on top.​

 

Potatoes Savoyarde originated in Savoy, high in the French Alps, hence its name. It's really just potatoes au gratin since a gratin is any dish topped with cheese and/or buttered breadcrumbs. This potato Savoyarde doesn't have buttered breadcrumbs, but the cheese definitely is present. It is a perfect dish with any meat or fowl prepared in almost any way and is particularly good with duck.

The simple combination of brown sugar and butter makes a delicious and beautiful glaze atop baby carrots. This recipe couldn't be easier—mix ingredients with water and let boil until cooked and coated. Light or dark brown sugar can be used, and a sprinkling of salt and pepper at the end is a nice counterpoint to the sweetness. Feel free to garnish with fresh parsley or another green herb for added color and flavor.

Continue to 5 of 5 below.

Perfect for a dinner for two, these individual desserts won't leave you with an almost complete cake when the meal is over. The recipe makes four tarts—you can cut the sheet of pastry in half and only make two, but once you taste it, you might wish you had another for tomorrow! Similar to a French apple tart, called tarte aux pommes, the thinly sliced apples are layered on top of the pastry square, sprinkled with cinnamon sugar and dotted with butter, and then baked until golden. While still...MORE warm, a glaze of apricot preserves is brushed on top.