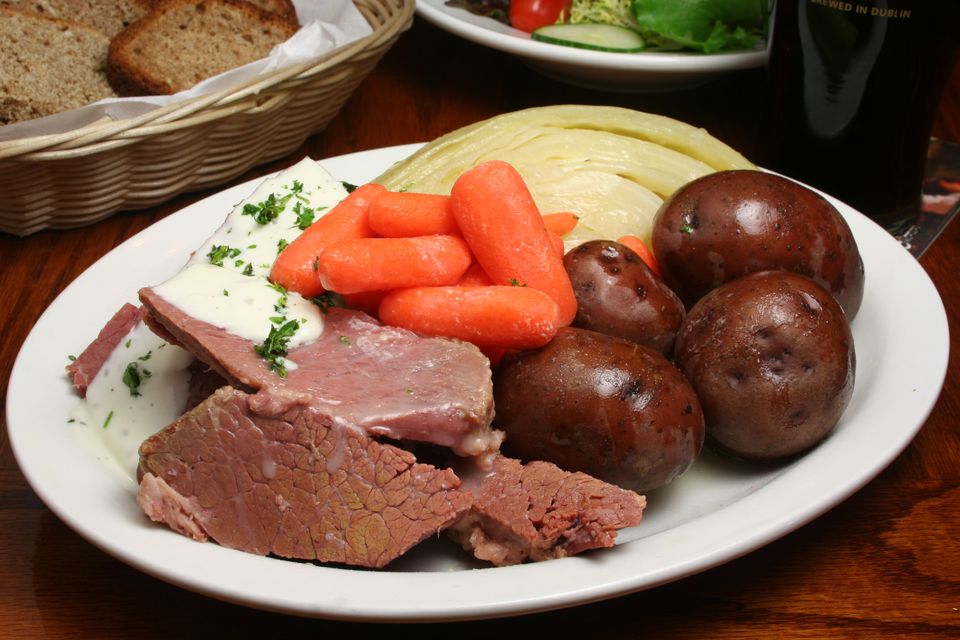 This is a classic corned beef and cabbage recipe, perfect for St. Patrick's Day or any family meal.
I add rutabaga to my corned beef and cabbage, and others prefer parsnips or turnips. Feel free to add an extra cut-up vegetable to your dinner, leave one out, or go with the ingredients listed below.
10 allspice berries
1 teaspoon black peppercorns
2 to 3 sprigs of thyme or about 1/2 teaspoon dried leaf thyme
2 medium bay leaves
1 corned beef brisket
3 cups beef broth
2 medium onions (each cut into 4 wedges)
1 medium clove garlic (minced)
3 1/2 pounds red-skinned potatoes, (unpeeled or peeled, scrubbed and quartered)
6 to 8 large carrots (halved and cut into 3-inch lengths)
1 large head cabbage (cut into 8 wedges)
1 medium rutabaga (cut into 2-inch chunks)
Optional: Horseradish and Mustard Sauce:
1 cup sour cream
1 to 2 tablespoons prepared horseradish
1 tablespoon grainy mustard (or to taste)
Dash cayenne pepper
2 to 3 tablespoons of fresh chopped parsley
Garnish: fresh chopped chives
Combine the allspice berries, peppercorns, and thyme in a small cheesecloth bag. Tie the bag tightly to keep the herbs and spices inside.
Put the corned beef in a 6- to 8-quart saucepan or Dutch Oven; add the bay leaves, beef broth, and the bouquet garni bag. Add enough water to cover the corned beef brisket. Add garlic and onion. Bring to a boil; reduce heat to low, cover, and simmer for 2 hours. Remove the corned beef to a platter, cover with foil, and keep warm in a very low oven or warming drawer.
Skim fat from the broth and add the potatoes and carrots to the broth (remove some of the broth if there is too much liquid). Bring to a boil; cover, reduce heat to medium-low and cook for 10 minutes. Add cabbage wedges and continue cooking for about 20 minutes, or until cabbage and vegetables are tender.
Optional Horseradish and Mustard Sauce
In a bowl, combine the sour cream with the prepared horseradish, mustard, 2 to 3 tablespoons of parsley, and a dash of cayenne pepper.
Slice the corned beef and serve with the vegetables. Sprinkle parsley over the potatoes and cabbage, if desired. Serve the horseradish and mustard sauce in a separate bowl.
Tips and Variations
Add sliced or diced parsnips or other root vegetables along with the potatoes.
You Might Also Like
Nutritional Guidelines (per serving)
Calories
449
Total Fat
12 g
Saturated Fat
5 g
Unsaturated Fat
4 g
Cholesterol
55 mg
Sodium
415 mg
Carbohydrates
69 g
Dietary Fiber
13 g
Protein
23 g
(The nutrition information on our recipes is calculated using an ingredient database and should be considered an estimate. Individual results may vary.)