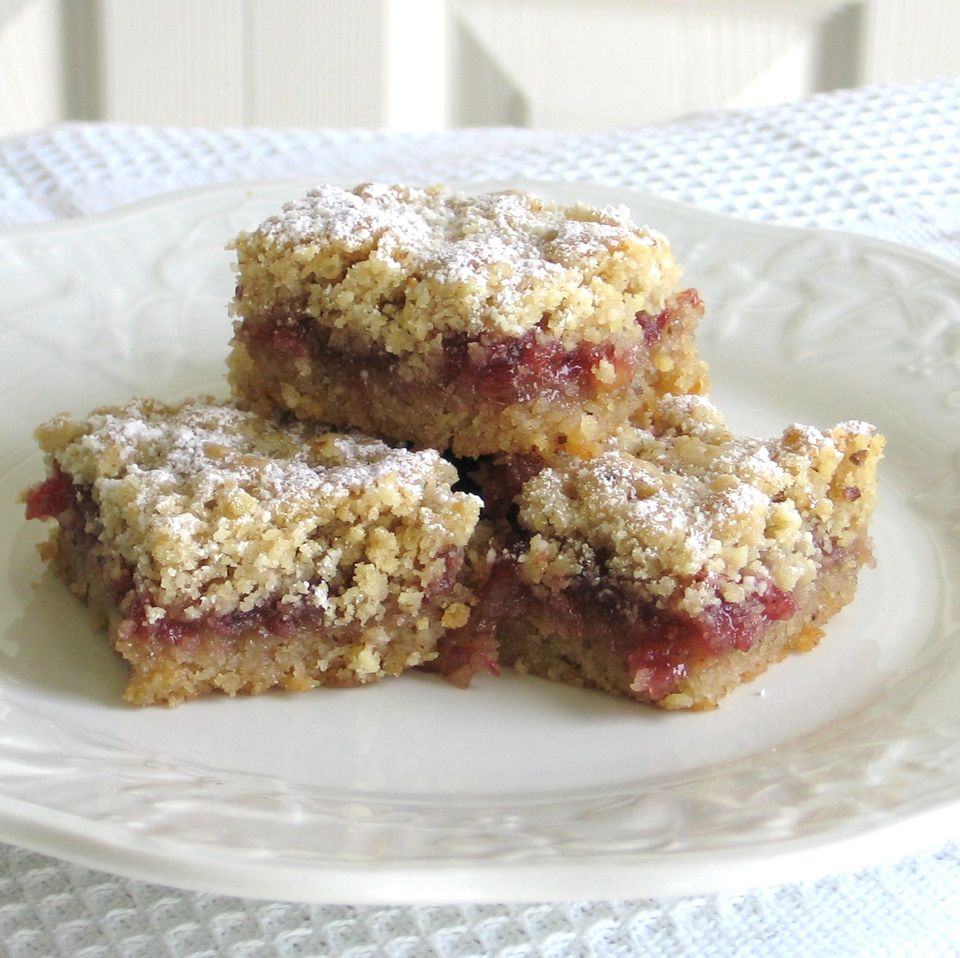 This Czechoslovakian shortbread bar cookie recipe would be considered a cukrovi (the generic term for confections or sweets of any kind) as well as a susenky (a cookie, shortbread and biscuit as the English use the word. Czech Christmas cookies are known as vánoční cukrovi.
This recipe was given to me in the early '70s by a lovely Czech woman. Everyone seems to have it but not with an almond-strawberry filing. The almond, while very sweet, seems to cut the richness of the dough. This recipe is definitely party size, but it can be cut in half with no loss in quality.
This recipe calls for 4 egg yolks, so freeze the leftover egg whites and save them to use in these leftover egg white recipes.
Compare this Czech shortbread with this Hungarian Shortbread Recipe.
Here's a larger photo of Czech bar cookies.
1 pound (2 cups or 4 sticks) butter (softened)
2 cups sugar
4 large room-temperature egg yolks
4 cups all-purpose flour
2 cups chopped walnuts (or pecans)
1 (8 to 12-ounce) container almond paste (not marzipan)
1 (12-ounce) container strawberry pastry filling
Garnish: confectioners' sugar
Heat oven to 325 degrees. In a large bowl, cream 1 pound (2 cups) softened butter and 2 cups sugar until light and fluffy. Add 4 large room-temperature egg yolks and mix well. Add 4 cups all-purpose flour and 2 cups chopped walnuts or pecans and mix until well incorporated.
 
Divide the dough in half. Wrap half in plastic and put in the freezer while you make the base.
 
With slightly dampened hands, pat the remaining half of dough into a 15 1/2 inch by 10 1/2 inch jellyroll pan until even. Re-dampen hands as necessary if dough starts to stick to your fingers.
 
Spread almond paste over surface to within 1/4 inch of edges. Top with strawberry filling and spread in the same way.
 
Remove dough from freezer and grate evenly over entire surface of filling. Bake for 45 minutes to 1 hour or until golden brown. Cool 10 minutes on a wire rack.
 
While still in the pan and while still warm, cut into 9 horizontal rows and 6 vertical rows (to make 54 bars). Cool completely in the pan. Dust with confectioners' sugar and transfer bars to paper cups and a pretty serving tray. Store any leftovers tightly covered.
More Czech Cookie Recipes
Czech Cocoa Balls Cookies Recipe
Czech Carpenter's Curls Cookies Recipe
Czech Jam-Filled Cookies Recipe
Nutritional Guidelines (per serving)
Calories
158
Total Fat
12 g
Saturated Fat
5 g
Unsaturated Fat
4 g
Cholesterol
35 mg
Sodium
34 mg
Carbohydrates
12 g
Dietary Fiber
1 g
Protein
2 g
(The nutrition information on our recipes is calculated using an ingredient database and should be considered an estimate. Individual results may vary.)