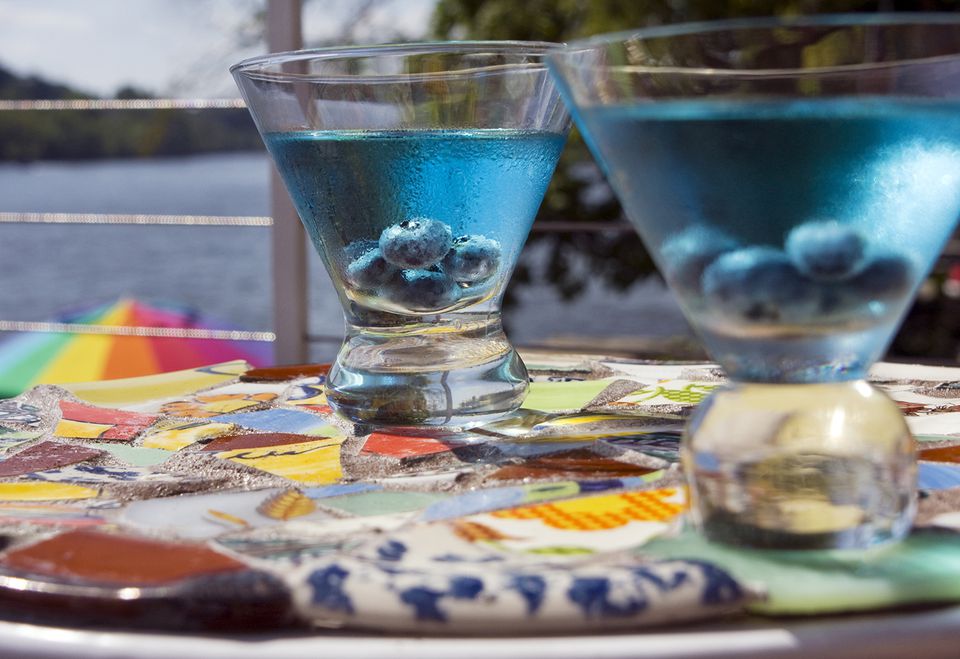 The Dafne Martini is one of my favorite blue martinis. I created it when experimenting with pear-infused vodkas shortly after they first hit the market. It quickly became a favorite in my bar and has since become quite the hit among fruity martini lovers.
There are two different flavors that are possible with this drink, depending on the gin that you choose. For a light and refreshing Dafne Martini, I prefer the aromatics of Bombay Sapphire, though I also enjoy fruitier gins like Tanqueray Rangpur. Boodles, Bulldog and Martin Miller's take this drink to the drier side. It's all a matter of what you're in the mood for at the time.
I also like to play with the garnish. It ranges from a lemon twist to a few fresh blueberries. Strawberry, cherry, lime, orange... almost any garnish will work.
Pour the liquors and vermouth into a cocktail shaker with ice.
Strain into a well-chilled cocktail glass.
Add a dash of orange bitters.
Fun Fact: Personal inspiration is the perfect way to find a name for your cocktail and that is what happened with the Dafne Martini. Inspired by the elegance of my tuxedo cat, I named this drink after her. That is also why I chose the 'f' and spell it Dafne rather than Daphne (a 'correct' spelling).
How Strong is the Dafne Martini?
This beautiful blue cocktail looks all sweet and innocent, but she can be deceiving. Notice that my Dafne Martini is made entire of liquor and, like most martinis, this one can sneak up on you.
On average, you can expect the Dafne Martini to have an alcohol content of about 31% ABV (62 proof). That is right in line with the original Vodka Martini.
Nutritional Guidelines (per serving)
Calories
233
Total Fat
2 g
Saturated Fat
0 g
Unsaturated Fat
1 g
Cholesterol
0 mg
Sodium
472 mg
Carbohydrates
19 g
Dietary Fiber
3 g
Protein
3 g
(The nutrition information on our recipes is calculated using an ingredient database and should be considered an estimate. Individual results may vary.)