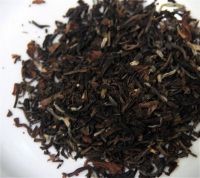 Definition: Tea plucked in the Darjeeling region of India during the second growing season, or "flush," for tea. It is noted for its unique muscat grape flavor, which some say is derived from the plant's reaction to a small insect that sucks fluids from the stems of the tea plant. So-called "muscatel Darjeelings" (Darjeeling second flush teas with a pronounced muscat grape flavor) are highly prized.
Other prominent flavors in many Darjeeling second flush black teas are stonefruit and earth. Although black tea is prevalent, some Darjeeling estates are also producing green, oolong and other types of tea during this growing season.

For more information, read Tea Flushes in Darjeeling.
Also Known As: Second Flush Darjeeling, Darjeeling 2nd Flush, Summer Plucked Darjeeling