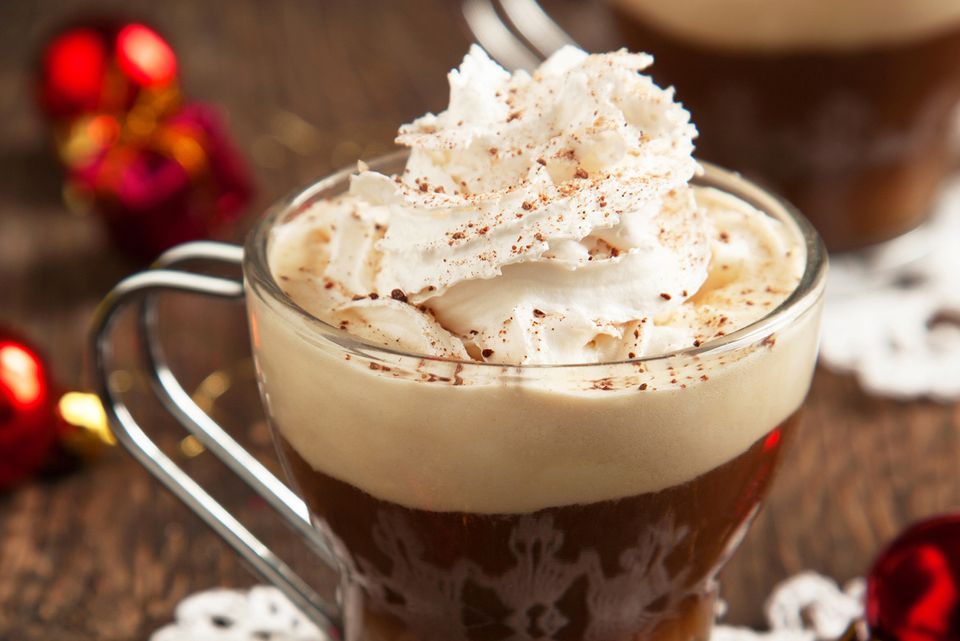 A fantastic vodka meets rich chocolate in a delicious liqueur and for this Dorda Cafe recipe, it is mixed with a strong shot of espresso. This is a fun coffee cocktail that is easy to make and can be mixed either hot or cold depending on your mood.
The Dorda Cafe features Dorda Double Chocolate Liqueur which is rich and creamy and everything we would want in a chocolate liqueur. It also has a well-known base and you can be sure this is going to be a great liqueur with a little Chopin Vodka in the background.
There is more about Dorda below the recipe, but first let's take a look at this amazing drink.
In it, we are taking this luscious liqueur, adding a shot of espresso and then a little amaretto for more dimension. It is delicious and if you feel like enjoying it hot one day and cold the next, it is perfect either way.
Do be sure to add some sort of creamy topping because it makes the drink even more irresistible. If you have the ability to foam milk, add a bit. For those without an espresso machine, it can also be done on the stove.
If, by chance, you have some whipped cream in the refrigerator, why not bring that into the mix as well? We will not even try to do a calorie count on this chocolate cocktail, so go ahead and do it up!
1 1/2 ounces chocolate liqueur (Dorda Double Chocolate Liqueur)
1 ounce espresso
1/2 ounce amaretto liqueur
Garnish: Cappuccino milk foam and/or whipped cream
Pour the ingredients into a cocktail shaker filled with ice.
Strain into a highball glass filled with fresh ice.
Garnish with milk foam or whipped cream (or both!).
Optionally, skip the shaker and serve this warm in a heated Irish coffee glass.
Recipe Courtesy: Dorda
How Strong is the Dorda Cafe?
The Dorda Cafe is a delightful drink that is relatively mild compared to other cocktails. Honestly, you will probably get more of a jolt from the caffeine than the alcohol.
If you are going to shake the cocktail it will weigh in at right around 11% ABV (22 proof). When we factor out the ice melt, the warm version comes in at 13% ABV (26 proof). A 42-proof amaretto was used for this example and because they can reach up to 56 proof, the bottle you choose may make the drink stronger.
Review of Dorda Double Chocolate Liqueur
Chocolate liqueurs fall into two categories: lightly flavored liqueurs like creme de cacao and rich, creamy spirits that are like drinking a chocolate bar. Dorda falls into the second category and it is delicious.
If you like chocolate spirits like Godiva, then you are going to love Dorda. It includes a base of Chopin Vodka. In this case, it is not their famous potato, but the rye vodka that is just as good though not as famous.
Vodka ready, the chocolate is melted from the famed Polish chocolatier E. Wedel. The brand describes this process as "... add enough of the world's finest Chopin Rye to keep it liquid." It definitely is not chocolate vodka, this is a chocolate liqueur.
Yet, Dorda is also not just a chocolate liqueur, it is a double chocolate liqueur and it is very apparent. In fact, this is such a rich liqueur that you really should shake the bottle before pouring.
If you love chocolate and chocolate cocktails, then Dorda is definitely a liqueur you are going to want to check out. It is reasonably priced and its quality makes it worth every penny you will spend on it. This could certainly become the new chocolate liqueur in your regular bar stock.
About Dorda
Chocolate liqueur made with melted Polish chocolate mixed with Chopin Rye Vodka.
Produced by Chopin Vodka
Chocolate from Polish chocolatier E. Wedel
Released in the fall of 2014
18% ABV (36 proof)
Retails for around $25/750ml bottle
Nutritional Guidelines (per serving)
Calories
88
Total Fat
0 g
Saturated Fat
0 g
Unsaturated Fat
0 g
Cholesterol
0 mg
Sodium
15 mg
Carbohydrates
14 g
Dietary Fiber
0 g
Protein
0 g
(The nutrition information on our recipes is calculated using an ingredient database and should be considered an estimate. Individual results may vary.)