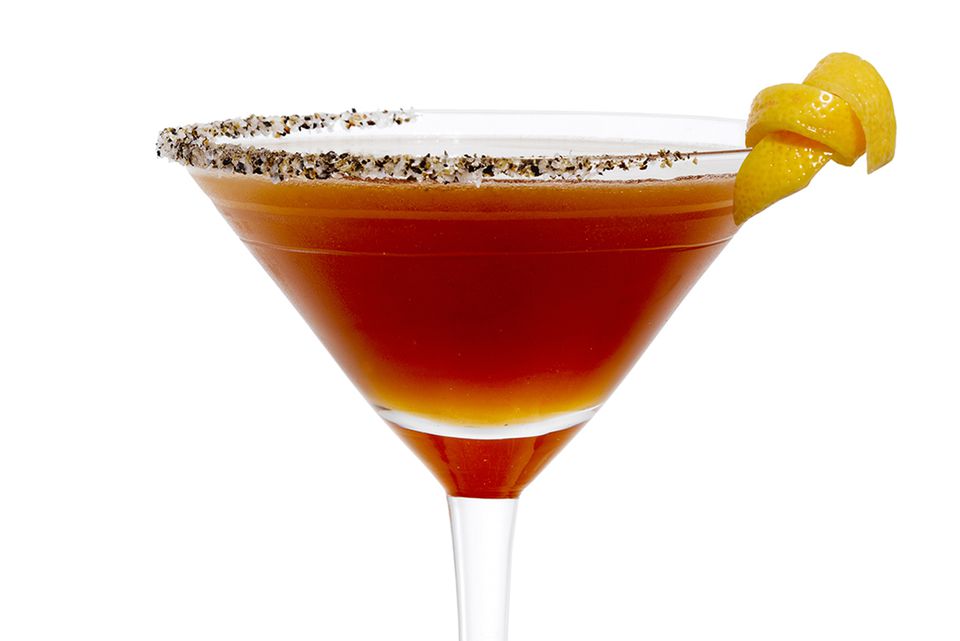 The Dragon's Heart cocktail was created by New York City mixologist Ektoras Binikos of Art & Spirit Mixology for Ron Abuelo Rum. The occasion was the date 12/12/12, the supposedly luckiest day most of us will see in our lifetimes and because 2012 falls in the Year of the Dragon, Ron Abuelo had 12 mixologists create 12 cocktails using their 12 year old rum to celebrate the day. This one, with its combination of rum, mezcal, and blood orange happens to be my favorite of the lot.
There is a lot going on in this drink and you have an option that will decide how deep the flavor actually goes. The choice is given for you to mix either elderflower cordial or a housemade mint-citrus sryup, two polar opposites when it comes to a sweetener. Personally, I like the elderflower option, though there's nothing wrong with the syrup. As yet another option, if you do not have or cannot find an elderflower cordial, St. Germain liqueur is a fine substitute and a bottle that is very handy to have in the bar anyway.
In a cocktail shaker muddle lime wedges, elderflower cordial (or syrup) and 3 drop of bitters.
Add ice, Ron Abuelo 12 Años, Domain de Canton, mezcal and blood orange juice.
Shake vigorously and strain into a martini glass.
Garnish with 2 drops of Angostura bitters and a blood orange slice.
*For the Mint/Citrus syrup (optional)
1 bunch mint, approximately 3 ounces, rinsed, with roots trimmed
2 tablespoons each: fresh lemon, orange and lime juice
Place the mint, juice, sugar and water in a small saucepan stir and bring to a gentle boil over medium-high heat.
Reduce the heat and simmer until the sugar is completely dissolved and syrup is slightly thickened, about 5 minutes.
Remove from heat and let cool.
Remove the mint and transfer to an air-tight container.
Refrigerate syrup until ready to use.
Can be made up to 2 weeks in advance.
More simple syrup recipes and tips...
(Recipe from Ektoras Binikos for Ron Abuelo Rum)
Nutritional Guidelines (per serving)
Calories
305
Total Fat
0 g
Saturated Fat
0 g
Unsaturated Fat
0 g
Cholesterol
0 mg
Sodium
4 mg
Carbohydrates
50 g
Dietary Fiber
2 g
Protein
1 g
(The nutrition information on our recipes is calculated using an ingredient database and should be considered an estimate. Individual results may vary.)