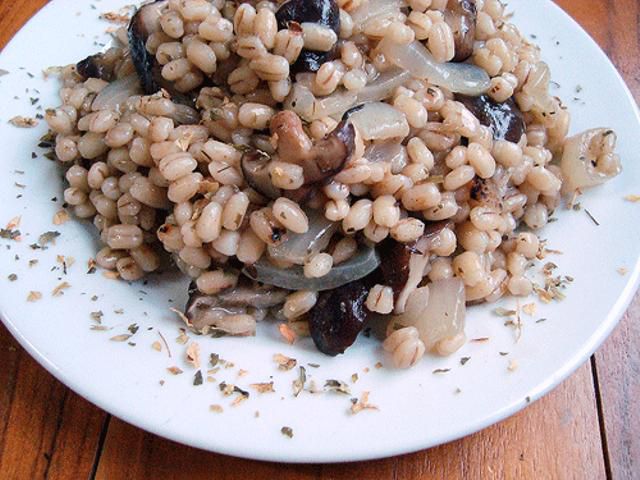 This is an warming and comforting vegetarian barley and mushroom pilaf recipe with plenty of earthy flavor from the onions, rosemary and mushrooms. And, it's low in fat and very low in cholesterol as well. For a vegan barley pilaf recipe that is even lower in fat and completely cholesterol-free, simply omit the Parmesan cheese, or, you could try adding a bit of nutritional yeast instead of the cheese.
Some people love the texture and chewiness of barley, and you may find that you also love that it's a complete bargain at the check-out counter, particularly if you're used to some of the trendier whole grains, such as quinoa or kaniwa, which tend to be a bit on the pricey side. Of course, if you do like experimenting with different whole grains, you can always swap out the barley for your favorite, or try something new, such as whole grain freekeh or teff, if you haven't already. 
If you like barley or are looking for easy barley recipes, try this simple yet delicious barley pilaf, and, if you discover, that you love vegetarian barley and barley pilaf recipes after trying this recipe, try something a little savory and a little sweet with this wild rice and cranberry barley pilaf recipe. Enjoy!
This vegetarian barley and mushroom pilaf recipe is courtesy of the National Barley Foods Council.
1/2 cup fresh sliced mushrooms (use either regular white button mushrooms or fresh porcini mushrooms would also be delicious)
2 tsp. olive oil
1 cup pearl barley
3 cups vegetable broth
2 tbsp. chopped green onions (scallions)
1/4 tsp. crushed dried rosemary
2 tbsp. grated fresh Parmesan cheese (omit or replace with nutritional yeast if you're eating vegan)
Sea salt or kosher salt and fresh cracked black pepper, to taste (optional)
Heat olive oil in saucepan; add mushrooms and sautee until just barely tender, about a minute or two.
Add the barley, vegetable broth, green onion and rosemary. Bring to a boil.
Reduce heat to low, cover and cook 45 minutes or until barley is tender and liquid is absorbed.
Sprinkle the fresh grated Parmesan cheese over the barley pilaf and serve hot.
Season lightly with a bit of salt and pepper, depending on your taste. Sea salt or kosher salt and fresh ground black pepper will give you the best taste. 
Nutritional information, per serving:
One serving (one-fourth of recipe) provides approximately:
242 calories, 7g protein, 7g fat, 40g carbohydrate, 4mg cholesterol, 11g fiber, 790mg sodium.
If you like cooking with barley, you might want to try a few more healthy whole grains. Ever cooked with teff - the tiny grain from Africa? Or what about kaniwa? It sounds like quinoa, but it's not. Ever heard of freekeh? Its a whole grain with a decidedly funny name, and then of course, there's quinoa, the most popular of all and buckwheat: a gluten-free favorite and great for beer!
Nutritional Guidelines (per serving)
Calories
161
Total Fat
4 g
Saturated Fat
1 g
Unsaturated Fat
2 g
Cholesterol
2 mg
Sodium
702 mg
Carbohydrates
27 g
Dietary Fiber
5 g
Protein
6 g
(The nutrition information on our recipes is calculated using an ingredient database and should be considered an estimate. Individual results may vary.)