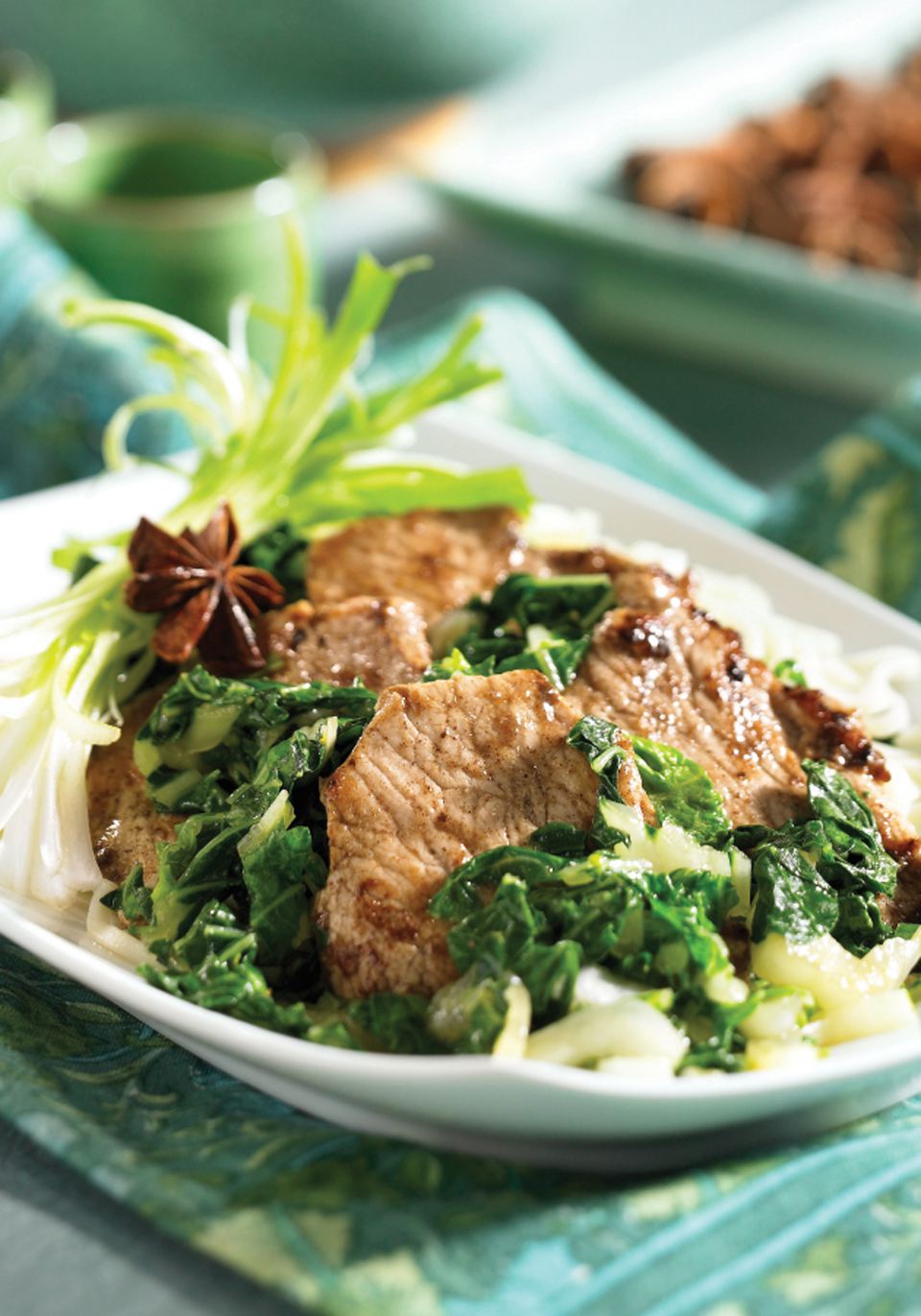 The author writes: "Five-spice powder is an extraordinary mélange of aromatic spices that brings marvelous flavor to meat dishes all across Asia. Made from star anise, Szechwan peppercorns, fennel seeds, cinnamon and cloves, it is often available among the spices on supermarket shelves or in Asian markets. Enjoy this richly flavored stir-fry with a salad of spinach, dried cranberries and thinly sliced almonds, tossed with a citrus dressing."
Courtesy 300 Best Stir-Fry Recipes by Nancie McDermott © 2014 www.robertrose.ca Reprinted with publisher permission.
1 Tbsp soy sauce
1 Tbsp dry sherry or Shaoxing rice wine
1 tsp five-spice powder
1 tsp cornstarch
8 oz boneless pork (such as loin or tenderloin) thinly sliced
1 tbsp chicken stock or water
1 tsp brown sugar or granulated sugar
1 tsp salt or to taste
2 Tbsp vegetable oil
2 Tbsp chopped garlic
1 cup chopped bok choy (see Tip, below)
3 Tbsp chopped green onions
In a bowl, combine soy sauce, sherry, five-spice powder and cornstarch and stir well into a smooth sauce. Add pork and stir to coat evenly. Set aside for 10 minutes.
In a small bowl, combine chicken stock, sugar and salt and stir well. Set aside.
Heat a wok or a large deep skillet over high heat. Add oil and swirl to coat the pan. Add garlic and toss well, until fragrant, about 15 seconds.
Add pork mixture and spread into a single layer. Cook, undisturbed, until edges change color, about 30 seconds. Toss well. Cook, tossing occasionally, until no longer pink, about 1 minute more.
Add bok choy and toss well. Add chicken stock mixture and cook, tossing occasionally, until pork is cooked through, 1 to 2 minutes more. Add green onions and toss well. Transfer to a serving plate. Serve hot or warm.
Nutritional Guidelines (per serving)
Calories
218
Total Fat
15 g
Saturated Fat
3 g
Unsaturated Fat
8 g
Cholesterol
49 mg
Sodium
874 mg
Carbohydrates
5 g
Dietary Fiber
1 g
Protein
17 g
(The nutrition information on our recipes is calculated using an ingredient database and should be considered an estimate. Individual results may vary.)