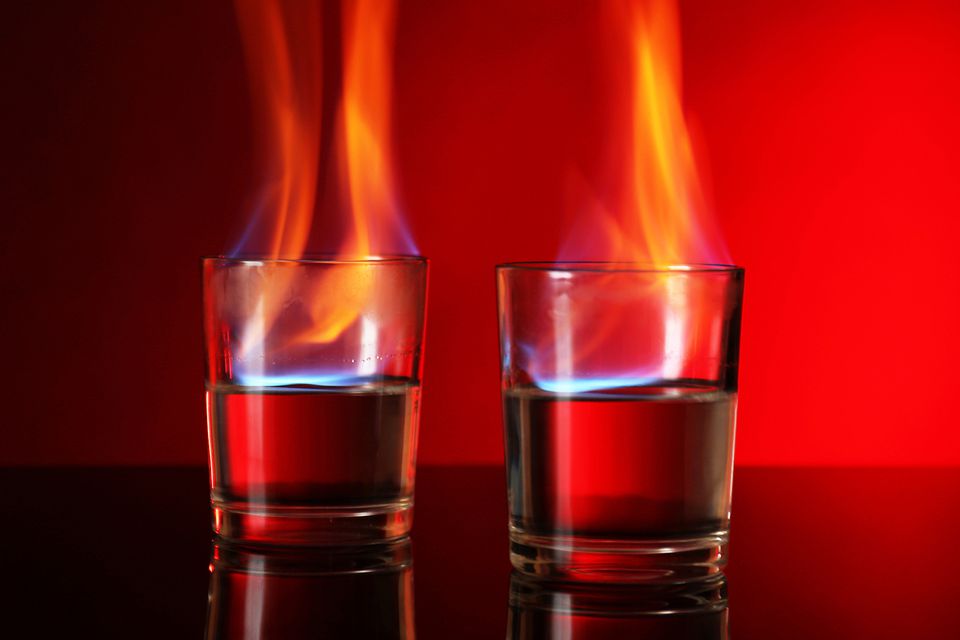 The Flaming Moe debuted on "The Simpsons," and it has been a drink that many people have since tried to recreate. There really is no 'real' recipe for it, but there are a few common mixes.
The "Flaming Moe" episode (Season 3, Episode 10) is one of the most popular and talked about in the long life of the TV show.  In the episode, Homer created the drink and called it the Flaming Homer. Moe stole the recipe, renamed it the Flaming Moe and it became a hit in his bar. The drink has been a weird phenomenon ever since.
I cannot say that I've ever had this drink, nor do I want to try it. Yet, if you're the daring sort, give it a try. This is one of the more drinkable mixes...
Pour all ingredients except the cough syrup in a highball glass.
Stir.
Ignite with a match and extinguish before drinking.
Homer's Creation of the Flaming Homer
What is actually in The Simpsons' original Flaming Moe (or Homer)? The show doesn't say. In the Flaming Moe episode, Homer describes it in a flashback:
"I decided to mix the little bits that were left in every liquor bottle. In my haste, I had grabbed a bottle of the kids' cough syrup."

He blends up the mix and says, "It passed the first test: I didn't go blind."

Homer joins the family on the couch and his sister-in-law Patty's cigarette drops into his glass, igniting it in flames that reached the ceiling.

After his next sip Homer says, "I don't know the scientific explanation, but fire made it good."
The astute viewer (with easy access to the pause and rewind controls) will notice a few of the ingredients:
Two unknown miniature bottles (one simply says 'In-Flight')
An unlabeled purple bottle
Krusty's Non-Narkotik Kough Syrup for Kids
You can easily see that this 'recipe' is completely different than the Flaming Homer listed above (which I learned in the late 90s). Personally, I find the idea of the brandy, schnapps, and fruit combination somewhat more palatable than tequila and two mint liqueurs. Then again, neither is completely appealing and that is why I've not tried it.
I believe that over the years, the mystery of the Flaming Moe has led bartenders to attempt to make an actual drink out of it. If you do a search, you will find that there are many different ways to make the Flaming Moe and that is the key to this recipe!
In true Homer Simpson fashion, you really should be making this drink out of the droppings left in your liquor cabinet.
Fun Fact: You can order a Flaming Moe at Moe's Tavern inside the Universal Studios Florida theme park. However, you will actually get an orange soda-like drink served over dry ice for a smoky, bubbling effect. Fun, but no booze... sorry! (It's kid friendly!)
What About the Cough Syrup and the Fire?
Let's just remember that ​"The Simpsons" is a fictional show and it is a cartoon. As any fan knows, Krusty's products were not always the safest either.
I don't know what kind of alcohol he put in Krusty's Non-Narkotik Kough Syrup, but cough syrups in the real world do not have enough alcohol to catch on fire.
NyQuil Liquid has just 10% alcohol and that's one of the strongest available (there are stronger, which is scary and why you shouldn't drink it with liquor).
If you have ever made a flaming drink, then you know that we usually use a 151-proof rum to top it off. That is 75.5% alcohol by volume and a big difference from the likes of NyQuil. Actually, any liquor over 80-proof will light a drink afire, but the overproof liquors make the most spectacular display.
So, if you would like to drink some cough syrup, do it. If you would like a real flaming drink, skip that nasty stuff (it will just put you to sleep) and stop trying to mix like a cartoon!