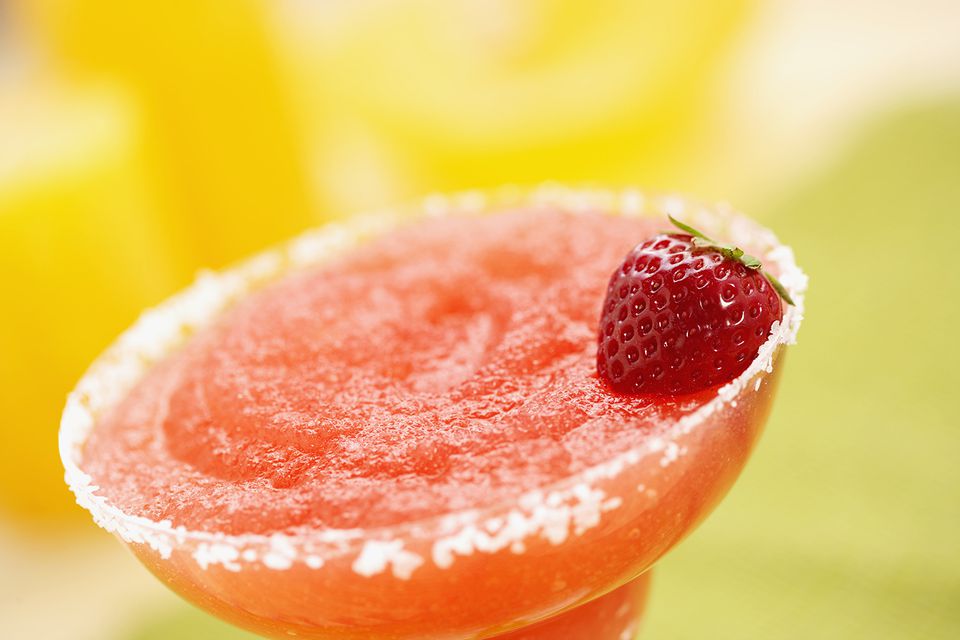 The Strawberry Margarita is one of the most popular of the flavored margarita cocktails. This is understandable because it is a delicious frozen cocktail and a great way to cool down on a hot summer day.
The recipe is very easy and requires just a few ingredients, none of which are hard to come by. Begin by choosing a good tequila. Blanco (or silver) tequilas are a perfect choice because they have a true agave flavor and there are many options available that are reasonably priced. There really is no need to use your best tequila in here because the strawberries have such a strong flavor.
The berries are another matter. When strawberries are in season, I highly recommend using fresh fruit because you not only get a true strawberry flavor but can use any leftovers to create beautiful garnishes. Be sure to wash the berries and cut the stems off before tossing them into the blender.
Find more tips below the recipe.
Pour the ingredients into a blender.
Blend until smooth.
Pour the contents into a chilled margarita glass.
Garnish with a strawberry.
More Tips for Making a Great Strawberry Margarita
If you want a Strawberry Margarita in the off-season, frozen strawberries are readily available year-round. They make an equally delicious drink and are very easy to work with.
One of the best parts about this and any frozen cocktail is that you can easily customize it to fit your personal taste.
If this recipe's too boozy for you, cut back on the liquor (maybe 1 ounce tequila and 1/2 ounce each triple sec and lime juice). If you want more berries, simply add more to the blender.
Also, you can blend it to your favorite consistency by adding more ice for a thicker drink and using a little less for a thinner drink.
Nutritional Guidelines (per serving)
Calories
264
Total Fat
1 g
Saturated Fat
0 g
Unsaturated Fat
0 g
Cholesterol
0 mg
Sodium
5 mg
Carbohydrates
29 g
Dietary Fiber
4 g
Protein
1 g
(The nutrition information on our recipes is calculated using an ingredient database and should be considered an estimate. Individual results may vary.)