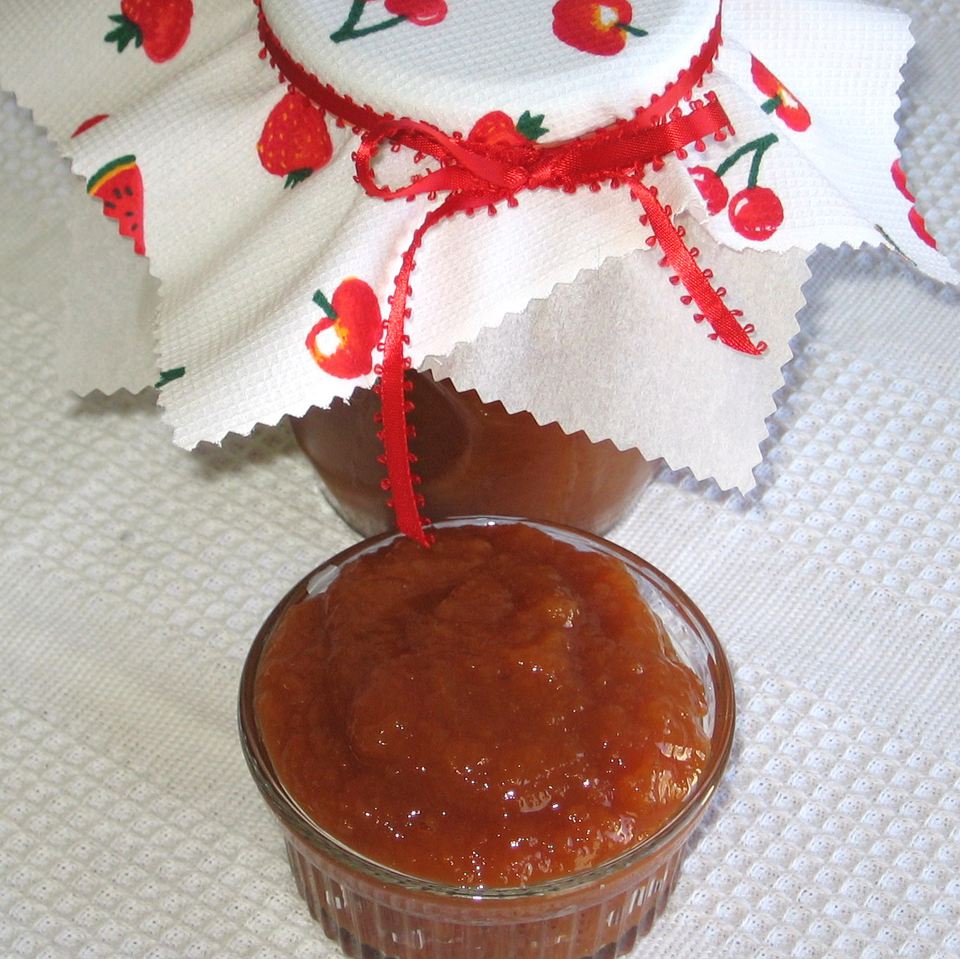 "I can't believe it's not butter!"

That's right, there's not a smidge of butter in fruit butter. The name derives from their smooth and spreadable consistency - just like room-temperature butter!
Fruit Butter Recipes
The Skinny on Fruit Butters
The new fruit spreads that brag about being lower in sugar beat out a long time ago by fruit butter that uses half as much sugar as conventional jams and jellies.
Polish Powidla
The difference between this Eastern European fruit butter and conventional ones is that the fruit isn't strained before being cooked down to a smooth consistency.

Plum butter - powidla sliwkowe - is a Polish classic, although cherries also can be used. Powidla sliwkowe is not only spread on bread, it is sometimes used to flavor bigos, in sauces, as a glaze on pork or duck, and in pastries. There's even a soup - - made from plum butter.
Hungarian Lekvar
Lekvar is a very thick plum or apricot butter made with dried fruit and used as a spread, in pastries, and in cookies.
Fruit Butter Advantages
They can be made in small or large quantities.
They are easy to make.
There is no need for pectin.
Less sugar is used than in conventional jams, jellies, and preserves.
Any Fruit Works in Fruit Butters
Apple is the best-known ingredient but apricots, crab apples, grapes, peaches, pears, plums and quinces also make good butter. Combining fruits can be interesting, too. Fruits like apricots, grapes, peaches and plums cook in their own juices, but apples, pears, and quinces need to be added water when cooking.
Methods of Cooking Fruit Butter
Slow Cooker: Place sweetened pulp in a slow cooker with a lid partially off to let steam escape. Set at low and cook, stirring occasionally, for 6-12 hours or overnight, or until thick enough so the butter doesn't run off a spoon when turned upside down.
Microwave: Place sweetened pulp in a microwave-safe bowl and cook for 20 minutes at a time, stirring frequently until thick enough so the butter doesn't run off a spoon when turned upside down.
Stovetop: Place sweetened pulp in a medium saucepan and cook over medium-low heat, stirring frequently, for 1-2 hours or until thick enough so the butter doesn't run off a spoon when turned upside down.
Oven: Heat oven to 300 degrees. Place sweetened pulp in an uncovered heatproof casserole dish or roaster. Bake, stirring only occasionally, for 1-3 hours or until thick enough so the butter doesn't run off a spoon when turned upside down. This produces a darker-colored butter than the stovetop type and takes longer, but it isn't apt to scorch as easily.
Processing Fruit Butters
Place hot butter in hot sterilized jars, leaving 1/4" headspace. Cover with hot sterilized lids and rings. Process in a water bath for 10 minutes.
Remove to counter and allow to cool before storing in a cool, dry, dark place.

If you don't process in a water bath, the butter can be kept refrigerated for up to three weeks or frozen for up to one year.

Note: Before attempting a home canning project, read what the Ball canning jars company has to say about it.
Fruit Butters as Edible Gifts
Fruit butter makes great edible gifts. To cover the lid, use pinking shears on the edges of a round or square of parchment paper. Dampen the parchment in warm water to make it more pliable. Place it on top of the jar with a rubber band. Once the parchment is dry and taut, tie a ribbon around it. You can include the recipe for the butter if you wish. If the butter hasn't been processed in a water bath, tell your recipient to refrigerate the butter for up to three weeks.