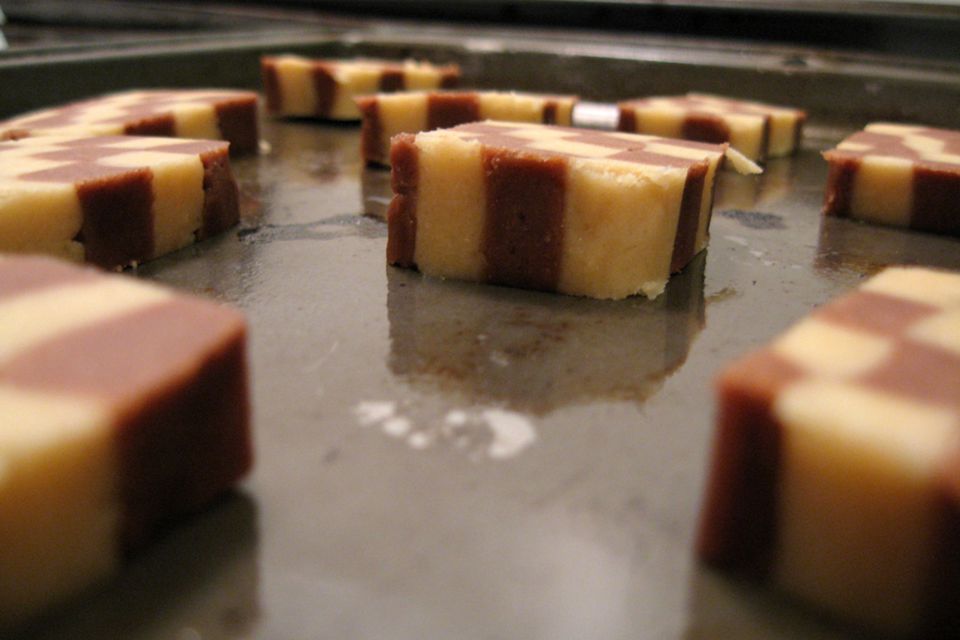 "Scharzweiβ Gebäck", or Checkerboard Cookies, are pretty little things which are easier to make than they seem. The recipe here is an eggless shortbread made with real butter. They look great at a cookie exchange and taste great too. You can keep them for several weeks in a closed container at room temperature.
1 cup plus 7 tablespoons unsalted butter (divided)
1 1/2 cups sugar (powdered)
1/4 teaspoon salt
3 cups plus 2 tablespoons flour
1/3 cup cocoa
Optional: 1 egg white
Note: German recipe books don't have many cookie recipes until you reach the section about Christmas. There, they have many small, usually dry and delicate tidbits called "Weihnachtsgebäck". These cookies are made ahead of time and stored for unexpected guests or Adventskaffee, reducing the host's work during a busy season.
1. Mix 1 cup plus 6 tablespoons softened butter with the powdered sugar and salt until fluffy.
Add the flour and continue to mix until soft dough forms. At first, it will be crumbly but it will form a ball if you keep mixing.
2. Divide in half, or remove about 425 grams of dough to a second bowl. Mix the cocoa plus the remaining tablespoon butter into one-half.
3. Form both doughs into balls, wrap in plastic wrap and refrigerate for 1/2 to 1 hour.
4. Unwrap and cut off 1/5th of both dough ball. Reserve.
5. Roll 4/5 of the white dough into a rectangle about 3/8 inch thick (1 centimeter) on a lightly floured board. Repeat with black dough. Cut each rectangle lengthwise into 10 equal strips, about 3/8 inch wide (1 centimeter). Set aside.
6. Roll out remaining dough into a rectangle as long and wide as the first, but about 1/8 inch thick (2-3 millimeters). Sometimes this is easier to do between two sheets of plastic wrap. You can also use a pastry cloth and rolling pin cover to roll out the dough.
7. Beat the egg white with 1 teaspoon of water until foamy. Brush the sheet of black dough with egg white. Lay three strips of thick dough near one edge and touching each other, alternating black, white, black. Brush the tops with egg white. Stack three strips on top of the first three: white, black white. Brush with egg white. The last layer is black, white and black again.
Note: If you don't want to use egg, brush with a little water, instead.
8. Brush all sides with egg white and lift the thin sheet of dough up the side and press in place. Finish by wrapping the rest of the outer coat around the checkerboard and smooth the seams, piecing where necessary.
9. Repeat with the white dough as the outer layer and reversing the color order. The tenth strip you cut can be used to even out the logs in length or patch as necessary.
10. Wrap the logs in plastic and refrigerate for 1 hour or several days.
11. Heat oven to 350°F. With a sharp knife, cut dough logs into cookies about 1/8 to 2/8 inch thick (5 millimeters thick) and place on cookie sheet, separating about 1 inch.
12. Bake for 10 minutes, or until just starting to show some browning. Remove from oven and let cool for several minutes on the sheet before moving to rack to cool.
13. Store in a tightly covered container.
Additional ideas: This is a basic recipe for checkerboard cookies. You can choose to change it by adding the following before shaping:
Vanilla sugar or extract
Peppermint or other Christmas flavoring
Food coloring
Or by adding sprinkles before baking
Nutritional Guidelines (per serving)
Calories
74
Total Fat
4 g
Saturated Fat
3 g
Unsaturated Fat
1 g
Cholesterol
10 mg
Sodium
38 mg
Carbohydrates
9 g
Dietary Fiber
0 g
Protein
0 g
(The nutrition information on our recipes is calculated using an ingredient database and should be considered an estimate. Individual results may vary.)