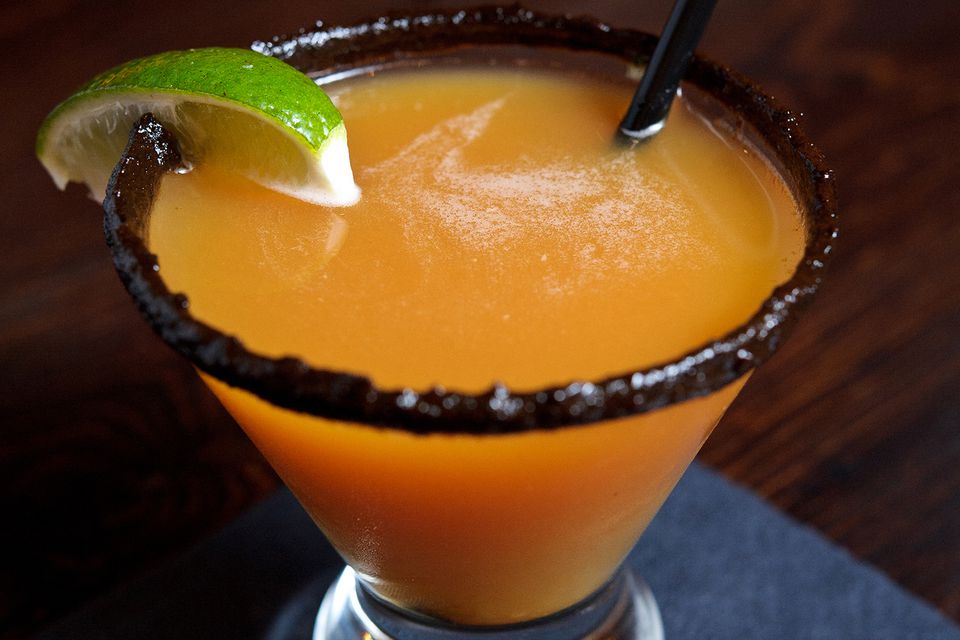 Here is a spicy margarita recipe that is a little different from many you will find. The Habanero Blood Orange Margarita is nothing short of an interesting drink and it's rather easy to mix up.
The drink celebrates the blood orange, a citrus that is typically in season from December to April. The sweeter citrus is paired in the drink with fresh habanero pepper in a special puree that is easy to make ahead of time. From there, the drink uses a smooth tequila and a preferably homemade sour mix.
The cocktail's finishing touch is a mole rim. La Sandia suggests using a prepared mole to make things easy and they specifically recommend Dona Maria Mexican Mole Sauce. By rimming only half the glass, you can enjoy the option of mole or no mole on each drink, but I think you will like the spicy cocoa accent to the margarita.
Blood Orange Habanero Puree
In a medium saucepan, combine the blood orange juice and habanero pepper. Bring to a boil, stirring frequently. Reduce to medium-high heat until thickened into a syrup.
 Remove the pepper, allow to cool, then bottle.
(Recipe from La Sandia in Santa Monica, California)
Nutritional Guidelines (per serving)
Calories
107
Total Fat
1 g
Saturated Fat
0 g
Unsaturated Fat
0 g
Cholesterol
0 mg
Sodium
9 mg
Carbohydrates
22 g
Dietary Fiber
5 g
Protein
5 g
(The nutrition information on our recipes is calculated using an ingredient database and should be considered an estimate. Individual results may vary.)