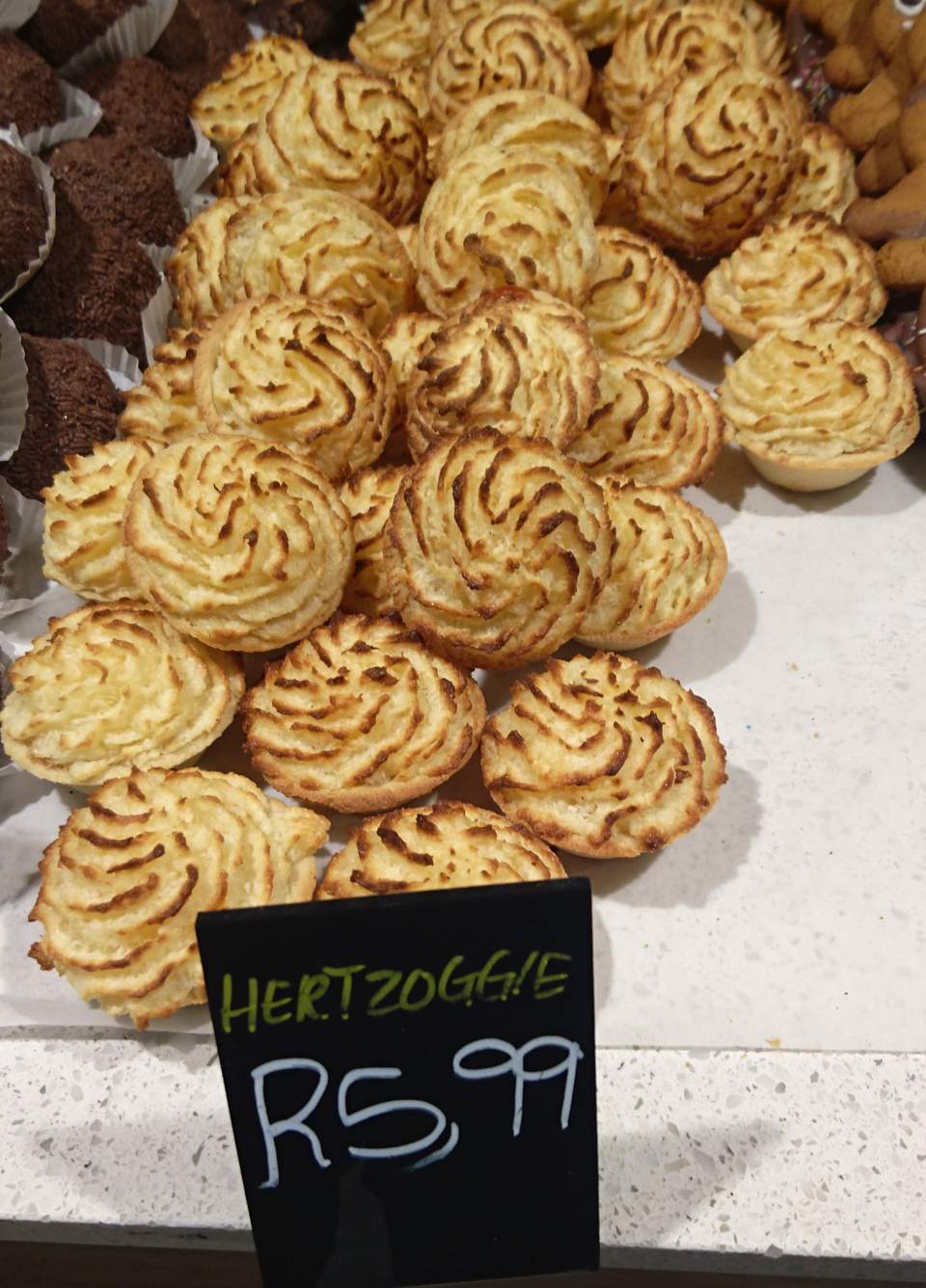 These delicious South African pastries (some call them tarts while others insist they are cookies) will be more familiar as Hertzoggies to some South African readers. This unique Afrikaner tea time treat is like the lovechild of traditional Dutch pies - think old-fashioned Dutch apple pie and fruit-filled vlaaien - and once exotic imports from the former Dutch colonies, such as apricot jam, desiccated coconut and sugar.
1 box Ready-rolled puff pastry
6 teaspoons apricot jam
5 tablespoons superfine sugar
1/2 teaspoon baking powder
2 egg whites
3/4 cup desiccated coconut
Preheat the oven to 400 F (200 C).
Grease a 12 hole patty pan tray (or mini muffin tray).
Cut 12 rounds out of the ready-rolled pastry to fit the hollows and line the hollows with the pastry rounds.
Spoon 1/2 teaspoons of apricot jam into each hollow.
Combine the superfine sugar and baking powder and set aside.
Beat the egg whites until stiff and fold in the sugar mix. Then fold in the coconut.
Spoon a tablespoon of the meringue mixture on top of each jam-filled pastry round.
Bake for 10 to 15 minutes, or until golden brown on top.
Remove from the oven and allow to cool on a wire cooling rack. Serve with coffee or tea.
Nutritional Guidelines (per serving)
Calories
156
Total Fat
10 g
Saturated Fat
3 g
Unsaturated Fat
2 g
Cholesterol
0 mg
Sodium
82 mg
Carbohydrates
16 g
Dietary Fiber
1 g
Protein
2 g
(The nutrition information on our recipes is calculated using an ingredient database and should be considered an estimate. Individual results may vary.)