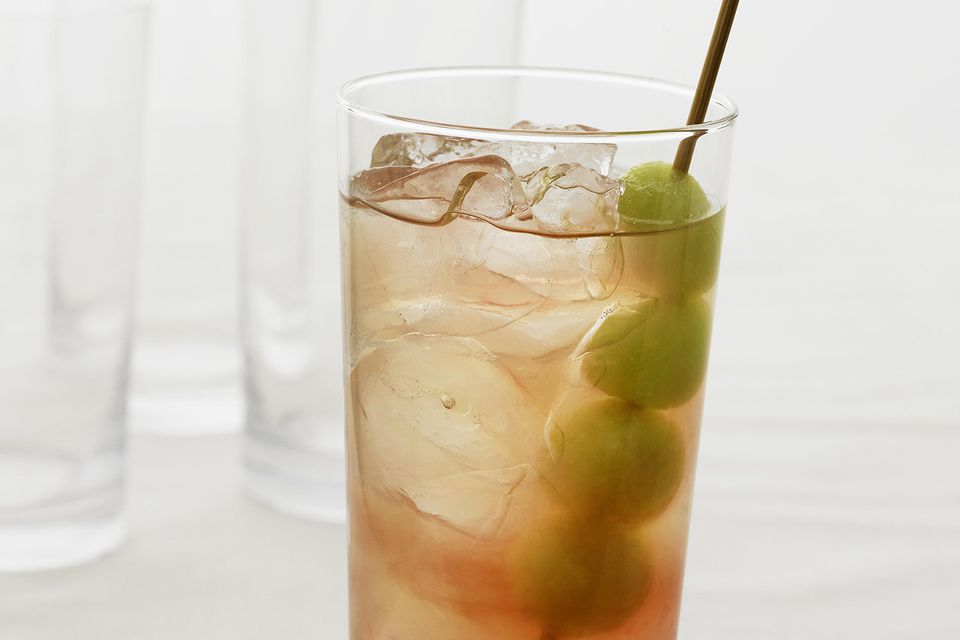 The Honey Deuce is a simple and refreshing vodka lemonade drink and the official cocktail of the U.S. Open Tennis Championship. It was created by Nick Mautone, Grey Goose's Master Mixologist and NYC Restaurateur, and has been a popular libation since it was introduced in the late 2000s.
Whether you're watching the August tennis tournament or not, you will find the Honey Deuce to be a spectacular drink, particularly for the summer months, during melon season.
Overall, you will find this Honey Deuce cocktail to be delicious and refreshing. The use of Chambord offsets the tart lemonade with a delicate sweetness and the honeydew balls are both in theme with tennis and refreshing. Also, it's very easy to make, so anyone can mix up a single drink or a round for the entire party in just a few minutes.
Fill a chilled highball glass with crushed ice and add the vodka.
Top with lemonade to just below the rim, then add the raspberry liqueur.
Garnish with honeydew melon balls.
(Recipe from Nick Mautone for Grey Goose Vodka)
This is slightly more vodka than called for in Mautone's original recipe, but I've found it to be a good, easy to measure base pour. It can also be customized to fit your individual taste and will fill the average ice-filled tall glass with an ideal balance of sweet and sour flavors.
More Tips for the Honey Deuce Cocktail
The Vodka. Grey Goose Vodka sponsors this drink so it's only natural that it is the recommended brand for the Honey Deuce. While you can certainly use any vodka you like, I would recommend that it be one of equal quality to Grey Goose. If you're making the effort to mix Chambord and fresh lemonade, there's no reason to begin with a subpar vodka.
You may also want to play with flavored vodkas because just a hint of complementary flavor can add a nice flair to simple cocktails like this. Try berries or citrus, melon or even cucumber and see what you think.
The Raspberry Liqueur. Chambord is the most common liqueur for the drink and its black raspberry flavor is the perfect complement to the sweet-tart of the lemonade. You could, however, choose one of the many other raspberry or blackberry liqueurs that are available.
The Lemonade. The use of fresh-squeezed lemonade cannot be stressed enough. Many of the pre-made lemonades are too sweet to mix into cocktails and they can quickly throw off a drink's balance.
Don't even think about those sugary, just-add-water lemonades either. They may work for the kids' lemonade stand, but we're adults and should hold our drinks to a higher standard (it sets a good example for fresh food, too).
With homemade lemonade, you have control over the sweet-tart balance and, besides, it's super easy to make. If you can squeeze a few lemons and mix the juice with water and sugar, you're set. There's no mystery or secret tricks and once you learn how easy it really is, you won't go a summer day without a pitcher in your fridge.
The Honeydew Garnish. The garnish gets even better if you make and skewer the melon balls then toss them in the freezer for about an hour until they are nice and frosty. 
How Strong Is the Honey Deuce?
The Honey Deuce is refreshing and, by cocktail standards, a relatively light drink. You'll find that it's equal to the average glass of wine with an alcohol content of right around 10 percent ABV (20 proof).
Nutritional Guidelines (per serving)
Calories
205
Total Fat
0 g
Saturated Fat
0 g
Unsaturated Fat
0 g
Cholesterol
0 mg
Sodium
4 mg
Carbohydrates
21 g
Dietary Fiber
0 g
Protein
0 g
(The nutrition information on our recipes is calculated using an ingredient database and should be considered an estimate. Individual results may vary.)