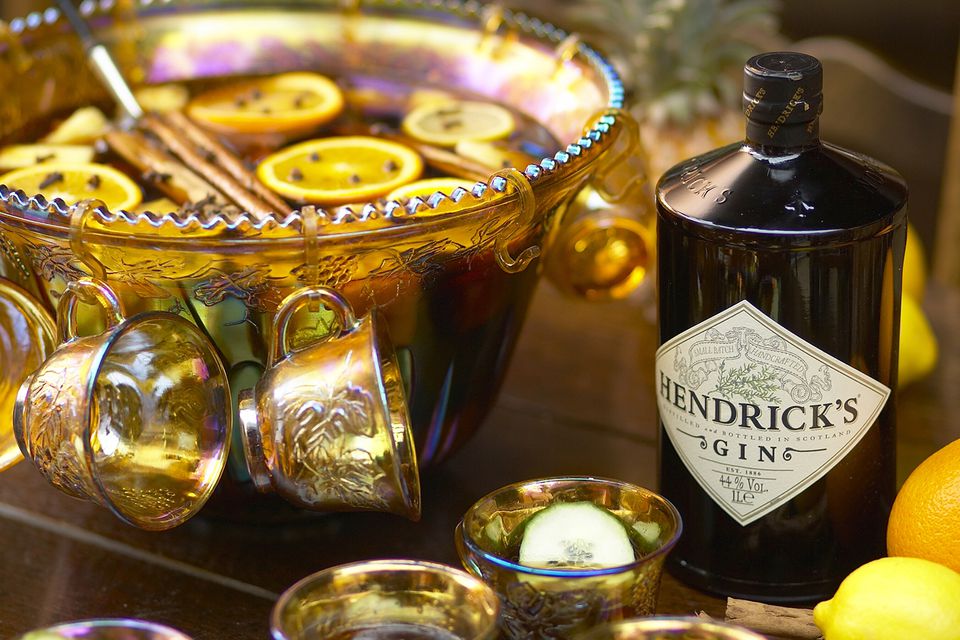 The Hot Gin Punch has to be one of the most enchanting warm punches I've come across in some time. It is a peculiar mix of comforting winter flavors, lush tropical fruits, and a garden in full bloom and all of it is heated and allowed to fuse into what becomes a truly impressive array of tastes. It is a punch that will be the talk of any cold weather party.
Do not let the list of ingredients in this punch overwhelm you, it is not as daunting a task to make up as it may seem at first glance.
To break it down, you begin with the aromatic liquids: the cucumber and rose of Hendrick's Gin and the floral fortified white wine, Madeira. Cut your fruits (pineapple, orange, lemon), prepare the spices, and add the sweeteners (honey and brown sugar). All of it is simmered for 20 minutes, strain, and it's ready to serve.
It's actually quite easy when you think about it.
24 ounces gin (Hendrick's)
24 ounces Madeira wine
6 lemon twists
1 orange slice
3 large chunks pineapple
3 ounces honey
1 ounce lemon juice (fresh)
3 cloves
Pinch nutmeg (ground)
1 teaspoon ​cinnamon (ground)
1 teaspoon brown sugar
Add all the ingredients to a large saucepan over low heat and simmer for 20 minutes.
To serve, strain and pour the hot mixture into a punch bowl or teapot and garnish with orange slices studded with cloves.
(Recipe from Hendrick's Gin)
Hot Bols Genever Punch Recipe
This punch recipe comes from David Wondrich's book Punch: The Delights and Dangers of the Flowing Bowl, which not only holds wonderful punches like this but is another great read from the author.
There are two things that I love about this punch: it is warm and perfect for winter entertaining and it is very, very easy to make. It is essentially a large pot of a hot genever toddy with all the spices we love during the holidays.
If you use a regular punch bowl you will want to ensure it is heat resistant as many glass bowls will crack.
Ingredients:
The peel of 6 lemons, each cut in a 1/2-inch wide spiral with a vegetable peeler
1 large lemon or 2 small ones, sliced into thin wheels and de-seeded (discard ends).
8 ounces (1 cup) Demerara or Turbinado sugar ("Sugar in the Raw")
25 ounces /1 750-ml bottle Bols Genever
Spice mix: 2 teaspoons fresh-ground nutmeg to 1 teaspoon each fresh-ground allspice and cloves.
32 ounces (1 quart) boiling water
Preparation:
In a heatproof bowl, muddle the lemon peels and the sugar together and let sit for at least 90 minutes.
Then muddle again and add 8 ounces (1 cup) of the boiling water, stirring until sugar has dissolved.
Fish out or strain out the lemon peels.
Add the genever and stir.
To serve, transfer into crock-pot or heated earthenware jug (to heat jug, rinse with boiling water), add 24 oz boiling water, lemon slices and spice mix (add this sparingly to taste—1 teaspoon is plenty).
Ladle out also sparingly— 2 1/2 ounce cups should be fine.
(Recipe from Punch: The Delights and Dangers of the Flowing Bowl by David Wondrich )
Buy Punch: The Delights and Dangers of the Flowing Bowl at Amazon.com
Nutritional Guidelines (per serving)
Calories
165
Total Fat
0 g
Saturated Fat
0 g
Unsaturated Fat
0 g
Cholesterol
0 mg
Sodium
4 mg
Carbohydrates
14 g
Dietary Fiber
2 g
Protein
1 g
(The nutrition information on our recipes is calculated using an ingredient database and should be considered an estimate. Individual results may vary.)