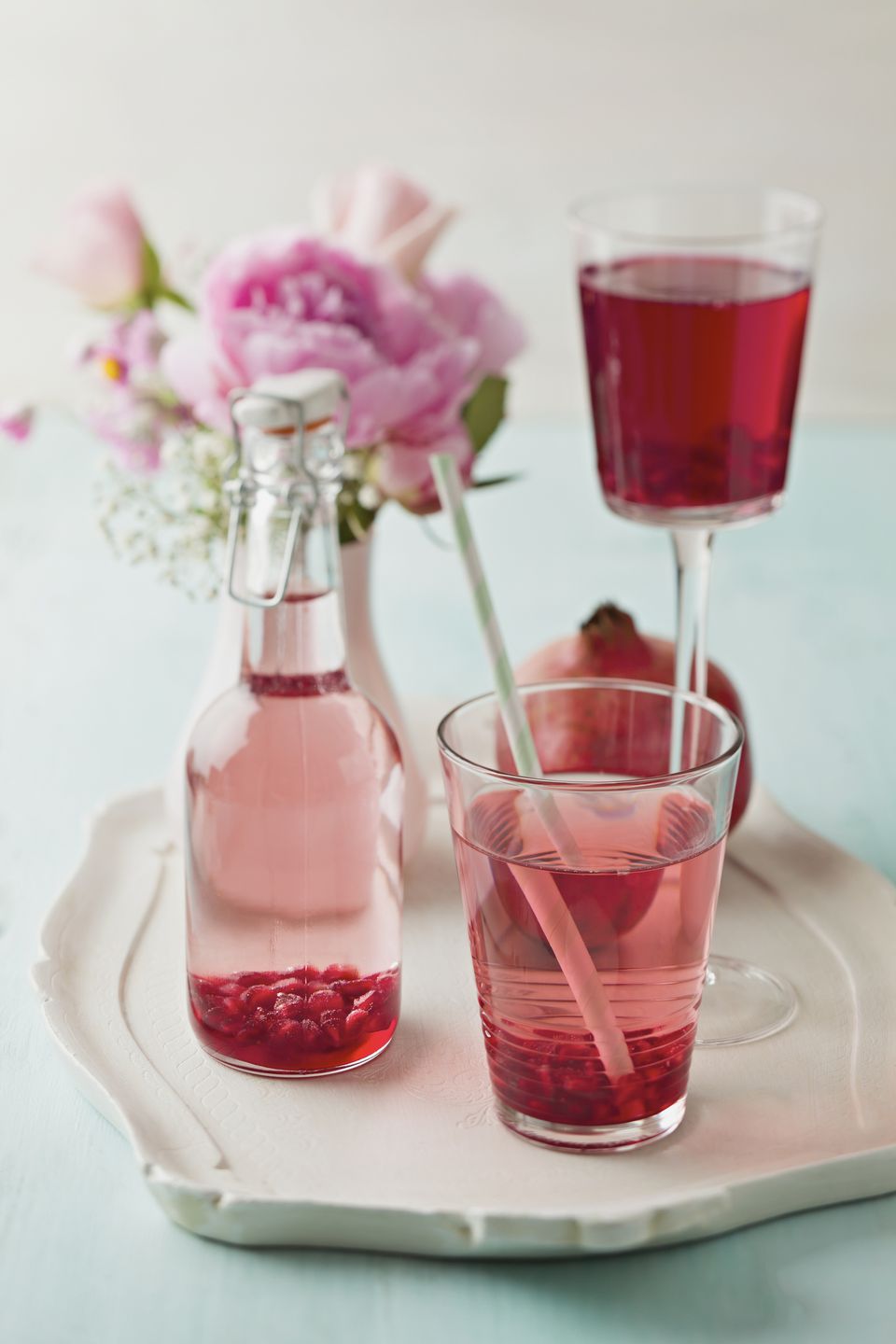 Combine the pomegranate juice and sugar in a saucepan.
Bring to a slow boil, stirring constantly until all of the sugar is dissolved.
Reduce the heat and cover.
Simmer for 10-15 minutes, stirring occasionally.
Allow the mixture to cool, then pour it into a small decanter or bottle with a tight-sealing lid.
Add a dash or two of orange flower water (don't overdo it).
Seal the bottle and give it a few good shakes.
More Ways to Make Grenadine
Fresh Pomegranate
Fresh pomegranate is always a good choice. The fruits are typically in season from September through December. This grenadine recipe will tell you how to work with the juicy little seeds (or arils).
No Orange Flower Water?
Admittedly, orange flower water is not a common ingredient. Luckily, orange and lemon peels are an easy substitute and we have a lot of leftovers in the bar. Learn how to add citrus peels in this Candy Corn Cocktail recipe.
Add Black Currant
Grenadine can also be a combination of black currant and pomegranate flavors. Though it can be difficult to find, black currant juice can be used in this recipe as well. Decide which flavor you want to dominate the syrup and split the total juice volume between the two.
You could also add a little black currant liqueur like creme de cassis. It is easier to find.
Pomegranate Juice Blends
You might want to use a blended juice. Pomegranate cranberry juice is readily available and is often half the price of straight pomegranate juice. It makes a good cranberry grenadine that can work in many drinks.
The Shelf Life of Homemade Grenadine
This grenadine should be good for up to 3 weeks and makes about 1 1/2 cups. That is about 12 ounces and most drink recipes use 1/2-1 ounce.
It does not have the long shelf life of the store-bought brands because it lacks the preservatives that keep those 'fresh' for months.
You can add a small amount of over-proof (over 80 proof) vodka as a preservative to give it a slightly longer shelf life. Just about 1/4 ounce should be enough.
Some people would also recommend freezing the grenadine, but I think this takes the freshness out of it.
You may need to adjust this recipe depending on how much grenadine you use in a 3-week period.
Nutritional Guidelines (per serving)
Calories
76
Total Fat
0 g
Saturated Fat
0 g
Unsaturated Fat
0 g
Cholesterol
0 mg
Sodium
2 mg
Carbohydrates
19 g
Dietary Fiber
0 g
Protein
0 g
(The nutrition information on our recipes is calculated using an ingredient database and should be considered an estimate. Individual results may vary.)