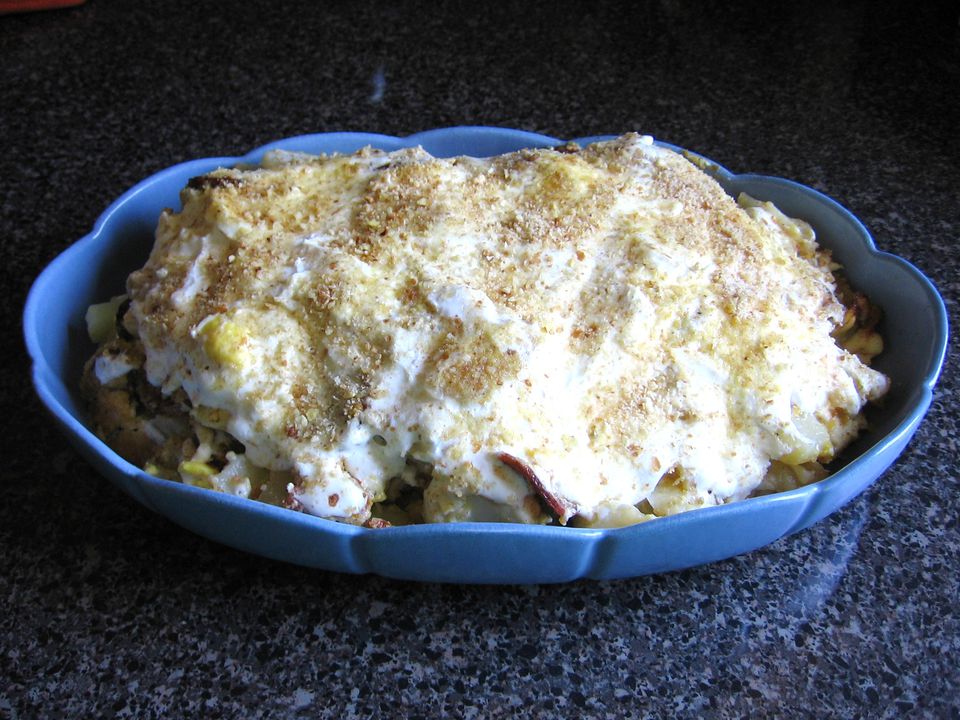 Smoked Hungarian sausage is the star in this one-pot comfort food dish of layered potatoes and hard-cooked eggs smothered in sour cream and bread crumbs, known as rakott burgonya (RRAH-koht BOORR-gohn-yoh). It can be served as a luncheon dish with a green salad, as a main course or as a side dish.
View these Step-by-Step instructions for making Hungarian sausage and potato casserole.
4 ounces/1 stick butter (plus additional butter to grease casserole dish)
1/2 cup breadcrumbs (fine, plus additional for dusting casserole dish)
8 medium potatoes (red, boiled al dente, peeled and thinly sliced)
8 eggs (hard-cooked, peeled, and sliced)
Salt to taste
Black pepper to taste
1 pound Hungarian sausage (smoked mild, medium or hot, cut 1/4-inch thick)
1 cup sour cream
Heat oven to 350 degrees. Butter bottom and sides of a large casserole dish with a lid. Sprinkle with bread crumbs.
Arrange 1/3 of potatoes in bottom of casserole dish and dot with 1/4 of butter. Cover with 1/3 of eggs. Season with salt and pepper. Cover with 1/3 of sausage followed by 1/3 of sour cream.
Continue layering, ending with sour cream. Cover with an even layer of bread crumbs and dot with remaining butter. Cover with lid, place on a lipped baking sheet to catch any drips and bake 20 minutes.
Remove cover and bake an additional 15 minutes or until golden brown and bubbly. Let rest at least 10 minutes before serving.
Nutritional Guidelines (per serving)
Calories
425
Total Fat
34 g
Saturated Fat
16 g
Unsaturated Fat
12 g
Cholesterol
285 mg
Sodium
525 mg
Carbohydrates
15 g
Dietary Fiber
1 g
Protein
16 g
(The nutrition information on our recipes is calculated using an ingredient database and should be considered an estimate. Individual results may vary.)