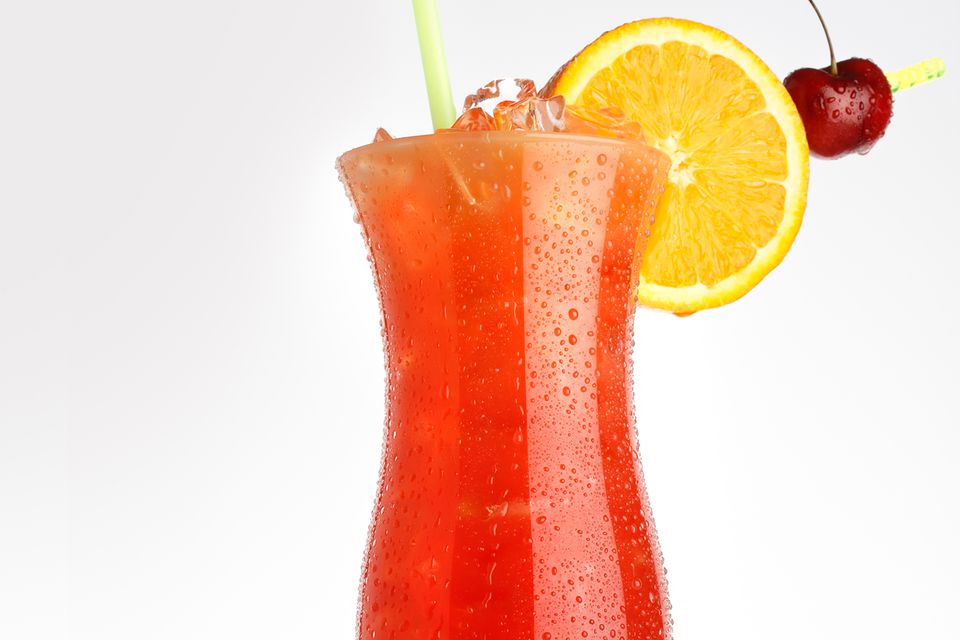 The Hurricane is one of those iconic tropical cocktails that you should know and will never forget. It is a fun rum drink that is filled with fruit juices and is actually quite easy to make.
The Hurricane became popular at Pat O'Briens bar in 1940's New Orleans. The story behind the drink says that it debuted during the 1939 World's Fair in New York City and was named after the hurricane lamp-shaped glasses that the first drinks were served in (still known as a hurricane glass).
It is also said that O'Brien created the heavily rummed drink as a means to get rid of the large stock of rum his Southern distributors forced him to buy.
You can still get a great Hurricane at Pat O'Briens in NOLA or any of their other locations in the U.S. or you can make it at home with this recipe. I have done both and, beyond the atmosphere, it is the same great cocktail.
2 ounces rum (light)
2 ounces
rum (dark)
2 ounces passion fruit juice
1-ounce orange juice
1/2 lime (
1 tablespoon
1 tablespoon
Squeeze juice from half a lime into cocktail shaker over ice.
Pour the remaining ingredients into the shaker.
Strain into a hurricane glass.
Garnish with a cherry and an orange slice.
How to Find Passion Fruit Juice:
The one issue that many people have when making this drink is finding passion fruit juice. It is not one of the most popular juices on the market, though there are a few options.
Your best option is to juice fresh passion fruit. They are not always in season, though, so take advantage of that opportunity when it comes.
You may have to search a little harder for commercial brands: January and Goya are two popular options that do produce passion fruit juice. I've also had luck in the natural foods and international departments and stores. Sometimes you can find it frozen.
Buy January Passion Fruit Juice on Amazon.com
Another option is passion fruit nectar - it's slightly sweeter but not as sweet as passion fruit puree and you can easily add some water to get it juicier.
A tropical mixed juice would be another viable option, particularly if it concentrates on passion fruit. It is typically mixed with pineapple and orange and, though it wouldn't be the 'original' recipe, it does make a good drink as well.
How Strong is the Hurricane?
Dark rum can vary in strength and the range goes anywhere between 80 and 151 proof. For the sake of this example, let's assume that an 80 proof is used for both the light and dark rums.
If that is the case, then the Hurricane averages out to have an alcohol content of about 18% ABV (36 proof). It is not the strongest drink and it is not the lightest. To put the Hurricane in perspective, the Manhattan is 60 proof and the Mojito is about 26 proof.
Nutritional Guidelines (per serving)
Calories
424
Total Fat
0 g
Saturated Fat
0 g
Unsaturated Fat
0 g
Cholesterol
0 mg
Sodium
24 mg
Carbohydrates
41 g
Dietary Fiber
1 g
Protein
1 g
(The nutrition information on our recipes is calculated using an ingredient database and should be considered an estimate. Individual results may vary.)