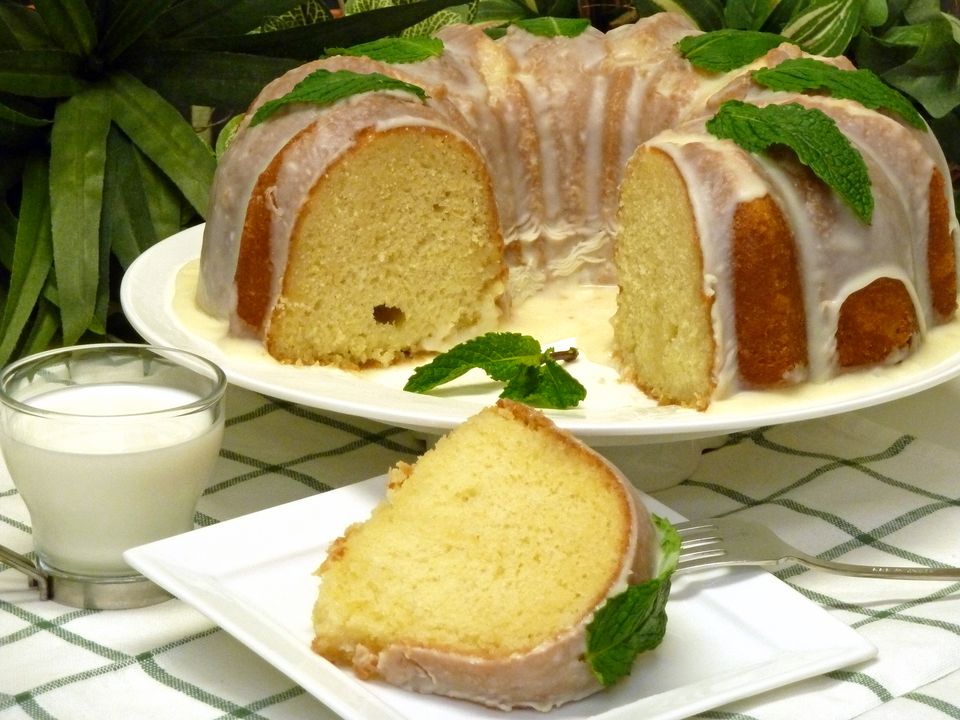 With all of the elements of a Southern mint julep cocktail, this cake is perfect for Kentucky Derby Day this weekend. The rich pound cake has a white chocolate ganache frosting with a light mint flavor to complement the Bourbon butter sauce infused in the cake. You probably won't want to wait for Kentucky Derby Day to make this cake. Even without the bourbon butter sauce and/or creme de menthe frosting, the cake will shine with a simple dusting of powdered sugar or nothing at all. May also be made as a sheet cake.
For the Cake:
3 cups cake flour
1 teaspoon salt
1 teaspoon baking powder
1/2 teaspoon baking soda
2 cups white granulated sugar
1 cup buttermilk (see Notes)
1 cup (2 sticks) butter, at room temperature
2 teaspoons vanilla extract
4 eggs, at room temperature
For the Bourbon Butter Sauce:
1/2 cup confectioners' sugar
1/3 cup butter
3 Tablespoons water
2 teaspoons Bourbon whiskey
For the Mint Frosting:
1 cup white chips
7 ounces sweetened condensed milk (not evaporated milk)
1 teaspoon white creme de menthe liqueur or 1/2 teaspoon mint extract (see Notes)
Preheat oven to 325 degrees F (165 degrees C). Grease and flour a 10-inch bundt pan.
Cake:
Whisk together flour, salt, baking powder, and baking soda in a medium bowl.
In a separate larger bowl, combine sugar, buttermilk, butter, eggs and vanilla extract.
Add the flour mixture to the wet ingredients. Beat at low speed for 1 minute, then increase to medium speed for 1 more minute, until combined. Pour into prepared pan and smooth evenly around bundt center.
Bake for 50 minutes or until a toothpick inserted in the center comes out clean. Ten minutes before cake is done, prepare Bourbon Butter Sauce.
Bourbon Butter Sauce:
In a saucepan over medium heat, combine 1/2 cup confectioners' sugar, 1/3 cup butter, and 3 tablespoons water. Stir until melted and combined. Do not boil. Remove from heat, continuing to stir for 2 minutes. Then stir in Bourbon.
When cake is done and still warm from the oven, use a skewer to poke holes around the top of the cake. Pour Bourbon butter sauce evenly over the top of the cake. Let cake cool to room temperature in the pan before removing to a cake platter.​
Mint Frosting:
Melt chocolate chips with sweetened condensed milk in heavy saucepan over low heat, stirring constantly until chips are melted. Remove from heat and stir in creme de menthe liqueur (or mint extract). Let cool for 10 to 15 minutes until barely warm to the touch (see Notes), then spread evenly over the cooled cake. Garnish with fresh mint leaves. Chill to set the chocolate ganache. Take cake out of the refrigerator 30 minutes before cutting to serve.
Notes:
You may substitute green creme de menthe for the white, however, the color may not be appealing. Just add a drop or two of .
If you do not have buttermilk on hand, substitute 1 cup whole milk plus 1 Tablespoon white vinegar or lemon juice. Let stand for 10 minutes before using.
If you want a thinner glaze, use it while it's warmer.
Nutritional Guidelines (per serving)
Calories
306
Total Fat
16 g
Saturated Fat
10 g
Unsaturated Fat
5 g
Cholesterol
41 mg
Sodium
192 mg
Carbohydrates
39 g
Dietary Fiber
1 g
Protein
3 g
(The nutrition information on our recipes is calculated using an ingredient database and should be considered an estimate. Individual results may vary.)