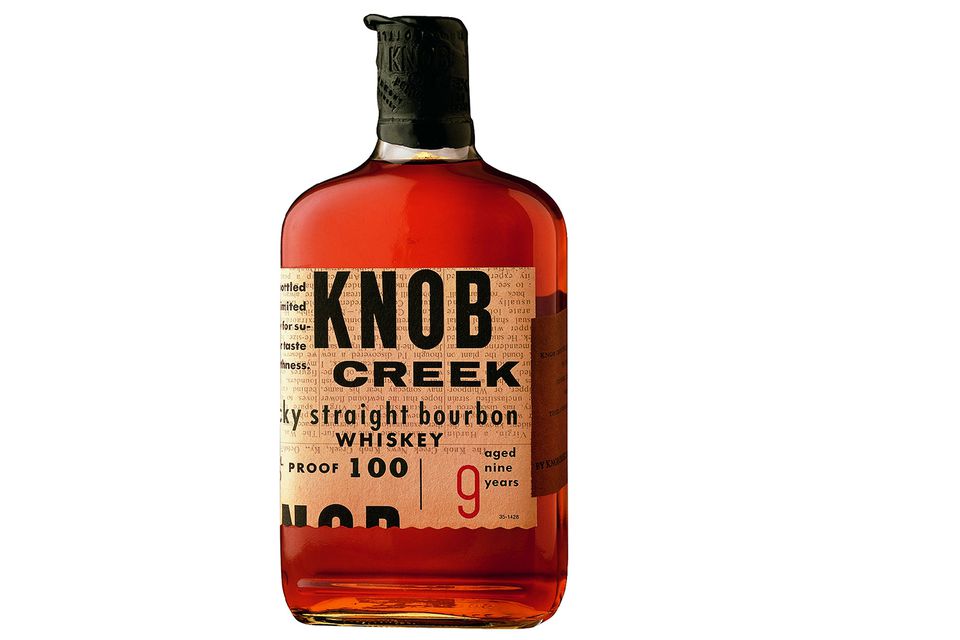 Few whiskies are as iconic as Knob Creek Bourbon. Aged nine years in the rolling hills of Kentucky, Knob Creek takes advantage of extended maturation to offer a product that is both rich and full-bodied with an underlying sweetness that sets the bar for great bourbons.
If you enjoy bourbon, Knob Creek is an essential whiskey to add to your liquor cabinet and surprisingly affordable at right around $30 per 750ml bottle.
Knob Creek also offers the following whiskies: Knob Creek Single Barrel Reserve, Knob Creek Smoked Maple, and Knob Creek Straight Rye Whiskey.
The Review of Knob Creek Bourbon Whiskey
On the Nose
Knob Creek Bourbon is 100 proof (50% ABV) and because of this, it packs a slightly alcoholic punch on the nose, but underneath the alcohol lies an impressive array of aromas. The full bouquet comes to life by adding a splash of cool water.
Rich wood notes, warm vanilla pound cake, maple sugar, fresh roasted almonds and fleur de sel caramel notes abound, creating a veritable gourmet banquet of delicious aromas to entice your palate.
The Body and Palate
Knob Creek bourbon has a rich, full mouthfeel, the result of the extended care and maturation given to this whiskey.
On the palate, Knob Creek is an exceptionally rich whiskey. Flavors of oak, maple sugar, walnuts and English toffee mix with apricot, cinnamon and peach chutney to create one of the most complex and delicious bourbons on the market.
On the mid-palate, spice cake and plum pudding notes briefly appear along with a certain tropical citrus undertone that keeps this bourbon exceptionally well balanced.
The Finish
Knob Creek may feature the best finish of any bourbon on the market. Long, satisfying and utterly delicious, Knob Creek leaves the palate satisfied and yearning for more.
A rich tapestry of walnut, pie spice and stone fruit flavors caress the tongue before slowly disappearing from the palate.
Final Thoughts
Fans of big, bold and complex bourbon simply must try Knob Creek Bourbon and this makes an excellent gift for any whiskey aficionado.
Simply put, Knob Creek is one of the greatest whiskies in the world and an iconic bourbon. If ever a perfect bourbon has been distilled, it may very well be Knob Creek.
Knob Creek Bourbon Cocktails
About Knob Creek Bourbon Whiskey
Kentucky straight bourbon whiskey aged for 9 years in new charred American oak barrels.
Produced by Jim Beam Bourbon at the Knob Creek Distillery in Clermont, Kentucky
Part of Jim Beam's Small Batch Collection
Retails for around $30/750ml bottle
Edited by Colleen Graham: October 16, 2015
Disclosure: Review samples were provided by the manufacturer.