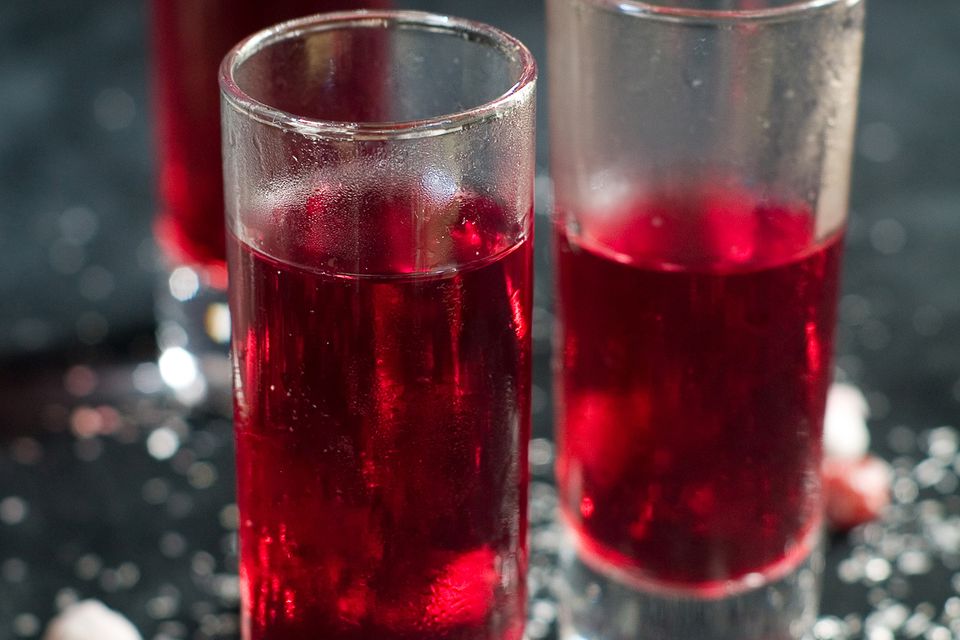 Are you ready for a fun round of party shots that taste like Kool-Aid? There are a few recipes to make a Kool Aid mixed drink and each is filled fruity flavors and a healthy dose of booze. These Kool Aid recipes are definitely for adults only!
Just as the popular juice drink comes in many flavors, you will find that every Kool Aid drink is a little different. Among the Kool Aid recipes below, you will find melon and peach liqueurs, raspberry, orange, amaretto and a little sloe gin.
No, you don't have to mix up a sugary batch of the actual Kool-Aid drink (save that for the kids). Regular cranberry juice dominates these recipes.
A Melon Kool Aid Shot
This is a delightfully tasty shooter that is also good when served on the rocks. The amaretto and melon liqueurs are a nice combination that is a little unusual, but delicious. It is a great complement for the cranberry.
Pour the Midori and amaretto into a shot glass.
Fill with cranberry juice.
A Gin Kool Aid Shot
Sloe gin is not regularly stocked in the bar, but it has worthy place in drinks like this. If you are a sloe gin fan (or want to try it), this is a great shot and it really is easy to mix up.
To make this drink, combine 1/2 ounce each vodka, amaretto, sloe gin, and triple sec in an old-fashioned glass with (or without) ice and stir.
Add 1 to 2 ounces cranberry juice to taste.
Many recipes for this drink will simply note '1 shot' for each of the liquors. Depending on whether you pour 1-ounce shots or 1 1/2-ounce shots, that can be anywhere from 4-6 ounces of liquor. That is too much for any drink (much less a shot you drink in a few seconds)! 
Instead, I recommend 1/2 ounce pours and a nice amount of cranberry juice to help the drink go down smooth. This will not fill the average lowball glass, but it's hard to find a shot glass to fit this drink no matter how short you pour it.
Grape Kool Aid Shot
This shot does taste a little like grape Kool Aid and it certainly has that purple color and sweet taste from its namesake. It is a tasty drink and one you may mix up a few times tonight.
To make this shot, combine 1/2 ounce each Southern Comfort, blue curacao, and raspberry liqueur in a shaker with ice. Add a splash of sour minx, cranberry juice, and pineapple juice and shake well before straining into a shot glass.
Killer Kool Aid Drink
Another delicious and easy shot to make, the Killer Kool Aid is a fruity delight to drink. This recipe opts for peach schnapps over the melon liqueur used in the first recipe.
The Killer Kool Aid is most often served as a slow-sipping fruit highball. If you like, mix it up as a shot using the measurements and preparation in the Midori shot above.
To make this drink, combine 1 1/2 ounces vodka, 1/2 ounce each peach schnapps and amaretto in a highball glass filled with ice. Top with cranberry juice and serve unstirred.
How Strong are the Kool Aid Shots?
When it comes to how much alcohol is in these Kool Aid recipes, they are all about the same. They fall into that comfortable range that most shots do, not too strong but definitely not a pint of beer. 
Melon Kool Aid Shot: 18% ABV (36 proof)
Sloe Gin Kool Aid Shot: 13-18% ABV (26-36 proof)
Grape Kool Aid Shot: 19% ABV (38 proof)
Killer Kool Aid Drink: 13% ABV (26 proof)
Nutritional Guidelines (per serving)
Calories
85
Total Fat
0 g
Saturated Fat
0 g
Unsaturated Fat
0 g
Cholesterol
0 mg
Sodium
2 mg
Carbohydrates
9 g
Dietary Fiber
0 g
Protein
0 g
(The nutrition information on our recipes is calculated using an ingredient database and should be considered an estimate. Individual results may vary.)