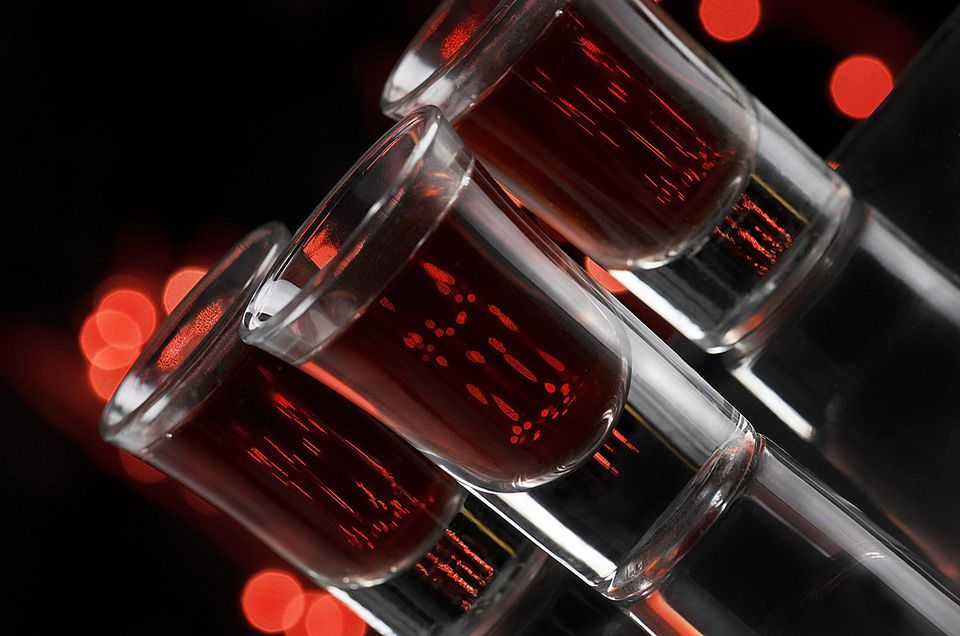 The Liquid Cocaine shooter is very popular and there are many ways to make it as you will see below. One thing is for sure, it is a drink that every bartender should know.
Many Ways to Make a Liquid Cocaine Shooter
Also called Liquid Crack, this shooter is filled with strong flavored and potent liquor. Some of the recipes are a little tamer than others and some should be shot with extreme caution.
The Liquid Cocaine shooter will most often contain Jagermeister and cinnamon and peppermint schnapps. Some of the recipes add or substitute rum, often opting for the 151-proof rums. Other recipes, like the Liquid Cocaine No. 2, are completely different, opting for a fruity vodka shot.
A Shooter With a Kick
We are all aware that shooters are not always the best tasting drinks. Quite often they are a potent novelty designed to get you wasted. The Liquid Cocaine is on that fine line between the two spectrums.
The Jager, cinnamon and peppermint mix is decent. It's certainly no Oatmeal Cookie or Tomahawk - those are great tasting shots - but it's not a nasty Cement Mixer, either. The taste will catch the unsuspecting drinker by surprise and you may want to have a chaser nearby.
This is definitely a party shooter you will not forget. Just make sure you don't have too many so you don't forget the party!
1/2 ounce
1/2 ounce
1/2 ounce
Pour the ingredients into a cocktail shaker filled with ice.
Shake well.
Strain into a shot glass.
If your liqueurs are chilled you can skip the shake and build them in a shot glass. Of course, this will not add any dilution and will produce a stronger shot (look for the comparison below).
Liquid Cocaine No. 2 Shooter
This is the recipe that is unlike all of the others. It is, apparently, a shooter version of what is said to be the 'original' Liquid Cocaine drink.
The story goes that it was created in the early 1990's and was a tall drink, similar to a Long Beach Iced Tea.
If you would like to try that drink, increase all of these liquors to 1/2 ounce pours, add 3-ounces each of pineapple and cranberry juices, shake and serve with a splash of 7-Up.
Ingredients:
Shake and strain into a shot glass.
Liquid Cocaine No. 3 Shooter
This recipe skips the cinnamon schnapps and opts for rum instead. Quite often, you will see an overproof rum like Bacardi 151 used, I happen to think that's overkill. If you do opt for that, realize that this is going to be a very potent shot!
If you want to really get crazy, some Liquid Cocaine recipes will even add 151 rum to the first recipe. Again, I don't recommend that, but if you do, stick to one shot or you may regret it in the morning.
Ingredients:
1/2 ounce rum
1/2 ounce Jagermeister
1/2 ounce Rumple Minze
Shake and strain into a shot glass.
Firecracker Shooter
The Firecracker a fun twist on the Liquid Cocaine shooter. It is an intense shot of tequila, Goldschlager, and Rumple Minze; a mix that is highly intoxicating but tasty.
Ingredients:
1/2 ounce tequila
1/2 ounce Goldschlager Cinnamon Schnapps
1/2 ounce Rumple Minze
Shake the ingredients together and strain into a shot glass.
Yes, you could use different brands of schnapps rather than those that are called for in the recipe. However, these two serve a purpose:
The Goldschlager adds those beautiful gold flakes that simulate a blown firecracker.
The Rumple Minze adds its intense, 100-proof peppermint that others just don't have.
How Strong Are These Shooters?
I think it is interesting to look at exactly how strong each of the variations of this shooter is. No matter which you choose, remember that they are all pretty strong. Take it easy and definitely DO NOT drive home!
Liquid Cocaine No. 1

Shaken: 38% ABV (76 proof)
No Shake: 51% ABV (102 proof)

Liquid Cocaine No. 2 (with 80 proof orange, 76 proof peach, 80 proof vodka, 42 proof amaretto)

Shaken: 17% ABV (34 proof)
No Shake: 23% ABV (46 proof)

Liquid Cocaine No. 3

Shaken with 80-Proof Rum: 31% ABV (62 proof)
Shaken with 151-Proof Rum: 42% ABV (84 proof)
Shaken with 151-Proof Rum and Jager and both schnapps: 51% ABV (102 proof)
No Shake with 151-Proof Rum and Jager and both schnapps: 68% ABV (136 proof)

Firecracker (with 80-proof tequila)

Shaken: 33% ABV (66 proof)
No Shake: 44% ABV (88 proof)
What We Can Learn From This
Remember that the average whiskey, vodka or tequila is 80 proof. You can see that only the vodka version falls below that. Rumple Minze's 100 proof plays a big role here, which is why I personally think an 80 proof rum is more than enough.
Also, notice the difference that shaking the shooter makes. That 1/2 ounce we factor in for dilution reduces the alcohol content by an average of 26%. Not only will this take down the potency of the Liquid Cocaine, but the water will also mellow the very strong flavors you're pouring.
With both of those thoughts, I highly recommend using your shaker.
The Liquid Cocaine to Avoid
One Liquid Cocaine recipe you will not see here is the one that includes Everclear. I am not a fan of it and that particular recipe mixes all of the liquors of a Long Island Iced Tea then adds Everclear. It's just plain stupid to shoot a concentrated drink like that. Please don't do it because one too many can quickly lead to alcohol poisoning!
Nutritional Guidelines (per serving)
Calories
106
Total Fat
0 g
Saturated Fat
0 g
Unsaturated Fat
0 g
Cholesterol
0 mg
Sodium
3 mg
Carbohydrates
22 g
Dietary Fiber
8 g
Protein
2 g
(The nutrition information on our recipes is calculated using an ingredient database and should be considered an estimate. Individual results may vary.)