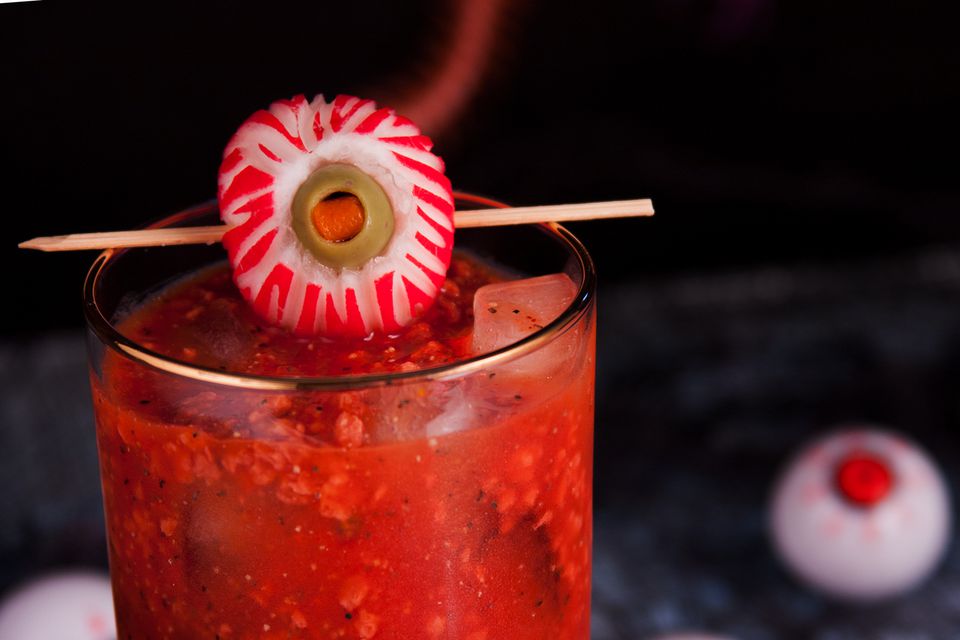 Halloween is all about the little touches that add to the creepy, scary mood of the holiday and this garnish is a fun way to add a little spook to your drinks. All you need is a radish, an olive, a small sharp knife and some time.
This garnish can work for any savory drink, with a Bloody Mary being an obvious option, though it could even replace olives in a Martini to bring that drink into the Halloween spirit.
Once constructed, you can add the eyeballs to an ice cube tray, fill it with water, and freeze overnight to create a floating eyeball ice cube. I would recommend a larger tray like the King Cube or, for smaller trays, shave the back of the radish down to fit in the tray (though it may stick out and that's not a bad thing). The other option is to simply skewer the eye and rest it on the rim of your glass as demonstrated in the photo.
To Make Radish Eyeballs
Use a small knife (see tips below) to peel a radish in strips. You want to leave thin streaks of red skin to represent blood vessels.
Using the tip of the vegetable peeler, or a small knife, carefully scoop out a small hole, just big enough to fit an olive, in each radish.
Stuff a green olive, pimiento side out, in each hole.
Store in the refrigerator in a bowl of water or freeze in ice cube trays.
A Few Tips
Be selective on the produce. It is best to have your olives of choice on hand to get a better size match when choosing radishes. Regular jar olives are often smaller than gourmet olives and will require a small- to medium-sized radish. The larger olives will require a larger radish and when combined, the garnish may be too big for a glass.
Choose the right tool. When creating this garnish we found that the tool makes a world of difference. A channel knife works well, though as small as my pairing knife is, it was still too big. The tool that worked best was an artist's linoleum cutter. It is used for cutting block prints and can be found inexpensively at many art and craft stores. It is a versatile kitchen and bar tool as well (designate it for food use, of course) because it comes with a variety of tips that you can switch out and will be useful if you are the crafty, DIY type that would carve food every now and then.
Plan ahead. I will not lie; this project takes some patience and time, but it is a fun project if you have the right drink to go with it. It has a learning curve, which will depend a lot on the tool you use and once you get your technique down you should be able to cruise through them. The nice thing is that this garnish keeps really well in the refrigerator. You can make these up a night or two before the party and either make the ice or keep them in a bowl of water until party time.