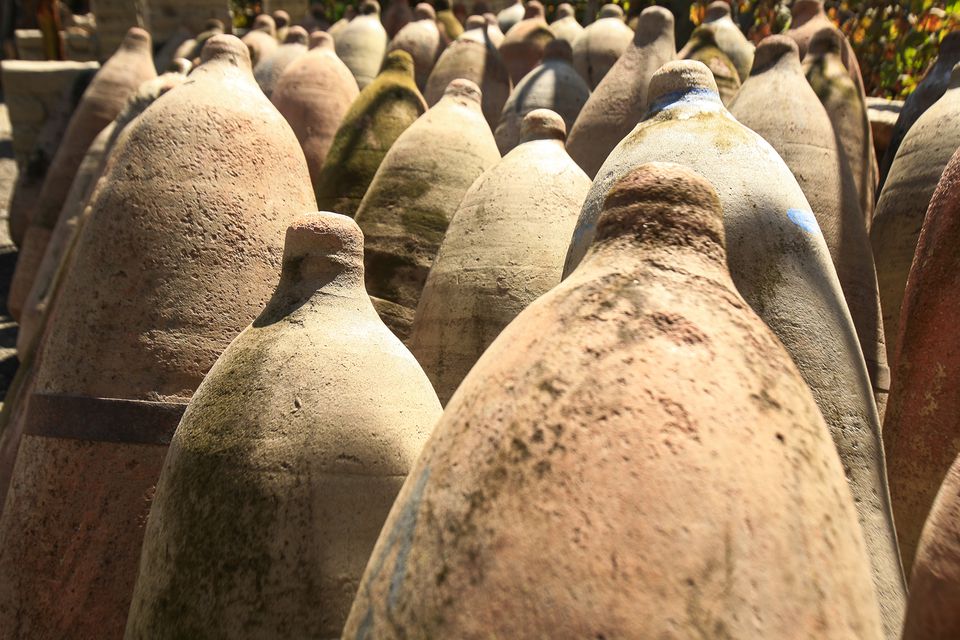 This delicious mango pisco sour is made with chunks of frozen mango, which are available year-round, and takes just seconds to make in the blender.
The egg white is optional, but it does add the frothiness that is characteristic of ​pisco sours. If you prefer to use fresh mango, add some ice to the blender. Simple syrup is, yes, very simple to make yourself with this recipe.
3 ounces pisco
1 to 2 ounces simple syrup (depending on the sweetness of the mango)
1 cup mango chunks (frozen)
2 tablespoons Key lime juice
Optional: 1 egg white
Place the pisco, simple syrup, frozen mango chunks, Key lime juice and egg white in a blender.
Mix until they are smooth.
Serve in an old-fashioned glass or tumbler.
Pisco Sour Day Party
In Peru, pisco sours are the national drink, and Pisco Sour Day is the first Saturday in February ... great excuse to party.  Make mango pisco sours, classic pisco sours and any other variations that strike your fancy.
You'll be right on trend, cocktail-wise.
Ceviche is spectacular with any kind of pisco sour. Seafood, especially tuna, shrimp, and scallops, goes extremely well with pisco sours and their variations, but most meat should be avoided, advises the website The International Kitchen. 
Make a heavy hors d'oeuvres buffet of crab cakes, ceviche, steamed shrimp with shrimp sauce, sauteed scallops, smoked salmon and cream cheese crackers, tuna crostinis, two-bite tuna melts or tuna cakes.
Add mango and avocado salsa and guacamole with tortilla chips for dipping, along with avocado toast and piping hot French bread cut into thick slices or warmed flour tortillas.
Cheese works with just about any cocktail, and it's high on the favorite list for most guests. But you need to know the right kind of cheese to choose. For pisco sours, which are both sour and sweet, choose types that are mild and somewhat sweet. Some options are Edam, fontina, Monterey Jack, Muenster, Gouda and boursin. 
For sweets, one choice stands out: Key lime pie or Key lime cheesecake. Other choices are plain cheesecake, lemon bars or cookies, lemon meringue pie, lemon cake with raspberry filling, lemon crepes, lemon-walnut tiramisu,  lemon ice cream or sherbet, lemon ice cream pie or almond and lemon biscotti dipped in white chocolate. You can connect with the mango in mango pisco sours with mango ice cream or sherbet, mango mousse or mango cheesecake.
These ideas make for a spread that goes well with the citrusy/mango flavors of a mango pisco sour, a classic pisco sour or any variation you might come up with.
Nutritional Guidelines (per serving)
Calories
258
Total Fat
1 g
Saturated Fat
0 g
Unsaturated Fat
0 g
Cholesterol
0 mg
Sodium
34 mg
Carbohydrates
63 g
Dietary Fiber
5 g
Protein
3 g
(The nutrition information on our recipes is calculated using an ingredient database and should be considered an estimate. Individual results may vary.)