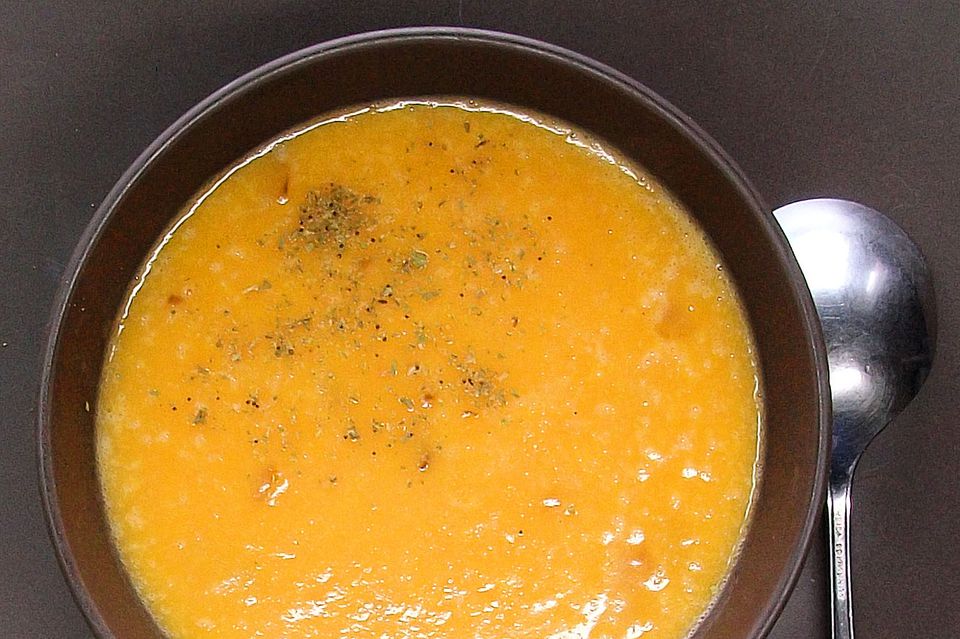 Sweet potatoes in Mexico come in both white-fleshed kind with purple skin kind and in the orange variety more common in the United States. I like using the bright orange ones for this recipe, just because of their lovely color, but any variety is appropriate for making this delicious and comforting cream soup.
In Mexico, this homey-yet-elegant dish would most likely be served as the first course of a somewhat fancy dinner (think December holidays or Mother's Day), but I think our North American diners would find it perfect for lunch anytime during the autumn or winter, perhaps accompanied by ground beef empanadas, quesadillas or grilled cheese sandwiches. It also works wonderfully in small portions as the starter course at Thanksgiving.
Sweet potatoes, like other potatoes (to which they are only distantly related), originated in the Americas and are popular in many countries of Latin America and the world. Soups similar to this one are enjoyed in various regions of our planet; what makes this version special is the use of the herb epazote, which imparts an unmistakably rustic Mexican flavor to the dish.
This recipe will yield 4 appetizer portions or 2 lunch-sized servings.
2 medium-sized sweet potatoes
3 cups chicken broth (homemade, from a jar, or made with bouillon cubes, powder, and paste)
1/4 small onion
1 clove fresh garlic
2 tablespoons butter (not margarine)
1/2 cup milk
1 sprig fresh epazote (finely chopped, or 1/2 teaspoon dried epazote)
Salt to taste
Optional: dried parsley or additional dried epazote for garnish
Peel the sweet potatoes and chop into 1-inch (2.5-centimeter) pieces. Boil them, covered, in the chicken broth over medium heat until they are soft—20 to 30 minutes. 

While the sweet potatoes are cooking, finely chop the onion and garlic. Melt the butter in a saucepan and saute the onion and garlic until soft, stirring often and taking care that they don´t burn or turn too brown. 

When sweet potatoes are soft, place them, together with their cooking liquid and the milk, in the blender and process until smooth. Be careful- mixture will be hot!
Pour this mixture into the saucepan with the onion and garlic. Add the fresh or dried epazote. Stir well to combine all the ingredients.  If soup is thicker than you would like, add a bit more milk—but not too much, so as not to kill the delicate flavor of the sweet potatoes. 

Test your delicious Cream of Sweet Potato soup and add more salt, if necessary. (Salt needed will depend on saltiness of the chicken broth used.)

Heat, stirring frequently, until soup begins to simmer; don´t let it boil.  Serve in cups or small bowls. Decorate each portion with a sprinkling of dried parsley or a (very small) amount of additional dried epazote, if desired.
Nutritional Guidelines (per serving)
Calories
290
Total Fat
14 g
Saturated Fat
6 g
Unsaturated Fat
4 g
Cholesterol
29 mg
Sodium
8,817 mg
Carbohydrates
32 g
Dietary Fiber
3 g
Protein
11 g
(The nutrition information on our recipes is calculated using an ingredient database and should be considered an estimate. Individual results may vary.)