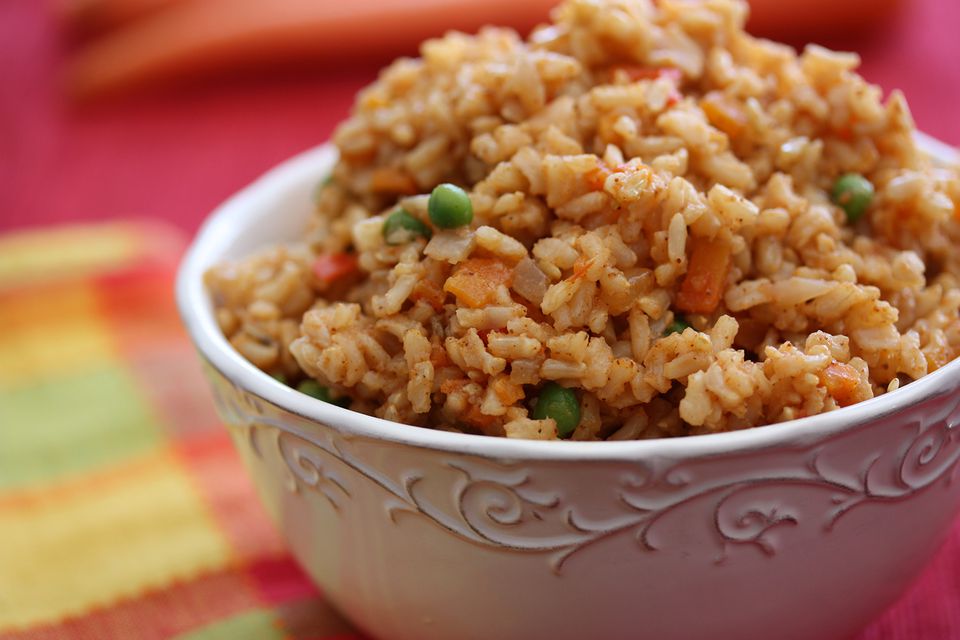 Not just your plain white rice, this dish has a lot of flavor and texture. Rice is inexpensive, and easy to find so you can make this dish as often as you like. To make it a main dish, add in 1-2 cups of cooked chicken or turkey.
2 tablespoons of cooking oil
1 small onion, peeled and chopped
3 cloves of garlic, peeled and finely chopped
2 cups white rice, soaked for 20 minutes in warm water
4 1/2 cups water
1/2 small chile (jalapeno or serrano work well) seeded and finely chopped (optional)
1/3 cup peas , frozen (optional)
1/3 cup carrots, frozen, chopped (optional)
1 teaspoon salt
In a large saucepan heat the oil over medium-high heat and then add the rice, garlic, onion and chile. Saute over medium heat until rice starts to slightly brown, about 10 minutes. Add in water, salt and vegetables and bring to a boil.
Cook uncovered for 10 minutes, then cover and reduce heat to medium-low and simmer for another 10 minutes. Check rice and simmer for an additional 5 minute if neccesary.
OPTIONAL- If adding cooked meat, add it during the last 10 minutes of cooking.
Nutritional Guidelines (per serving)
Calories
489
Total Fat
8 g
Saturated Fat
1 g
Unsaturated Fat
4 g
Cholesterol
0 mg
Sodium
25 mg
Carbohydrates
94 g
Dietary Fiber
5 g
Protein
10 g
(The nutrition information on our recipes is calculated using an ingredient database and should be considered an estimate. Individual results may vary.)