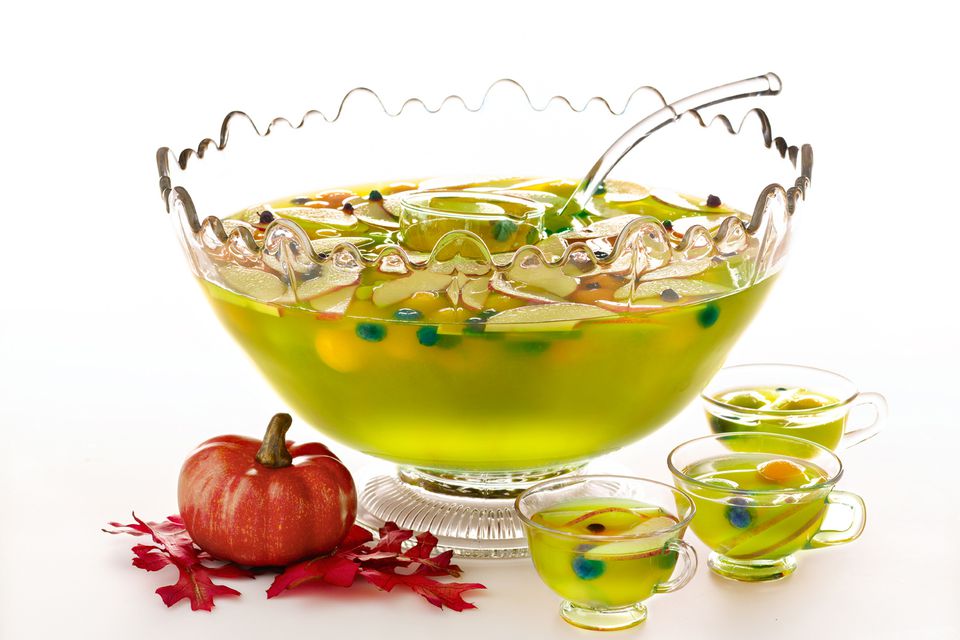 The Halloween Harvest is a fantastic party punch that is not only perfect for the obvious holiday of Halloween, but also works for any celebration where you want to spoil guests with a spectacular - or spooktacular - green drink.
It was created by Mixologist Victoria D'Amato-Moran, who also made other ghoulish cocktails for the Halloween season (see recommended cocktails below). It has a wonderful fruity flavor that will appeal to many tastes.
The great thing about this recipe is that you can adapt it to fit any size of party by doing some simple math and following the theory of "measuring parts."
Pour the liquid ingredients into a punch bowl and mix well.
Top with apple slices, blueberries, and melon balls.
To chill this punch you can add an ice ring or block to the bowl, place the punch bowl in an ice bath on the serving table, or supply an ice bucket from which guests can pull as many cubes as they like while filling their glass.
For an individual cocktail: shake and strain into an old-fashioned glass.
Nutritional Guidelines (per serving)
Calories
103
Total Fat
0 g
Saturated Fat
0 g
Unsaturated Fat
0 g
Cholesterol
0 mg
Sodium
15 mg
Carbohydrates
22 g
Dietary Fiber
0 g
Protein
0 g
(The nutrition information on our recipes is calculated using an ingredient database and should be considered an estimate. Individual results may vary.)